Driving insurance growth in Asia by hiring local CEOs

Jakarta, Indonesia |

Thu, July 12, 2018

| 12:02 am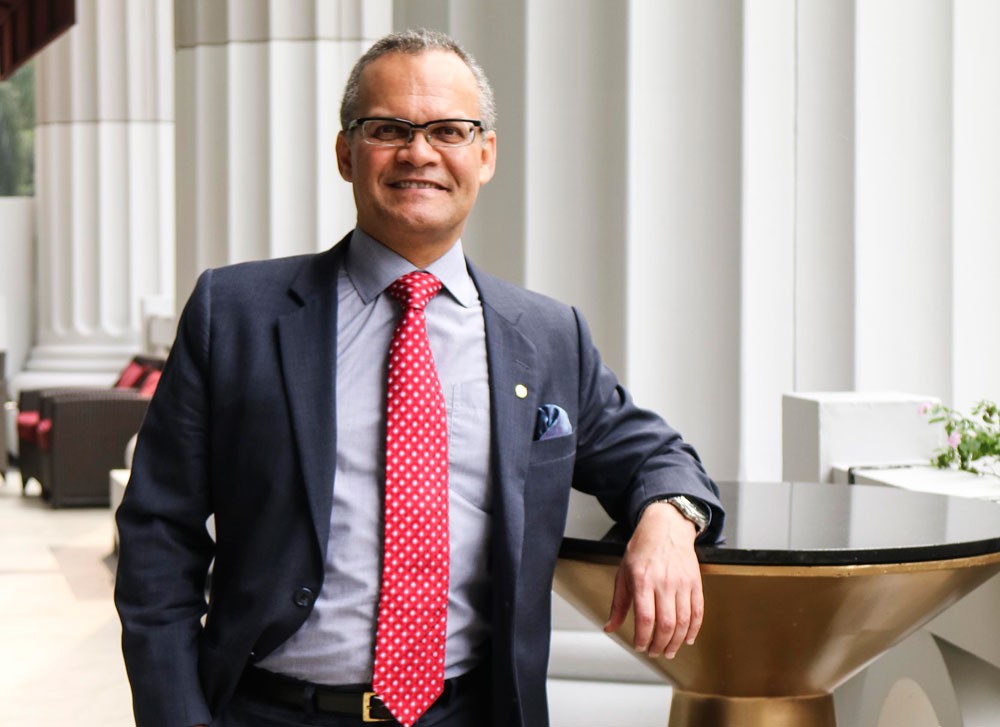 Claude A. Accum (./.)
Claude A, Accum, President of Sun Life Financial Asia, a Canada-based financial services company, views Asia as having a bright outlook for the insurance industry and believes that accessing the best brains from the companies he leads in the region paves the way to achieving growth.
Asia's increasing GDP and population growth have favoured Sun Life Financial Asia's business in the region, with the company's policy of investing in local career paths, such as by hiring local CEOs, proving effective in strengthening its customer base, according to a top foreign insurance executive.
Claude A. Accum, President of Sun Life Financial Asia, a Canada-based financial service company, said that two thirds of Sun Life Financial's customer base was expected to be outside Canada, with a large portion expected to be in Asia in the next five years.
"A quarter of Sun Life Financial's income can come from Asia," said Claude, who was appointed as President of Sun Life Financial Asia last year.
According to Claude, Asia contributed C$100 million in the first quarter of 2018, and is looking to generate C$400 million to C$500 million per year. "Three years ago, Asia contributed 7 percent of our company's total earning and today, it is closer to 17 percent and growing. This means it will become one of the major pillars in terms of earning contribution," he said.
He attributed Sun Life's growth in Asia to the region's GDP increase of between 5 to 6 percent and its population growth, with a rising middle class.
Amid this highly favorable backdrop, Sun Life's strategy to invest in local career paths in the company's operations in Asia by hiring local CEOs and management teams from the respective countries where Sun Life operates has succeeded in expanding its business to local markets, which contributes to strengthening its customer base, according to Claude.
Sun Life, established in Canada in 1865, has operated in Asia since the 1890s, with Hong Kong becoming the first location of its operations in the region, followed by the Philippines. Sun Life has since expanded its business to China, India, Malaysia, Vietnam and Indonesia.
Of the seven countries where Sun Life operates, five are under the helm of local CEOs, including Sun Life Financial Indonesia, Claude disclosed. Sun Life began to be helmed by a local leader in Indonesia in 2015 when Elin Waty was appointed as CEO of Sun Life Financial Indonesia.
"We are moving upward. Indonesia ranks closer to number five of the seven countries where Sun Life operates. This will continue to progress in the next five years," he said.
According to Claude, the market penetration index in Indonesia and the Philippines is at 1.5 percent, lower compared to the 5 to 6 percent recorded in mature countries. "So there is an opportunity for insurance penetration to quadruple. Here in Indonesia, with a population of some 260 million, you can double your size every four or five years, which means you are creating the future." he pointed out.
In such saturated markets as Canada with population of 30 million, he said, it takes 12 years to double the market share or create the future.
Claude A. Accum, based in Sun Life's Asia Regional Office in Hong Kong, was recently in town to speak with Sun Life Indonesia's CEO Elin Waty and her management team and visit several of Indonesia's cities to have a glimpse of the local insurance market.
As President of Sun Life Financial Asia, Claude is responsible for the company's Insurance & Wealth business in Asia, and for Sun Life's International High Net Worth insurance business.
Claude joined Sun Life in 1983 and has deep business and functional experience across the company and the industry from serving in a variety of senior leadership roles at the company.
Prior to his appointment to Asia, he led the company's global risk, actuarial and asset-liability management functions as Executive Vice-President and Chief Risk Officer. Claude previously headed Sun Life's pension and individual life businesses in Canada and the United States and held leadership roles in actuarial, risk and investments.
Indonesia -- one of the seven economically growing countries where Sun Life operates -- has become Sun Life's target for growth given the country's increasing GDP and rising middle class.
As of 2018, Sun Life has operated in Indonesia for 23 years, which is a relatively short time compared to Hong Kong and the Philippines where the company has operated for over 125 years and 123 years respectively.
According to Claude, the standard of living in Asian countries, including Indonesia, has been on the increase compared to the Western world.
When peoples' standard of living increases as they become richer, they "will have more economic choices and they will, for example, buy life insurance products, health products, prepare funds for their kids' education, etc.," he said.
"We (Sun Life) help them to manage their financial risks. We help citizens in developing countries, to protect the newly found increase in their standard of living," said the executive who holds a Bachelor of Science degree in Actuarial Science from the University of Toronto.
Sun Life Indonesia is witnessing robust insurance growth, faster than the insurance industry in general over the last five years, largely contributed by a policy of hiring a local CEO who has a knack for local markets.
Strategic steps
Strategic steps have been taken to grow Sun Life Financial Indonesia, including by investing in agency building, increasing the agency's workforce, building multiple distribution channels through agency, bancasssurance and digital platforms to speed up business growth, strengthening relationships with bank partners and collaborating with TCASH, Telkomsel's electronic money system, to reach a wider segment of society.
Given the important role the agency's workforce plays in netting new customers, Sun Life has increased the number of qualified agents from 5,000 to 11,000.
Various training programs are routinely given to agents to upgrade their capabilities, skills and sense of professionalism, which allows them to educate clients on complicated products and sales in a digitally diverse environment.
"Under our 'Most Respected Advisers' initiative, our focus is not on the quantity of clients but on the quality delivered to clients, which means there should be a highly professional relationship between clients and agents," he said.
Sun Life Indonesia has set the target of reaching 100,000 new clients per year, he said.
With the digital revolution impacting all fields, including insurance, Sun Life has created an innovative clients' application (app.), through which clients can make transactions via their mobile phone or tablet in a matter of minutes, part of the multiple distribution channels the company offers to clients.
"We make it easier for clients to look up their balance and basic information, such as address, contact details, policy, etc.," he said.
Sun Life has been present in Asia for more than 100 years already but is continuing to grow, raising an intriguing question: what are the ingredients for sustainable business growth?
Claude, who has 35 years of working experience at Sun Life, knows the answer well.
According to Claude, insurance is a long-term business and that's why it is essential to have a long-term mindset.
"When entering a country, we think of the long-term, not just 20 or 25 year but 50 and 100 years," he said.
"We create products that can fulfill clients needs throughout their journey of life. The products cater to the different phases of life: childhood, young age, those in the middle of their career, the elderly, etc. We offer relevant choices at the right time," he said, referring to products that Sun Life offers.
In addition to hiring local CEOs and management teams, Sun Life also brings technical expertise, experts in actuarial and investment expertise to ensure continued business growth in Asia.
Sustainable business
Investing in employees by providing opportunities to pursue a career path in the company is part of the way Sun Life makes its business sustainable. "We also encourage leaders and employees in the company to consider working for us in another country. We encourage mobility among our staff and our workforce," he said.
"So Elin does a great job here in Indonesia. I would not mind having her working in one of the businesses in another country, which will be fantastic. That's why it is crucial to invest in their career path across different countries," he remarked.
Aside from investing in employees, Sun Life also invests in the community by, for example, organizing charity events that provide health benefits, such as the walk in Bali held in January of this year.
Asked about the things that make him happy at work and loyal to the company, Claude said "Culture". Sun Life, he said, was a great company that embraces the culture of teamwork, respect for one another and "doing the best for our clients."
"I have had the privilege of working for Sun Life in Canada, the US, and now in Hong Kong. So I have worked for one company for 35 years and never had to change my email address once. How fantastic is that," he said, laughing. (Sudibyo M. Wiradji)