Getting to know Ahok through 'Merubah Indonesia'
Sydney |

Fri, August 4, 2017

| 08:04 am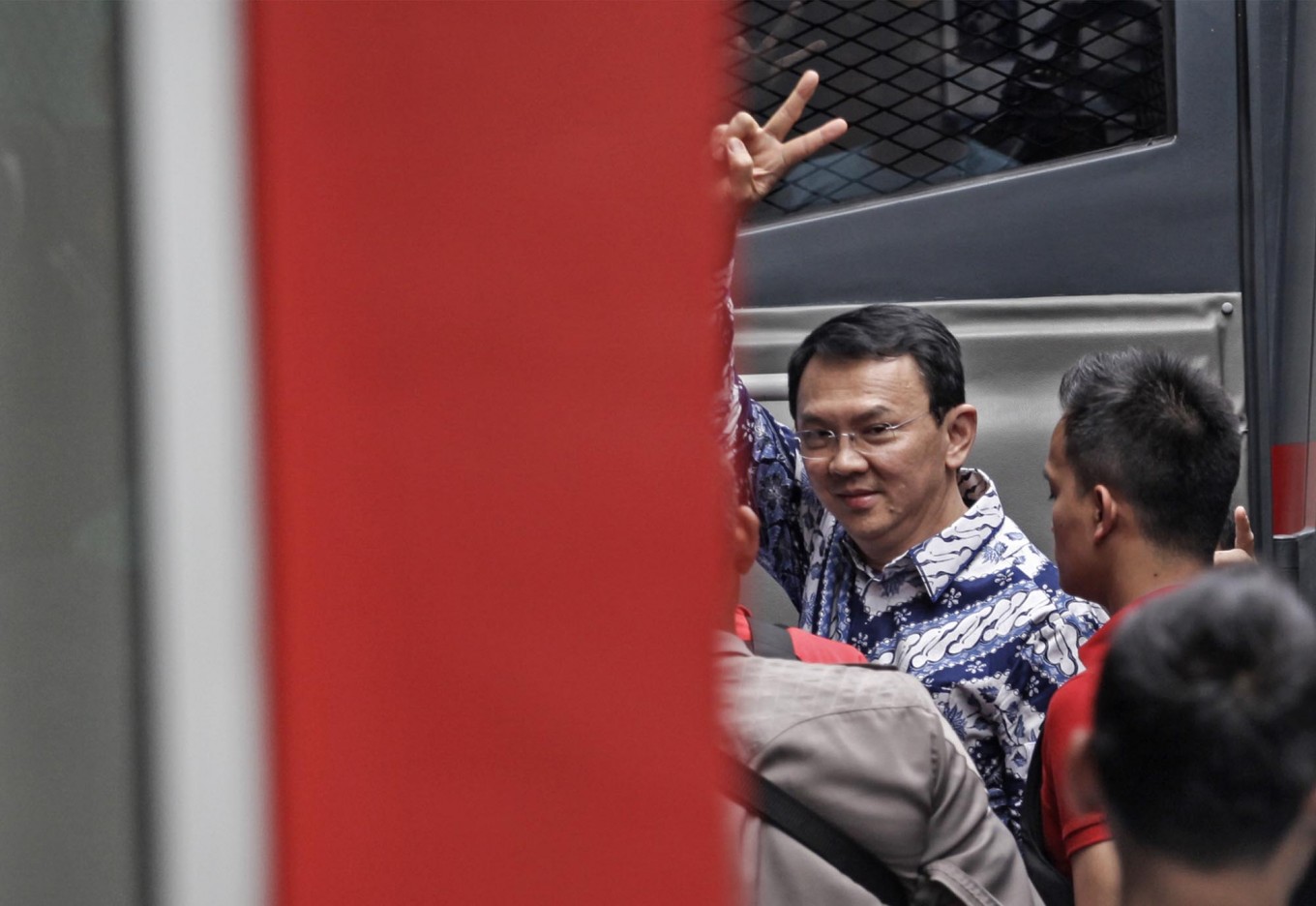 As a Chinese Christian political leader in a country where over 80 percent are Muslim and less than 5 percent are of Chinese descent, Ahok was both an anomaly and a groundbreaker. (Antara/Ubaidillah)
The former governor of Jakarta is one of the most controversial political figures in Indonesia. His abrasive style polarized the people he aspired to lead. His adherents glossed over his offensive remarks because he brought change in a country rife with inefficiency and corruption. His opponents used his Achilles' heel—his big mouth—to strike back whenever opportunities presented themselves, leading to his imprisonment.
So who is Basuki Tjahaja "Ahok" Purnama?
To answer the question, I read the book he wrote and published in 2008 by an organization he founded, the Center for Democracy and Transparency. In this 15-chapter, 127-page book, Ahok transcribed his thoughts and displayed his public persona, both for effect. His noble ideas of transforming the country were simplistic and lacked practical application. His aspiration to bring prosperity to Indonesia was admirable. However, bombarded with self-promoting photographs in a badly edited book, the call to himself eclipsed his call to change the country.
Ahok's penchant for inflammatory comments most likely stemmed from his upbringing. In chapter one he wrote that he was shocked when his mother said, "Even if you die your father would not care" She referred to an incident in 1967 when rice was scarce and his father insisted on giving away one of two tins of the household's only staple to someone who had none. Ahok, the firstborn, was barely 1 year old then.
He said his late father had a strong sense of social concern and was often consulted by locals for advice and practical help. The dinner table was a place to discuss current societal ills, pass on his values, and teach traditional Chinese lore. Ahok lived by this wisdom as several of his father's wise sayings are quoted in the book.
From the same chapter, it seemed like Ahok and his three siblings revered their father, who often said, "If necessary, I'd sell my head to get an education for all of you." Each of them grew up to choose professions that fulfilled the patriarch's dreams of serving the community: as a politician, a doctor, a lawyer and a tourism consultant.
Their father also insisted that they return to their hometown to serve the residents after finishing their education. He believed one needed to be a politician to fight politicians who caused despair in people. "You can't move overseas, the poor need you," he said when Ahok felt frustrated dealing with public servants. Ahok didn't believe his "pig face" (Chinese background) could see him become an elected official. "Just believe, one day the people will choose you to fight for them," was his father's reply.
Read also: Ahok, sex, and a ghost story of democracy
In 2005, about two years after entering the political sphere, Ahok became the regent of East Belitung, his hometown. He wrote that he won the position by educating voters with a prophetic voice (proclaiming truth and justice). But what exactly it entailed—other than calling the masses "Stupid!" during a political campaign—was far from clear. During his 16-month reign, residents became entitled to free medical care and education up to high school level. Ahok won several awards as an anti-corruption leader who brought change in Indonesia.
In the book, BTP are not only his initials, but also an acronym for bersih, transparan, professional (clean, transparent and professional). He often preached, "Choose 'BTP' leaders; don't select leaders based on ethnicity, religion, race or grouping."
As a Chinese Christian political leader in a country where over 80 percent are Muslim and less than 5 percent are of Chinese descent, he was both an anomaly and a groundbreaker. He believed the Chinese-Indonesians —who generally have better economic backgrounds and education—had an obligation to improve the country by being involved in politics.
In a chapter comparing Indonesia and America (titled "NKRI vs USA"), he argued that democracy in Indonesia was better than in America because Indonesians could vote for their president and local government officials directly. He opined that the national emblem of Indonesia (Garuda Pancasila) was superior to America's bald eagle because the Javanese eagle is supported by the national motto. Such was an example of his ill-founded reasoning for the sake of winning an argument with a friend who was a US college graduate.
His idea for transformation was by calling on idealistic BTP activists with comfortable economic backgrounds and at least three years of post-high school education to leave their comfort zones and run for a seat in the regional and national legislatures. If required, those who identified with Ahok (his nickname became an acronym for "you are the hope of little folks") could run for government offices as independent candidates. By joining forces together, they could then form a local based political party to oppose non-BTP national parties.
Read also: Against all political and religious odds
Monetary sacrifice was necessary as exemplified by Ahok—a mining businessman—who spent at least Rp 500 million (US$37,514) on his East Belitung political campaign only to receive a monthly salary of Rp 6 million when elected regent.
Ahok also exposed the many ways bribery occurred among government officials and agencies. He was convinced that officeholders must be transparent about their wealth. The law to regulate this accountability must be upheld.
The last chapter, by an unidentified secretary, summarized Ahok's biography and political career in a flattering manner.
The major flaw of the book was in poor editing and proofreading, incorrect spelling and confusing explanations. The worst section was the preface with incorrect starts to paragraphs. The text in most chapters was interspersed with photographs that disrupted the flow of reading. The pictures made up approximately half of the book's content, but not all of them were even captioned, let alone sufficiently. All photographs and the corresponding annotations portrayed Ahok as a role model: an idealistic young child, a responsible brother, an exemplary father, a dedicated leader and the people's idol. Not one to be shy in front of the camera, he donned a formal suit and posed in more than a dozen choreographed pictures.
In a book styled like a photo album, only the chapter about his upbringing and family background illuminated the genesis of his aspirations and ideology. It showed his sincerity as well. Alas, those noble intentions were overshadowed by his propaganda. (kes)
***
H. Efendy is an Indonesian creative nonfiction writer who lives in Hornsby, a leafy upper northern suburb of Sydney, Australia. In 1999 she graduated from Trisakti University majoring in Industrial Engineering. She is working on a memoir about her first job in Singapore.
---------------
Interested in writing for thejakartapost.com? We are looking for information and opinions from experts in a variety of fields or others with appropriate writing skills. The content must be original on the following topics: lifestyle ( beauty, fashion, food ), entertainment, science & technology, health, parenting, social media, and sports. Send your piece to [email protected] Click here for more information.
Disclaimer: The opinions expressed in this article are those of the author and do not reflect the official stance of The Jakarta Post.
Topics :
Join the discussions