Police chief should be punished over arrest of Papuan activists: LBH Jakarta
thejakartapost.com

The Jakarta Post
Jakarta |

Wed, May 4, 2016

| 11:31 am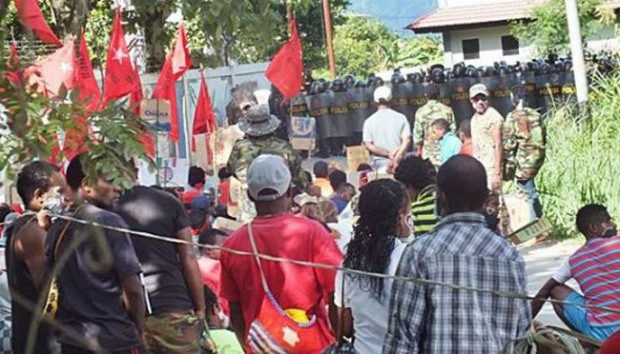 Hundreds of West Papua National Committee members (KNPB) and Local People Parliaments (PRD) hold a rally at Cendrawasih University, Papua, on May 2. The Jakarta Legal Aid Institute (LBH Jakarta) has urged President Joko "Jokowi" Widodo to punish National Police chief over the arrest of 1,724 pro-Papua referendum activists (tabloidjubi.com via tempo.co/-)
The Jakarta Legal Aid Institute (LBH Jakarta) has urged President Joko "Jokowi" Widodo to punish the National Police chief over the arrest of 1,724 activists in Papua for holding rallies in support of a pro-referendum group.
Veronica Koman, a lawyer with LBH Jakarta, also criticized the police's move to detain two activists in Merauke who were delivering a notification letter on a rally plan on Tuesday. The rally was aimed to show their support for the International Parliamentarians for West Papua (IPWP) event in London.
"What was the basis for detaining people delivering a notification letter on a rally plan? Forty-one activists were held in Jayapura just for distributing rally invitation pamphlets. These are indiscriminate, unconstitutional measures," she said as quoted by tempo.co on Tuesday.
Thousands of the activists on Monday held simultaneous rallies in seven cities in four provinces, namely Papua (Merauke, Jayapura, Wamena), West Papua (Fakfak, Sorong), Central Java (Semarang), and South Sulawesi (Makassar).
The rally was aimed to show support for the United Liberation Movement for West Papua's (ULMWP) full membership in the Melanesian Spearhead Group (MSG). ULMWP is a political organization calling for a referendum on Papua.
According to LBH Jakarta data, 1,449 activists were detained in Jayapura, 118 in Merauke, 45 in Semarang, 42 in Makassar, 29 in Fakfak, 27 in Sorong, and 14 others in Wamena on Monday. Taking previous arrests in Merauke (April 25), Jayapura (April 30), Wamena and Merauke (May 1) into account, 1,839 Papua activists have been detained since April.
"Most of them have been released, but dozens are still detained in Merauke, Fakfak and Wamena. [...] President Joko Widodo's frequent visits to Papua are useless if he only attends ceremonial events. He must listen to people's aspirations," Veronica said.
LBH Jakarta director Alghiffari Aqsa claimed that the arrests violated the 1998 law on the freedom of expression in public spaces. Despite their political call for a referendum, he highlighted the importance of preserving the activists' constitutional rights as Indonesian citizens.
He urged Jokowi to punish the National Police chief, Papua Police chief, and West Papua Police chief for violating Papuans' constitutional rights. He also urged the release of the detained activists. (ags)
Topics :
You might also like :
Comments