The profiles of the Jakarta election contenders: Ahok, Agus, Anies
Safrin La Batu, Indra Budiari and Nurul Fitri Ramadhani

The Jakarta Post
Jakarta |

Sat, September 24, 2016

| 11:05 am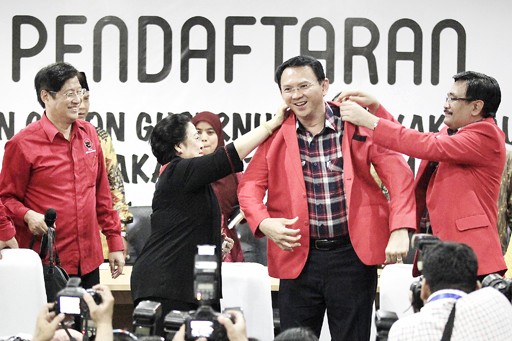 Megawati Soekarnoputri (left), chairwoman of the Indonesian Democratic Party of Struggle (PDI-P), helped by Jakarta Deputy Governor Djarot Saiful Hidayat, puts a red jacket on Governor Basuki "Ahok" Tjahaja Purnama during their registration at the Jakarta Election Commission in Jakarta on Wednesday. Ahok and Djarot are running mates on the party's ticket in the elections to seek their second term in office. (JP/Dhoni Setiawan)
Three pairs of candidates had registered at the Jakarta General Elections Commission (KPUD) when the poll body closed registration on Friday night.
Incumbent Governor Basuki "Ahok" Tjahaja Purnama and Deputy Governor Djarot Saiful Hidayat will compete against the Anies Baswedan-Sandiaga Uno and Agus Harimurti Yudhoyono-Sylviana Murni tickets, which were announced at the 11th hour.
As the election has turned out to be a three-way race, it is expected to be a two-round contest as none of the candidates are seen as strong enough to garner more than 50 percent of the vote to win the February election, as stipulated by the 2007 Law on the Jakarta administration.
The Kinship Coalition, which was set up to unseat Ahok, failed to agree on a single candidate and dropped its plan to defeat the incumbent in a head-to-head race.
The Gerindra Party and the Prosperous Justice Party (PKS) insisted on nominating former culture and education minister Anies Baswedan and businessman Sandiaga Uno. The other members of the coalition— the Democratic Party, the National Mandate Party (PAN), the National Awakening Party (PKB) and the United Development Party (PPP)— refused to back Anies and came up with their own candidates: Agus, the son of Dems chairman Susilo Bambang Yudhoyono, and Sylviania, Ahok's assistant for tourism.
"We didn't reject Sandi or Anies. But Sandi had been declared by Gerinda and the PKS, and we were not involved in the decision-making process. Anies also got a lukewarm response from our coalition," Dems deputy chairman Syarif Hasan said.
Anies attended the Dems' presidential convention for the 2014 election. The party, which had a lackluster performance in the 2014 legislative election, ended up not nominating anyone. Anies then joined the campaign team for Joko "Jokowi" Widodo, who was then still serving as Jakarta governor.
Anies' nomination also came as a surprise as he is now backed by the political parties he fought against in the 2014 polls. He also crushed the hopes of former law and human rights minister Yusril Ihza Mahendra, who announced his gubernatorial bid long before Anies.
"Gerindra and the PKS had been trying to find figures that would be ready to serve [the city]. Anies and Sandiaga are neither Gerindra nor PKS members, but that wasn't taken into consideration. We want candidates that can make changes in the city," said Gerindra chairman Prabowo Subianto, who lost the presidential election to Jokowi.
Political analyst from the Indonesian Institute of Science (LIPI), Siti Zuhro, said the Jakarta election had become a battleground for political heavyweights: Yudhoyono, Prabowo and PDI-P chairwoman Megawati Soekarnoputri. Whoever wins the race, she said, will get a golden ticket for the 2019 presidential election.
"It may be [a strategy] for the 2019 presidential election, because the parties' important figures play important roles," Siti said.
The latest polls have shown that the Ahok-Djarot pairing remains the ticket to beat, even though the polls say they would only secure around 40 percent of the vote in a head-tohead race.
Anies and Sandiaga have been touted as formidable contenders for Ahok. Both candidates have also been mentioned in many polls even though their electability ratings are still below that of the governor.
Despite his lack of experience, Agus, analysts said, could become the dark horse of the election.
"It is not about Agus. He is relatively new in politics compared to Ahok and Anies. But given his background as the son of a former president, his electability rating may soon soar," Sirajudin Abas, a researcher at Jakarta-based Saiful Mujani Research and Consulting (SMRC), told
The Jakarta Post on Friday. Given that all the candidates, including Agus, have the opportunity to attract voters from different partisan and demographic divides, the election will likely have another cycle. "I am sure nobody, including Ahok, who has topped many of the recent surveys, will be able to secure the 50 percent plus one votes [required in order to for the election to go through just one cycle]."
A survey revealed by pollster Poll-tracking Indonesia last week showed that Anies would be a serious contender for Ahok if he was paired with Sandiaga. In a match-up scenario between Ahok-Djarot versus Anies-Sandiaga, Ahok was favored by 37.95 percent of 400 respondents that participated in the survey. That survey showed that Anies-Sandiaga was edging closer to Ahok-Djarot's ranking with 36.38 percent of respondents having chosen them.
The survey also showed that under that head-to-head scenario, undecided voters amounted to 25.67 percent.
Poll-tracking Indonesia executive director Hanta Yudha said during the release of the survey that Anies might beat Ahok in the election given his current electability rating. He said that, unlike Ahok, who declared his bid to run in the election last year, Anies had only been mentioned recently and therefore had not done anything to lure voters.
"The number of undecided voters is also high. This may be a serious threat for Ahok," Hanta said.
BASUKI TJAHAJA PURNAMA
Jakarta Governor Basuki "Ahok" Tjahaja Purnama set a nearly impossible mission for his volunteers, Teman Ahok (Friends of Ahok), who wanted him to run as an independent candidate in the Feb. 15, 2017 gubernatorial election. He demanded that they get 1 million people to pledge support for his candidacy. Each supporter was required to attach a copy of their indentity card (KTP). Ahok needed at least 750,000 pledges according to electoral regulations.
The group announced in June that it had got more than 1 million voters. Learning from his experience as deputy governor from 2012 until 2014, and then as governor until now, Ahok, however, realized that he needed the support of political parties in the City Council. His volunteers gave him full freedom to make that decision. Four political parties have now pledged their support.
Ahok became governor in 2014 after the victory of Joko "Jokowi" Widodo in the presidential election.
The controversial Ahok, who was born in Manggar, East Belitung on June 29, 1966, has often been in the spotlight as a result of his straightforward and outspoken style. He has also been widely praised for his achievements in providing better public services, including health and education, and maintaining public order, which have been acknowledged by both friends and enemies.
Ahok, despite his double-minority status as a Christian Chinese-Indonesian in Muslim-majority Jakarta, has topped nearly all opinion polls for the election so far.
Ahok earned his Bachelor's Degree from Trisakti University, Jakarta, majoring in geology in 1990. Subsequently, he received a Master's Degree from Prasetiya Mulya University in 1994.
Ahok started his career in politics as a member of the regional legislative council in East Belitung regency in Bangka Belitung province. He then became regent of East Belitung from 2005 to 2006.
In 2009, he was elected to the House of Representatives, representing Golkar. He resigned from the House to become Jokowi's running mate in the 2012 gubernatorial election, running as a member of Gerindra.
Ahok is married to Veronica Tan and the couple have three children, Nicholas Sean, Nathania and Daud Albeenner.
DJAROT SAIFUL HIDAYAT
Djarot Saiful Hidayat, the Jakarta deputy governor, will be Jakarta Governor Basuki "Ahok" Tjahaja Purnama's running mate in the gubernatorial election.
Djarot was mayor of Blitar, East Java, for two periods from 2000 to 2005 and from 2005 to 2010, during which time he successfully managed the issue of 1,000 street vendors who were operating on the city's main streets. He was known to have strongly opposed the construction of supermarkets and minimarkets. He preferred to organize the street vendors as he believed they could help boost the city's economy.
Under his leadership, Blitar was awarded the Adipura environmental award for clean and green cities three times in 2006, 2007 and 2008.
Djarot became Ahok's deputy in December 2014.
Djarot studied administrative sciences at Brawijaya University in Malang, East Java. He got a Master's Degree in Political Science in 1991 from Gadjah Mada University, Jakarta.
He is married with three daughters.
AGUS HARIMURTI YUDHOYONO
Agus was born in Bandung, West Java, on Aug. 10, 1978. He is the eldest son of former president Susilo Bambang Yudhoyono.
He graduated from the National Military Academy in 2000 and earned a Master's Degree in Strategic Studies from Nanyang Technological University in Singapore in 2006. In 2010, he graduated from the John Kennedy School of Government with another Master's Degree in Public Administration. He also earned a Master's Degree in Leadership and Management from Webster University in 2015.
In 2006, when a war raged between Israel and Hezbollah in southern Lebanon, Agus, who was serving in a mechanized infantry battalion, was deployed to the conflict zone as part of the Garuda XXIII-A contingent. Agus was promoted to commandant of an airborne infantry battalion in 2007.
In 2005 he married model Annisa Larasati Pohan. They have one daughter.
SYLVIANA MURNI
Sylviana Murni was born in Jakarta on Oct. 11, 1958. She obtained her Bachelor's Degree in Administrative Law from Jayabaya University, and has a Master's Degree in Population Management from the University of Indonesia (UI). She earned a Doctorate in Education from the Jakarta State University in 2005.
She started work with the Jakarta administration in 1985. The positions she has held include head of the Jakarta Population and Civil Registry from 2001 to 2004 and mayor of Central Jakarta from 2008 to 2013.
Her current position is assistant to the governor on tourism and culture. She is married to H Gde Sardjana and they have two children.
ANIES BASWEDAN
When President Joko "Jokowi" Widodo dismissed Anies Baswedan as culture and education minister in July, just 20 months after being appointed, there was speculation that the latter's ambition to contest the 2019 presidential election had bothered the President.
The soft-spoken scholar helped Jokowi during the 2014 presidential election campaign and it was no surprise when he got the Cabinet position.
Anies earned his PhD in Political Science from Northern Illinois University in 2005, his Master's Degree in Public Policy from the University of Maryland and his Business Management degree from Gadjah Mada University, Yogyakarta.
Anies' most notable innovation is the Gerakan Indonesia Mengajar, or Teaching Indonesia Movement, a program that gathers young people to contribute to the nation's education. Through this initiative, he has recruited, trained and sent 16,000 young volunteer graduates to teach in remote regions across the archipelago.
Anies was born on May 7, 1969, in Kuningan, West Java, he is married to Ferry Farhati Ganis and they have four children.
SANDIAGA UNO
Sandiaga Uno was born in Rumbai, Pekanbaru, on June 28, 1969, where his father, Razif H. Uno, was working for an oil company.
He is better known as a businessman rather than a politician and is thought to be one of the country's richest men.
In 1997, he co-founded PT Recapital Advisors with his high school friend, Rosan Perkasa Roeslani and a year later he co-founded Saratoga Capital with Edwin Soeryadjaya.
Sandiaga graduated from Wichita State University in the US in 1990 and earned a Master's of Business Administration from George Washington University two years later.
You might also like :
Comments