Foreign investors get double gains from Indonesia market
Jakarta |

Wed, October 5, 2016

| 11:38 am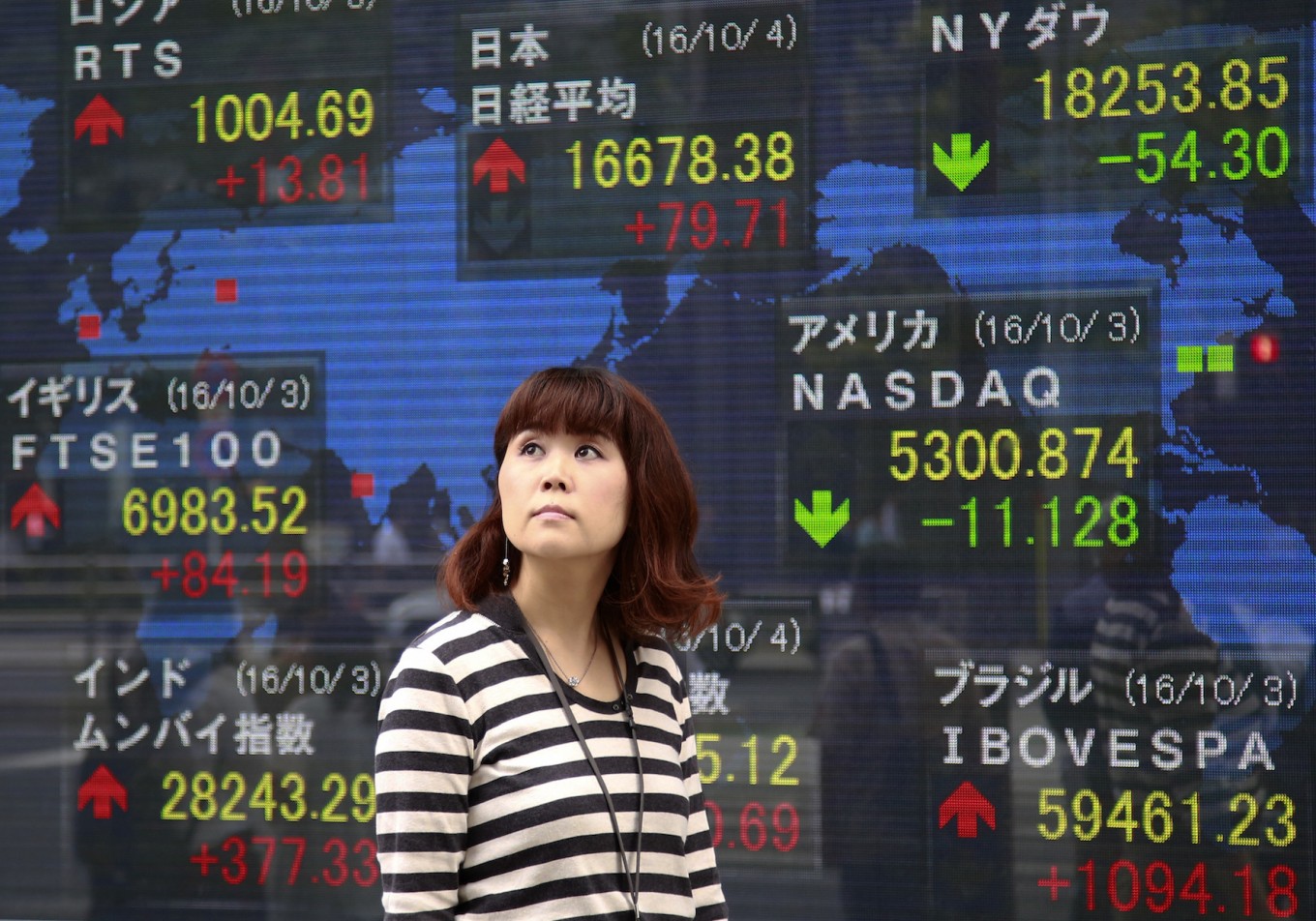 A woman walks past an electronic stock indicator of a securities firm in Tokyo, Tuesday, Oct. 4, 2016. The Nikkei led gains in Asian stock markets Tuesday as the dollar rose against the yen following upbeat U.S. manufacturing data. (AP Photo/Shizuo Kambayashi)
Indonesia has been one of the most lucrative investment destinations in the Asia-Pacific, given the positive performance of the stock market and its stable currency. This is evidenced by foreign flows into the stock market reaching Rp28.76 trillion (US$2.22 billion) in the last 12 months.

Despite a slump in September, the Jakarta Composite Index (JCI) managed to score the highest returns in the Asia-Pacific region, on the back of a stronger rupiah against the US dollar, the improvement of economic figures and the extraordinary result of the tax amnesty program.

In rupiah denomination, the stock market benchmark recorded a 26.71 percent year-on-year growth as of Sept. 30. However, higher growth can be seen in the dollar denomination with a 48.24 percent increase, making it the best performer in the Asia Pacific after the S&P NSX 50 index—which scored a 48.77 percent hike in the same period.

But for the record, contrasting the two indexes is not like comparing apples and apples: the S&P NSX 50 is not a composite index, it only contains the 50 largest stocks in New Zealand, while JCI constitutes all the 538 stocks listed on the Indonesia Stock Exchange. Thus the JCI is in reality the best composite index performer in Asia Pacific.

JCI's performance is high above the ground compared to other composite indexes in the regions. It booked nearly twice the return made by its closest competitors, namely the Ho Chi Minh Stock Index (Vietnam) and S&P ASX 200 (Australia) that recorded 25.63 percent and 25.12 percent growth respectively.

The significant return in the dollar denomination was due to rupiah's major appreciation against the dollar in the last month during the tax amnesty program. In early September 2015, the rupiah was traded at 13,900-14,000 against the US dollar, its weakest level since the financial crisis of 1998.

Meanwhile, the rupiah has strengthened 7 percent to 12,969 per US dollar as of Oct 3, 2016. The currency ultimately broke the psychological level of 13,000 per US dollar, just after the announcement of the beyond-expected result of the tax amnesty program in the first round.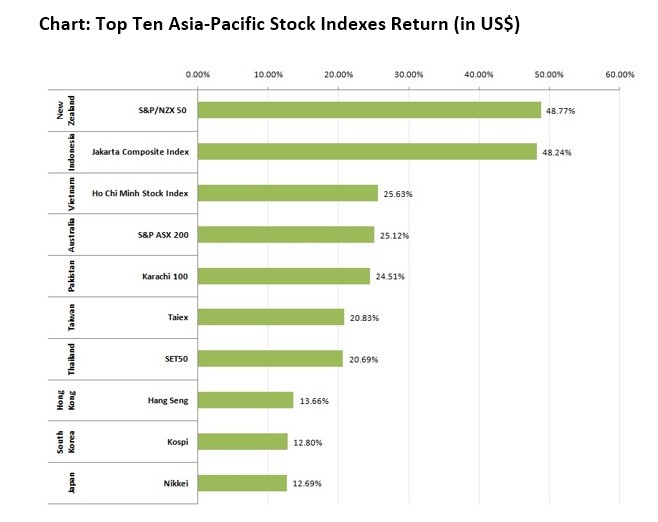 Source:(Bareksa/Data)

Surprising result
At the end of the first round of the tax pardon program (July-Sept. 2016), the country saw declared assets of Rp 3,622 trillion. Previously, JP Morgan predicted new asset declaration would be less than Rp 2,000 trillion by the end of the third round of the program in March 2017.

Looking at the result of the first round of the program, it seems like the brokerage house will have drastically revise their projection.

In addition, the government also received additional state revenues from the redemption fee, worth Rp 97.2 trillion. The figure covers 58 percent of the target of the program, which has been set at Rp165 trillion by March 2017.

Amid the eye-opening result of the first round of the program, which led to rupiah appreciation, the foreign investors have enjoyed double gains.

They will potentially score an extra gain in the future if they invest in the Indonesian stock market for at least one year ahead after the announcement of the final result of tax amnesty and the program takes effect in the real sector. (ags)

Source: Bareksa.com
Topics :
You might also like :
Comments