Pertamina gears up for LNG stockpiling plan
Fedina S. Sundaryani

The Jakarta Post
Jakarta |

Mon, October 10, 2016

| 09:24 am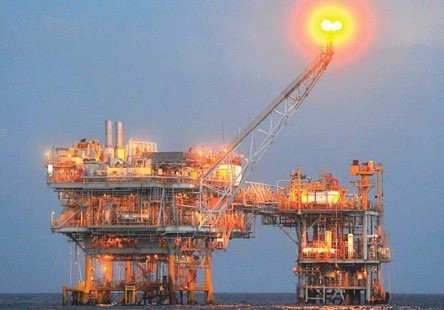 Oil processing activities at Poleng Process Platform prior to loading at Pertamina Abherka Floating Storage and Offloading, owned by PT Pertamina Hulu Energi West Madura Offshore in East Java. (Antara/Wahyu Putro A)
Oil and gas giant Pertamina is preparing to meet most of the country's future natural gas demand by stocking up on liquefied natural gas (LNG) commitments with companies overseas.
Domestic demand for natural gas may rise to 10 billion cubic feet per day (bcfd) with the rise of industries, especially in Java and Sumatra, according to data from Pertamina.
Although oil will remain the fuel of choice, demand for gas is expected to grow 3.8 percent per year until 2030, with the majority of demand coming from the power sector. Non-power demand is driven primarily by fertilizers, refineries and the mining industry, most of which is located in eastern Indonesia.
Given the projected high demand, Indonesia is expected to suffer a national natural gas deficit of 2.5 bcfd by 2020 and 4.07 bcfd by 2030.
To prevent such a deficit, Pertamina plans to build an LNG portfolio of just below 4 million metric tons per annum (mtpa) from both domestic production and deals made with LNG importers, said Pertamina's LNG vice president Didik Sasongko Widi.
"If our gas supply is low, our economic growth will also be low. We will need a lot of natural gas by 2020, so we have already started stockpiling LNG commitments. We believe that it will be needed, so we are taking that risk," he said during a press briefing on Friday.
Pertamina had previously signed two agreements with Corpus Christi Liquefication, a subsidiary of US-based Cheniere Energy, for the latter to supply approximately 1.52 mtpa starting in 2019.
Under the sales and purchase agreement, Pertamina will purchase the LNG on a free on board basis at a price indexed to the monthly Henry Hub price, in addition to a fixed component. Pertamina said it had also secured commitments from other overseas companies for around 1.5 mtpa.
Although Didik declined to disclose details on specific commitments, it was reported earlier this year that Pertamina signed a heads of agreement with Woodside Energy Trading Singapore to supply approximately 0.5 to 1 mtpa for a period of 15 to 20 years.
"We want to meet 50 percent of our national demand in the long term," he said.
Despite the government's efforts to push industries to increase their use of gas, current absorption of LNG in the domestic market is still relatively low. According to the Upstream Oil and Gas Regulatory Special Task Force (SKKMigas), only 39.02 of 64.02 cargoes allocated for the domestic market were absorbed last year.
High gas prices have been touted as the reason why domestic absorption remains low, with Indonesia's natural gas prices hovering at an average of US$9 per million British thermal unit (mmbtu).
The government is trying to cut local gas prices to $5 per mmbtu, with an additional distribution and transmission cost of $1 to $2 per mmbtu.
The Energy and Mineral Resources Ministry plans to change the fixed price system, which is based on future gas sales and purchase agreements, with a "hybrid" system that would consider the fluctuation of global oil prices to determine gas prices.
The fixed scheme is thought to be one of the main reasons why gas prices remain high in the country despite being low globally.
Topics :
You might also like :
Comments