MUI accuses Ahok of religious defamation
Callistasia Anggun Wijaya

The Jakarta Post
Jakarta |

Wed, October 12, 2016

| 06:58 am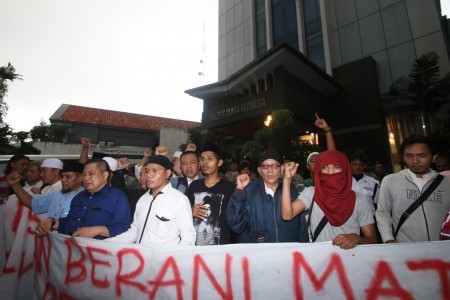 Several members of the Indonesian Islamic Youth Front (FPII) protest in front of the Indonesian Ulema Council (MUI) office on Oct. 10. The protesters demanded the MUI to take firm action against Jakarta Governor Basuki "Ahok" Tjahaja Purnama whom they accused of religious defamation. (Antara/Rivan Awal Lingga)
The Indonesian Ulema Council (MUI) officially announced on Tuesday that Jakarta Governor Basuki "Ahok" Tjahaja Purnama committed blasphemy in his statement that cited a verse from the Quran last month.
As widely reported, in his conversation with local people in Thousand Islands regency on Sept. 27, Ahok cited Surah al-Maidah: 51 during a work visit.
"Basuki Tjhahaja Purnama's [conduct] can be categorized as insulting the Quran and the ulemas, which has legal consequences," MUI chairman Ma'ruf Amin said in a statement on Tuesday.
The MUI said that the aforementioned verse explicitly told Muslims not to take Jews or Christians as their allies or leaders.
The council believes that Ahok had insulted both the Quran and ulemas when he urged the Thousand Island residents not to be deceived by people using the verse to deter them from choosing a non-Muslim leader in the upcoming regional elections.
In the statement, MUI also urged law enforcement officials to handle the alleged religious defamation in accordance with the law. It also called for the public to remain calm and allow the police to handle the case.
Ahok has since apologized for the statement.
"I want to apologize to Muslims or other people who feel offended. I never intended to insult Islam or the Quran," Ahok said on Monday.
The uproar over his statement started when a part of his speech circulated on social media after the working visit. Following the dissemination of the video, secretary general of the hardline Islam Defenders' Front (FPI) Novel Chaidir Hasan filed a report against him with the National Police's Criminal Investigation Agency (Bareskrim) last week for religious defamation. (rin)
Topics :
You might also like :
Comments