Young teachers fill-in education gaps across the archipelago, one year at a time
Liza Yosephine

The Jakarta Post
Jakarta |

Fri, October 14, 2016

| 06:57 am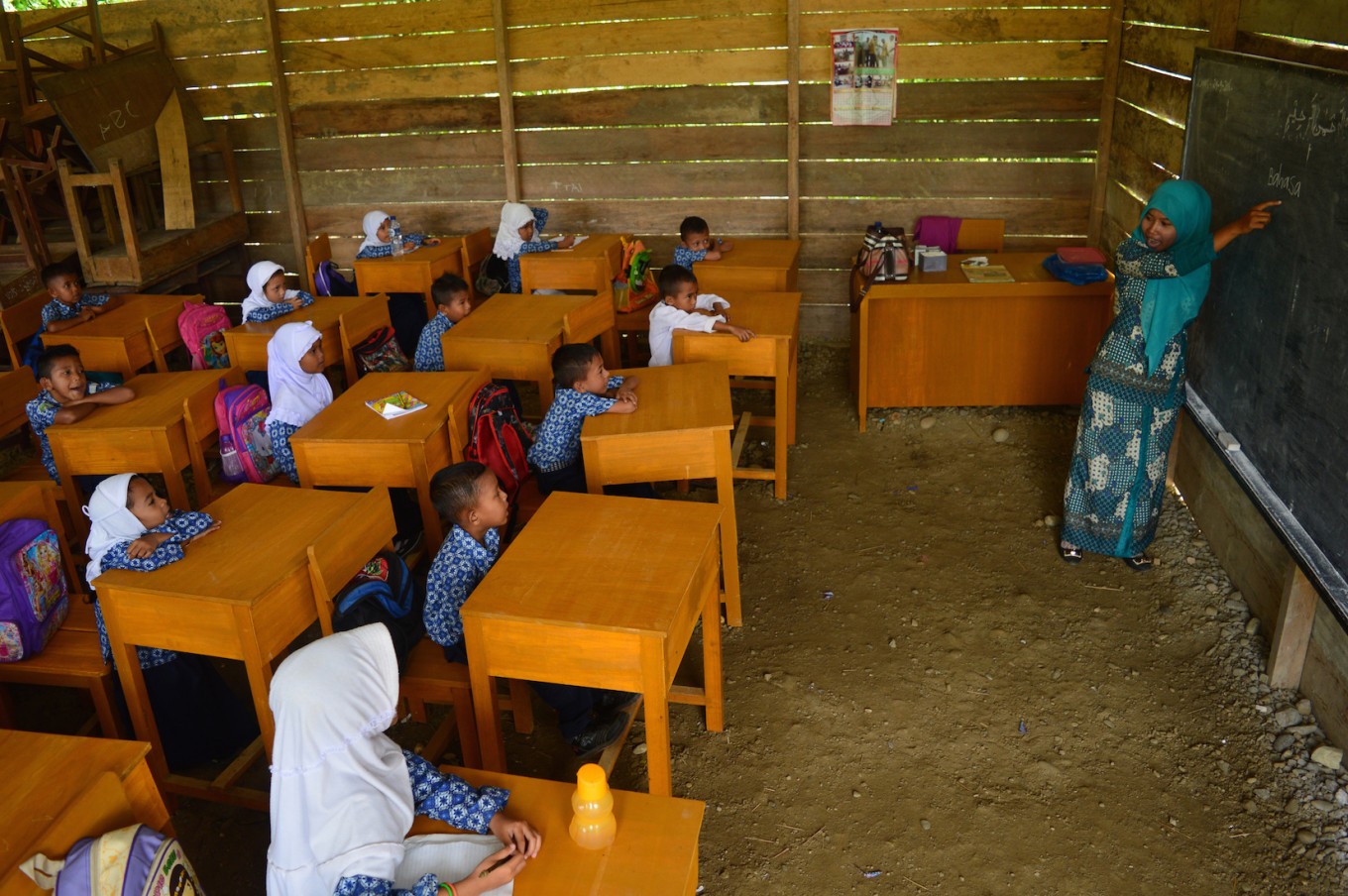 A teacher teaches students of the Islamic primary school Madrasah Ibtidaiyah in Babahrot village, Southwest Aceh, on Sept. 29. (Antara/Suprian)
Young teachers of the Gerakan Indonesia Mengajar (Indonesian Teaching Movement, GIM) are being deployed to the far corners of the archipelago, reaching out to students in remote areas where the government also faces challenges.
Solidaritas director Mark Fiorello, whose company was hired to facilitate a reflection of GIM's five-year journey, has commended the foundation's efforts in galvanizing local students to get educated, as well as maintain their enthusiasm, while also involving local actors in the process.
"So the idea is, by bringing local actors into the circle and raising their enthusiasm, they become more aware of local problems and want to get engaged in finding local solutions," Fiorello told The Jakarta Post on Thursday. He said local initiatives had also been triggered by what had been started by the Jakarta headquarters.
However, Mark continued, the question still remains whether the enthusiasm actually contributes to improving the quality of education. GIM must also be able to find solutions to systemic issues in the education system that are fundamental to the government's shortcomings, he added, including teacher absences.
The foundation, established by Jakarta gubernatorial election candidate Anies Baswedan, now covers 24 regencies and has deployed 621 teachers since 2010. Young adults below 28 years of age and holding a bachelor's degree are deployed to teach in a remote village for 12 months.
GIM executive director Evi Trisna noted that the foundation was currently in its first year of deploying teachers to new areas, namely Natuna in Riau Islands, Nunukan in North Kalimantan, South Hulu River in South Sulawesi, Konawe in Southeast Sulawesi, Southwest Maluku in Maluku, Yapen and Pegunungan Bintang in Papua.
"In choosing our candidates, we make sure to pick problem-solvers who are able to adapt to the new locales while still effectively contributing well to their everyday duties," Evi said.
Patrick Roeroe, 26, has recently returned from a year of teaching in South Halmahera in North Maluku. He said some of the biggest challenges were the cultural differences he experienced in comparison to his Javanese background. Nevertheless, he said, teaching in the countryside was exciting since many of the education materials could be found right on his doorstep.
"We would just walk outside the classroom and learn about flora and fauna with [examples of] the subject right there with us," Patrick said. (dan)
You might also like :
Comments