Modernland finds new stepping stone with Jardine group
Jakarta |

Mon, October 17, 2016

| 04:35 pm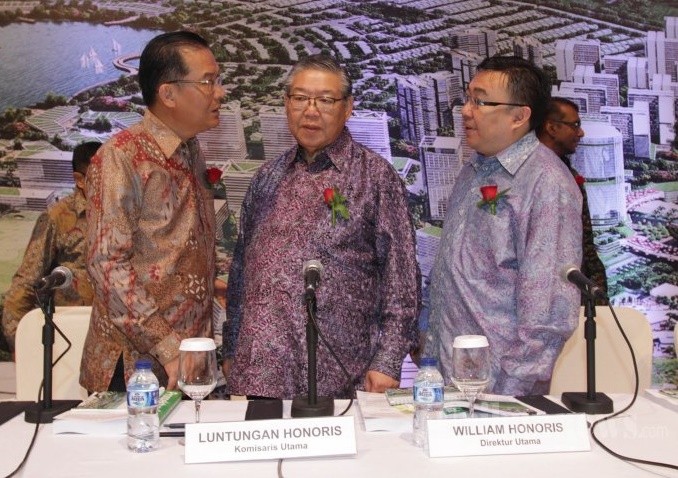 Modernland Realty president commissioner Luntungan Honoris (center) talks to president director William Honoris (right) and commissioner Edwyn Lim after a press conference in Jakarta on June 3, 2015. (tribunnews.com/Herudin)
Indonesia's promising property market has attracted multinational real estate firms to collaborate not only with domestic peers but also international partners. An alliance between the Astra group, Hongkong Land and Modernland Realty shows this well.
Astra Land Indonesia and Mitra Sindo Makmur have created a joint venture to acquire 70 hectares of land in Cakung, East Jakarta, worth Rp 3.4 trillion. The collaboration was marked under an agreement inked on Oct. 12 in Jakarta.
Astra Land is a joint venture between Astra International (ASII) and Hongkong Land, while Mitra Sindo Makmur is a subsidiary of Modernland Realty (MDLN). The new entity will develop the land for a project dubbed Jakarta Garden City.
This should provide positive sentiments for Modernland, given the fact that the new partners are well-known firms in Asia. Astra is a well-known Indonesian conglomerate while Hongkong Land is a leading property investment, management and development group in Hong Kong, Singapore and mainland China.
They are indirectly affiliated companies as Jardine Matheson sits as the main shareholder, owning more than 50 percent of shares in the two companies.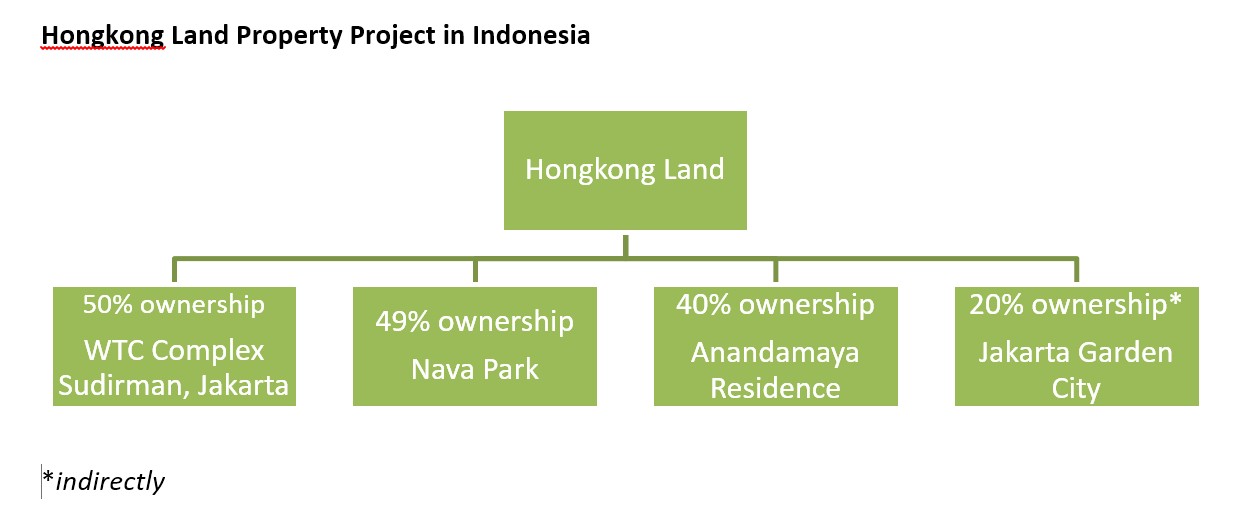 Source: Bareksa.com(Bareksa/Chart)
While Astra has only three years of experience in the real estate business, Hongkong Land has laid foundations in Indonesia for over 30 years. Currently managing US$32 billion of assets in Asia, it has been operating in Indonesia since the 1970s.
Under a collaboration with Central Cipta Murdaya, Hongkong Land built the WTC Complex in Sudirman, Jakarta, as its first project. It has also developed two other big projects in Indonesia, namely Nava Park (joint venture with Sinarmas Group's Bumi Serpong Damai) and Anandamaya Residence (joint venture with the Astra group).
Financially beneficial
In its latest research report, Mandiri Sekuritas appraised the joint venture as it will provide security for Modernland in terms of marketing sales and earnings, in light of Hongkong Land's established track record and experience.
Furthermore, this action could benefit Modernland as the cash inflow from the transaction could reduce its debt ratio, especially as it was sealed amid the economic slowdown.
* Bloomberg estimate(Bareksa/Chart)
As of the first half of 2016, Modernland had booked Rp 1.1 trillion in revenue, down by 18 percent year-on-year from Rp 1.35 trillion last year, due to fewer projects launched this year. This brought down net income by 88 percent to Rp 26 billion.
Bloomberg estimates the company's full-year revenue in 2016 will increase by 4 percent to Rp 3 trillion but the net income may retreat 17 percent to Rp 728 billion amid the current property situation.
Therefore, the newly formed joint venture with Astra and Hongkong Land in Jakarta Garden City will give better prospects for Modernland. As for Jardine Matheson group, the joint venture will augment its portfolio in the largest property market in Southeast Asia. (ags)
Source: Bareksa.com
You might also like :
Comments