No Thousand Islands resident listening took offense: Ahok's cameraman
Callistasia Anggun Wijaya

The Jakarta Post
Jakarta |

Tue, January 24, 2017

| 09:20 pm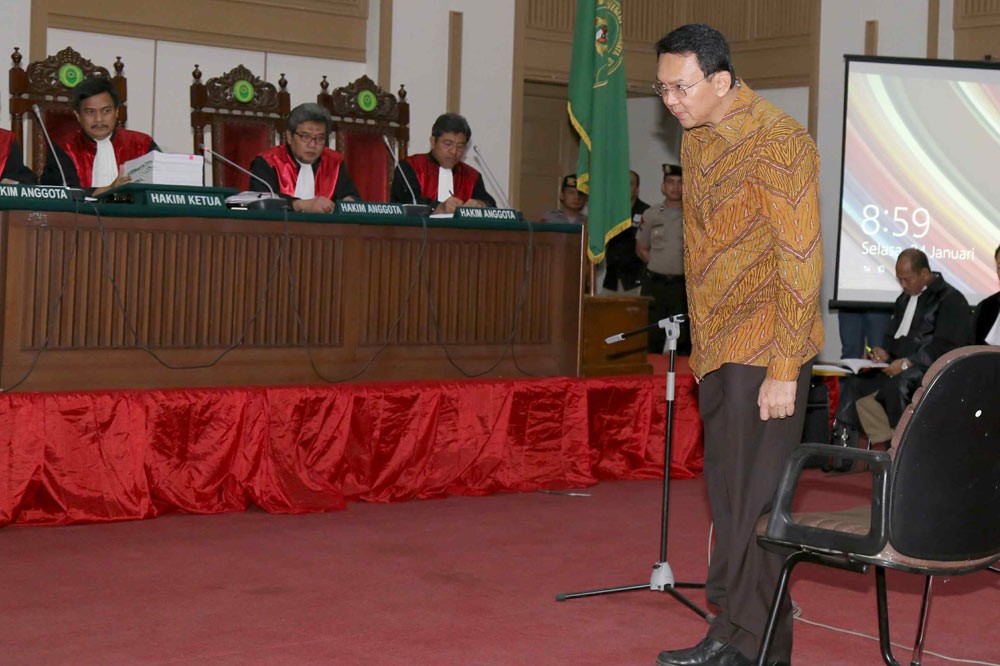 Jakarta gubernatorial candidate Basuki "Ahok" Tjahaja Purnama, attends a hearing of his blasphemy trial by the North Jakarta District Court, held at the Agriculture Ministry in South Jakarta on Jan. 24. (aktual.com/POOL/Tino Okatviano/ via JP)
Nurkholis Majid, a cameraman who recorded Jakarta Governor Basuki "Ahok" Tjahaja Purnama's speech in Thousand Islands regency on Sept. 27, has testified that he had only become aware of Ahok's mention of Surah Al Maidah 51 when he saw news regarding the issue.
"I didn't pay attention to his speech because I was focusing on recording the video," Nurkholis told the judges during Tuesday's hearing.
However, Nurkholis said the Thousand Islands residents in attendance had applauded Ahok several times during the speech and none of them had raised any protest.
Nurkholis, who is a temporary worker at the Jakarta Communications, Information and Public Relations Agency, explained that after recording the footage, he submitted the video to his editor, who later uploaded it to the administration's official YouTube account.
Nurkholis was the second eyewitness presented by the prosecutors on Tuesday, after Yuli Hardi, the subdistrict head of Pulau Panggang, Thousand Islands, took the stand in the morning.
Similarly to Nurkholis, Yuli Hardi testified that he had not noticed the part of Ahok's speech that touched on Surah Al Maidah 51.
Besides Yuli Hardi and Nurkholis, the court also heard testimony from Muhammad Asroi Saputra and Iman Sudirman, witnesses who had reported Ahok to the police for blasphemy.
Asroi and Iman failed to show up to the hearing on Jan.17. (evi)
Topics :
You might also like :
Comments