Anti-drug cop gets 2.5 years for money laundering
Apriadi Gunawan

The Jakarta Post
Medan |

Thu, February 2, 2017

| 01:23 pm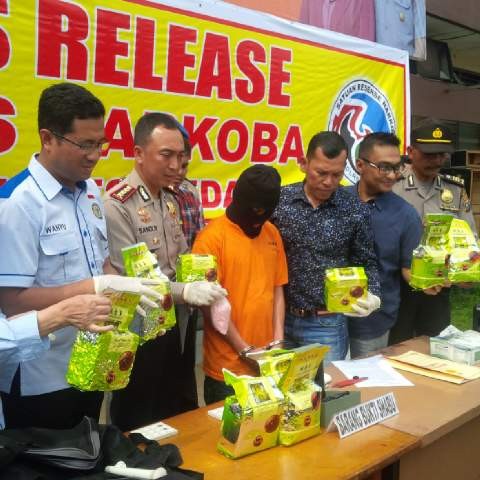 Medan Police chief Sr. Comr. Sandi Nugroho (third left) shows seized drugs and a masked suspect to the press in Medan on Saturday. (JP/Apriadi Gunawan)
A police officer in Medan, North Sumatra, was sentenced to two and a half years in prison on Wednesday for laundering money from the illegal drug trade.
The Medan District Court said it had found Com. Ichwan Lubir, the former head of a narcotics unit with the Belawan Port Police, guilty of laundering Rp 2.5 billion (US$186,832) that he received from "drug lord" Togiman.
The court also ordered the police officer to pay Rp 1 billion in fines or spend an additional four months in prison.
(Read also: Jakarta Police launch app for public to report drug abuse)
Togiman, who was tried with Ichwan, was sentenced to 12 years for his role in the case. His two accomplices, Janti and Tjun Hin, meanwhile, got two and a half years in prison each.
Togiman, a notorious drug king pin in Medan, had already been sentenced to life imprisonment for running an illegal drug business in the Lubuk Pakam pentientiary in Deli Serdang.
The sentences handed to the four defendants were lighter than those the prosecutors had demanded. They earlier asked that the court to sentence Ichwan, Janti and Tjun Hin to five years each and Togiman to 17 years in prison.
The four defendants had shown good manners during the trial, presiding judge Erintuah Damanik said. "The other mitigating factor for [Ichwan's] sentence is that he has served in the police force for 16 years and he has a family," he added. (ary)
You might also like :
Comments