Mainstream media expected to play greater role in tackling fake news
News Desk

The Jakarta Post
Jakarta |

Thu, February 9, 2017

| 05:08 pm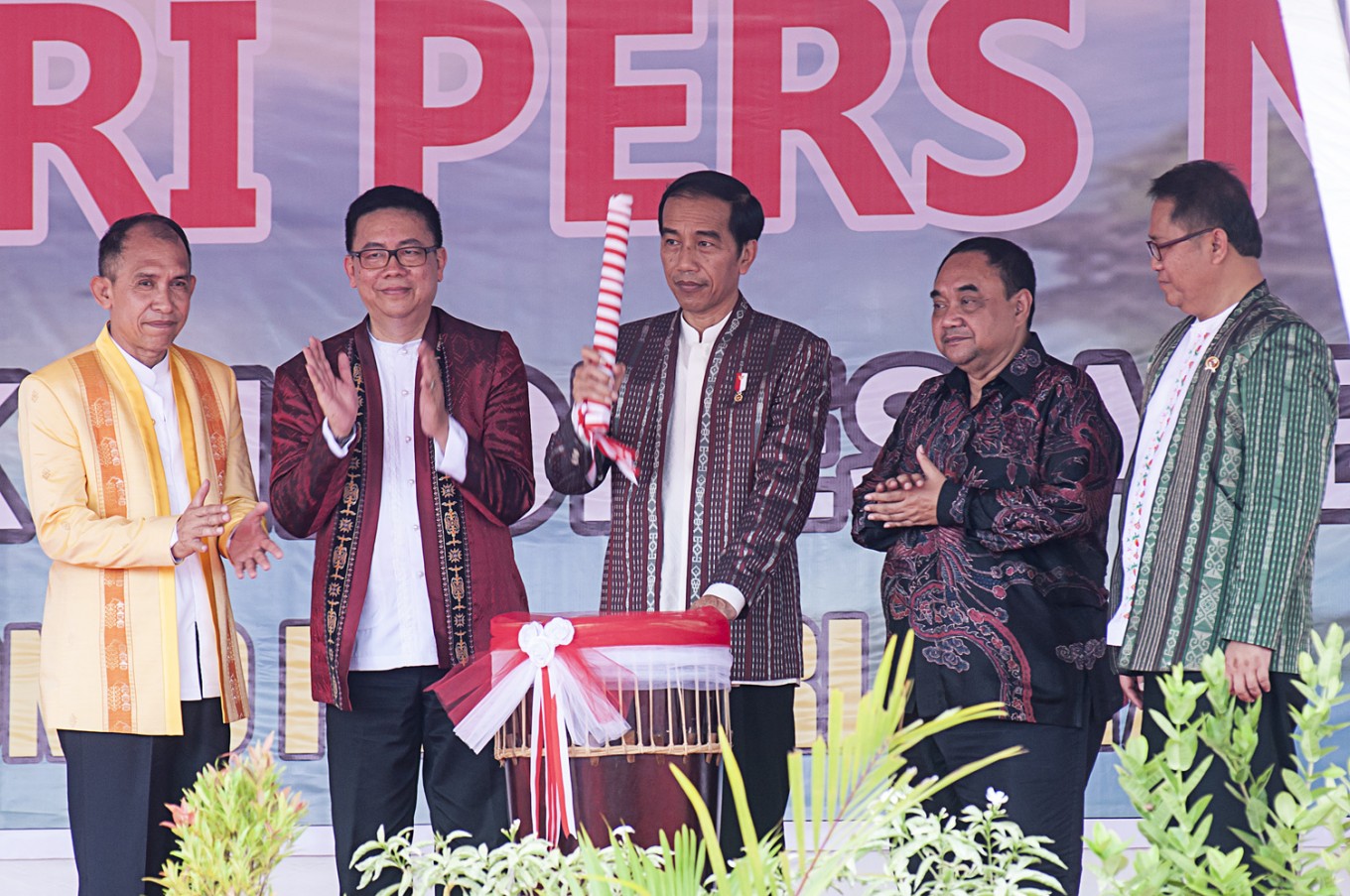 For free but responsible press -- President Joko "Jokowi" Widodo (center) strikes a tifa (traditional drum) in Maluku during the opening of National Press Day celebrations in Ambon, Maluku, on Feb.9. Indonesian Journalists Association (PWI) chairman Margiono (second right), Indonesian Press Council chairman Yoseph Adhi Prasetyo (second left), Communications and Information Minister Rudiantara (right) and Maluku Governor Said Assagaff were present. (Antara/Embong Salampessy)
The spread of fake news has taken place not only in Indonesia but also other countries and is an impact of the new era of global openness that Indonesians must deal with, the President has said.
With the growing use of social media, mainstream media platforms should play more active roles in combating the influence of fake news in society by educating people with truthful news coverage, he advised.
President Joko "Jokowi" Widodo said the presence of social media had allowed everyone to create and spread news. Although educational content could be found on social media, fake news was also spread through it.
The President said Indonesians would become smarter in responding to the plague of fake news on social media.
"I believe that this problem will make us more mature and more resilient. So there is no need to complain too much if you get information [that turns out to be untruthful] on social media because this is a phenomenon in all countries," said Jokowi during the celebration of National Press Day in Ambon, Maluku, on Thursday.
(Read also: Fighting fake news isn't just up to Facebook and Google)
Jokowi acknowledged that in many countries it had been difficult for conventional media to survive amid the growing amount of online information. He expressed confidence that the phenomenon would not happen in Indonesia.
"I'm certain that despite the extensive spread of information online, mainstream media will not disappear. They can both exist. Online information will be superior because of its fastness while mainstream media will remain excellent because of its accuracy and in-depth information." (ebf)
You might also like :
Comments