Security heightened to anticipate post-election unrest in West Sulawesi
Andi Hajramurni

The Jakarta Post
Mamuju, West Sulawesi |

Fri, February 17, 2017

| 08:16 pm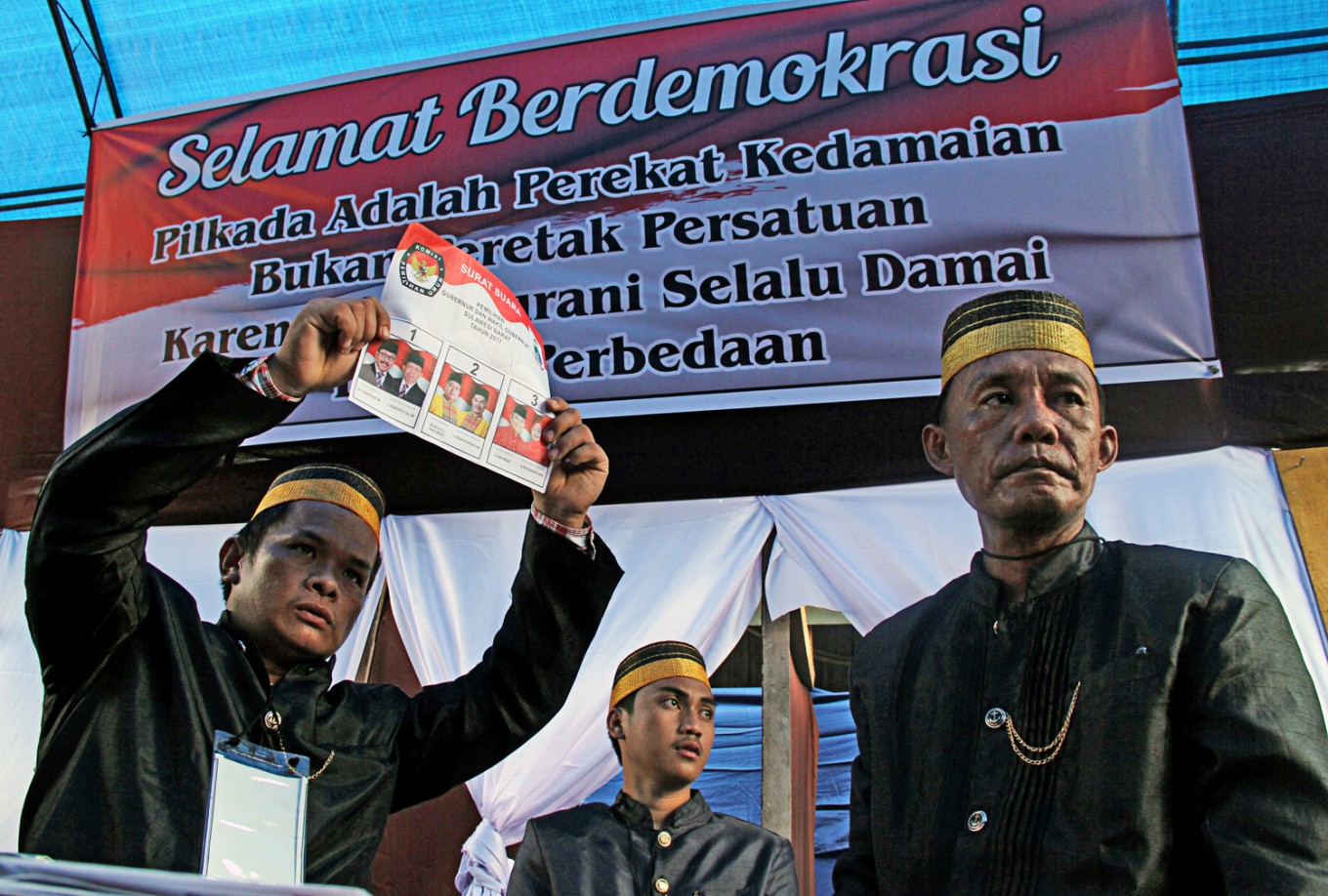 Count the vote: Election officers wear traditional outfits during the vote-counting process at polling station 29 on Jl. Emi Sailan, Mamuju, West Sulawesi, on Feb.15. (Antara/Akbar Tado)
The West Sulawesi Police have beefed up security in Mamuju and Polewali Mandar regencies to prevent social unrest that may erupt following the gubernatorial election on Feb.15.
Security personnel have been readied in the two areas deemed at higher risks of unrest.
West Sulawesi Police chief Brig.Gen.Nandang said on Friday the heightened security was to anticipate fraud during the vote-counting process and other incidents, which might lead to public unrest.
"The situation in Mamuju and Polewali Mandar is still safe and conducive. However, we must take preventive measures against vote-counting fraud and other post-election incidents."
Nandang said personnel that had been previously readied at several polling areas across West Sulawesi had been moved to Mamuju and Polewali Mandar. Around 800 personnel had now been readied in each of the two regencies.
They have been placed in areas deemed vulnerable, such as at district offices where vote counting is under way, at the West Sulawesi General Elections Commission (KPU West Sulawesi) and Elections Supervisory Agency (Bawaslu), campaign posts and the private residences of each candidate pair. Mobile Brigade (Brimob) personnel have been deployed to those areas and barbed wire has been placed around the KPU.
"This is a sign the police are serious about securing the election. We will not tolerate any fraud or intervention during the vote-counting process. The election must run fairly," said Nandang.
Based on The Jakarta Post's observation, the vote-counting process by district polling committees (PPK) are still running smoothly. Quick counts show candidate pair Ali Baal Masdar - Enny Anggraeni Anwar won the election. (ebf)
You might also like :
Comments