KPU Jakarta vows to improve quality of polling station officers
Callistasia Anggun Wijaya

The Jakarta Post
Jakarta |

Thu, February 23, 2017

| 04:59 pm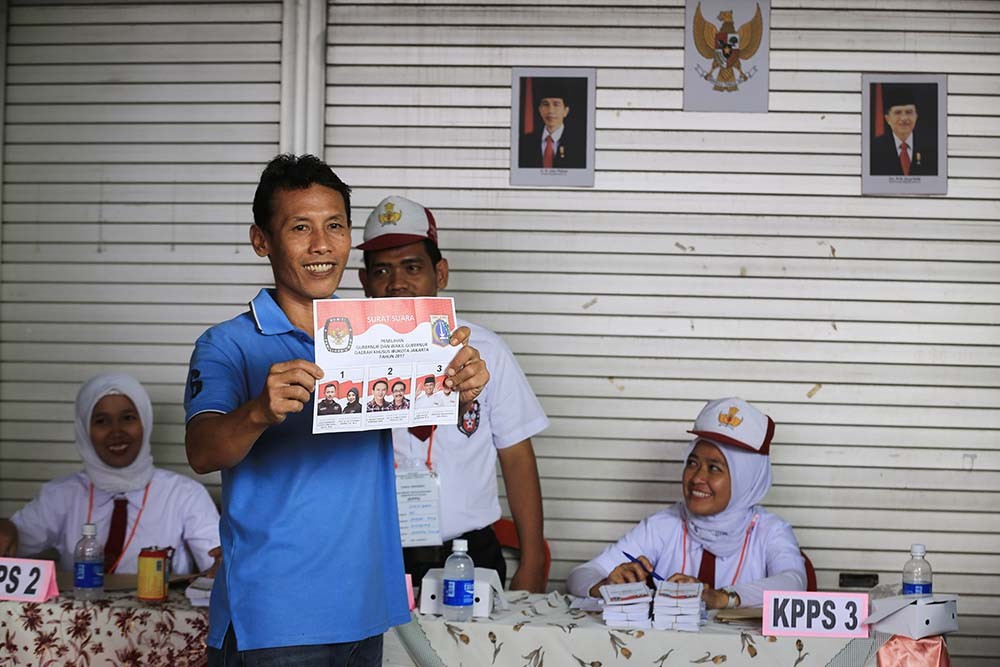 Cast your ballot: A resident shows his ballot before he casts it at Polling Station 45, Kebon Pala, East Jakarta, during the Feb. 15 gubernatorial election. (JP/Dhoni Setiawan)
The Jakarta General Elections Commission (KPU) has promised to improve the quality and capacity of polling station officers (KPPS) for the runoff election slated for April 19, following widespread public dissatisfaction over the work performance of the officials during the Feb. 15 election.
Various violations were reported to have marred the first round of the gubernatorial election.
KPU Jakarta commissioner M. Sidik admitted many officers did not yet understand election rules; therefore, a comprehensive technical guidance (bimtek) course would be conducted so they could better serve voters.
"We will optimize the technical guidance course for KPPS. We will also invite election supervisors and witnesses," Sidik said at the KPU office in Paseban, Central Jakarta on Wednesday.
He said the commission would straighten out misunderstandings about election rules among officers that had disadvantaged voters. One reported shortcoming was officers' knowledge about the proper procedures for unregistered voters who wanted to cast their vote by showing their electronic identity cards (e-KTP) or recommendation letters issued by the Jakarta Civil Registry and Demography Agency (Disdukcapil).
Many unregistered voters complained that on Feb. 15 they could not cast ballots despite showing the required documents to polling station officers.
There were also misunderstandings about polling hours. Many officers were reportedly unaware of the opening hours of polling stations on the day, which were set as 7 a.m. to 1 p.m.
Based on the regulation, polling officers should have closed voting registration at 1 p.m., however, many of them blocked people from voting after 1 p.m. Many voters claimed they were prohibited from casting their ballots after 1 p.m. although they had registered at polling stations.
"Officers should let residents who have registered before 1 p.m. vote," Sidik said. (ebf)
You might also like :
Comments