Indonesia joins global effort to curb illegal fishing
Arif Gunawan Sulistiyono

The Jakarta Post
New York |

Fri, June 9, 2017

| 08:15 am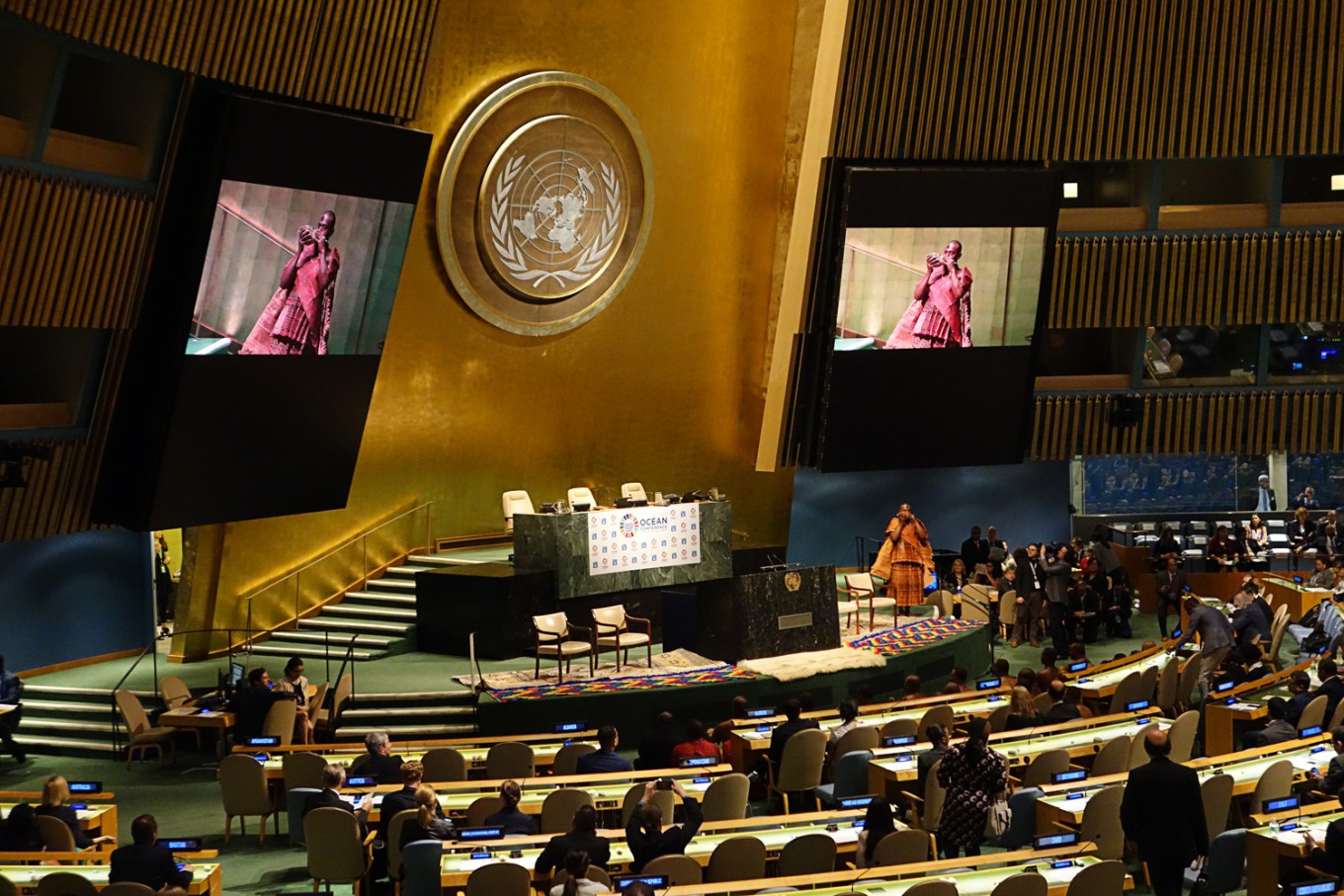 Saving the oceans: Participants in the Fijian Traditional Welcome Kava Ceremony open the Ocean Conference on June 5 at the United Nations in New York. (AFP/Don Emmert)
Support is mounting for Indonesia to bring illegal, unregulated, and unreported (IUU) fishing up to a higher level of discussion in the United Nations, as many countries have shared similar concerns on the issue in the plenary meeting and called for real action.
However, much needs to be done before the world officially acknowledges that such a practice is a "Transnational Organized Fisheries Crime" since additional steps would be required — especially at the lobbying level — to gather votes for any UN resolution on that.
In the partnership dialogue entitled "Making Fisheries Sustainable," all 33 delegations to the UN Ocean Conference who have been approved to present their official interventions were generally of the view that illegal fishing must be curbed for it destroyed vital marine habitats and that US$35 billion in harmful subsidies must be eliminated as it led to overfishing.
"We need to make a more concerted effort to tackle such things as illegal fishing, under-reporting and harmful subsidies that result in over-capacity," Canada's Fisheries, Oceans and Coast Guard Minister Dominic LeBlanc said at the UN headquarters in New York on Wednesday.
As the co-chairs of the meeting, LeBlanc and Senegal's Fisheries and Maritime Economy Minister Oumar Guèye are to present the summaries of the meeting at the closing plenary session. The conclusions will be included in the final report of the UN Ocean Conference and are to generate several recommendations.
In her intervention, Maritime Affairs and Fisheries Minister Susi Pudjiastuti said that there should be a designated body to ensure that "the right of oceans" would be protected without being bothered by any political change or agenda.
The high seas, meanwhile, needed to be better managed so that distant-country fishing did not harm resource sustainability, she said, adding that the General Assembly should, in its resolutions, acknowledge transnational fisheries crimes.
"We need to realize that the crimes that take place at sea mostly involve fishing vessels and include human trafficking, drugs trafficking, illegal fuel transaction, smuggling of goods and endangered species, and many others," Susi said
The UN members, she added, must establish an independent expert team that would recommend a plan to institutionalize the fight against transnational organized fisheries crime and to push for its acknowledgement by the General Assembly.
INTERPOL special representative Emanuel Roux said said his organization had been involved in several operations in the fisheries sector, such as one in the Caribbean that led to the arrest in July 2016 of a vessel carrying out illegal fishing.
"Through "Project Scale", INTERPOL agents in Lyon who had experience dealing with fisheries crime, carried out the criminal analysis of illegal fishing, which was often linked to human trafficking," he explained.
While all of the delegations wanted illegal fishing to be eradicated and even INTERPOL had said that it had the ability to investigate the transnational fisheries crimes, none of the 59 UN countries members in the meeting explicitly mentioned any plan or notion to classify the practice as a transnational organized crime.
Minister Susi admitted that good long-term diplomacy was needed to ensure that Indonesia was not the only one to leap too far by proposing any resolution on transnational fisheries crime. For now, Norway and Sweden have consistently been Indonesia's main backers on the issue.
"Consistency is the key," she said. "If we succeed with the resolution, then INTERPOL will defend all countries, including small ones, against fisheries crime."
Topics :
Join the discussions