Pertamina completes US$397 million geothermal units in Lampung
Viriya P. Singgih

The Jakarta Post
Jakarta |

Fri, June 16, 2017

| 02:20 pm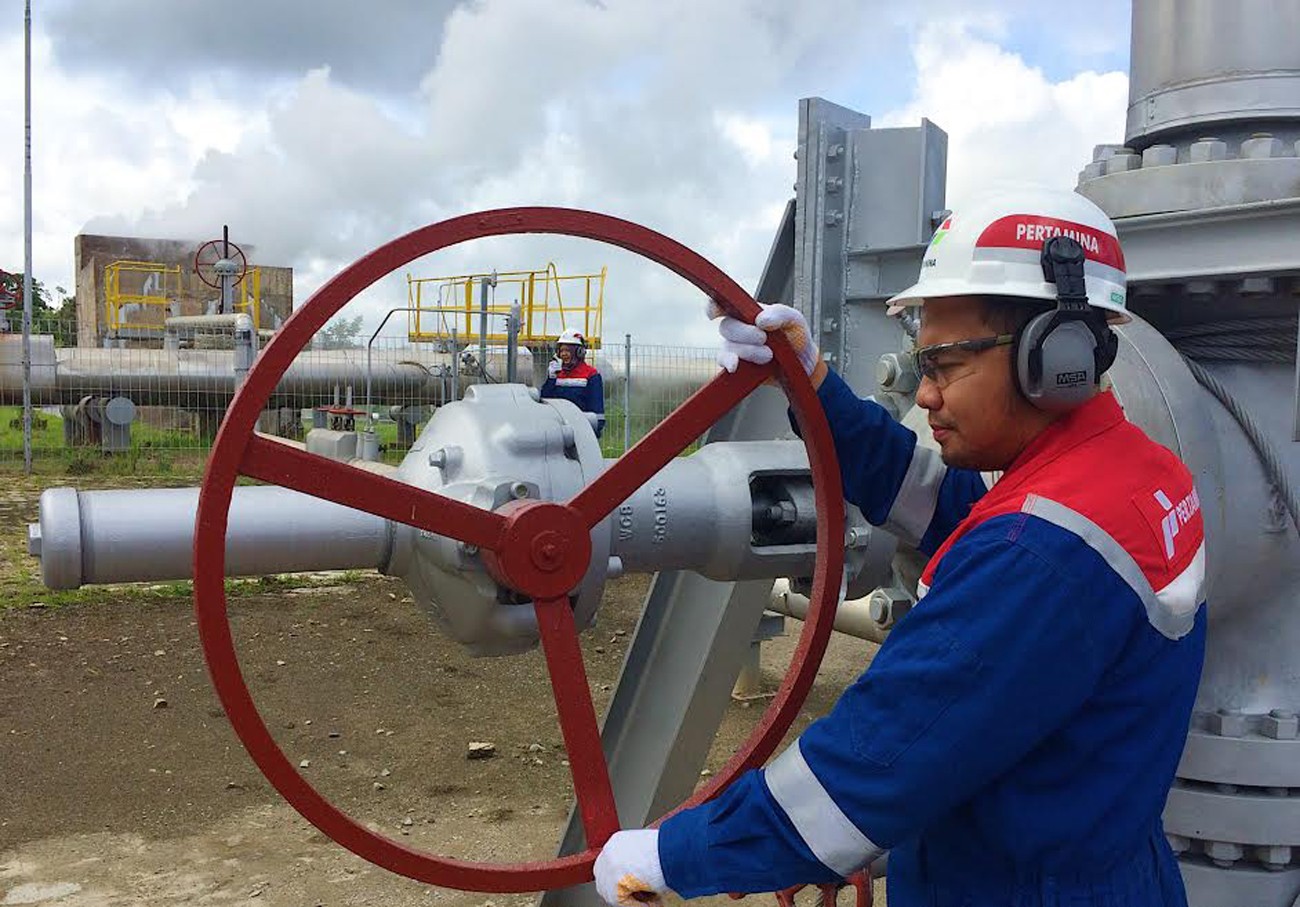 A worker operates machinery at the Ulubelu geothermal power plant, owned by Pertamina Geothermal Energy (PGE), in Lampung on Friday. The Ulubelu plant now generates a total 220 MW of electricity, or 25 percent of the entire Lampung electricity grid. (JP/Viriya P. Singgih)
Pertamina Geothermal Energy (PGE), a subsidiary of state-owned energy giant Pertamina, has completed the development of Units 3 and 4 of the Ulubelu geothermal power plant in Lampung, with a total capacity of 2x55 megawatts (MW).
Unit 3 has already started commercial operations since July 2016, and Unit 4 in March this year. The two new units have a total investment value of US$397 million.
Meanwhile, Units 1 and 2 of the Ulubelu power plant, which are operated by state-owned electricity firm PLN, also have a total capacity of 2x55 MW. PGE only supplies the geothermal energy to fuel these units.
"In total, the Ulubelu plant now generates 220 MW of electricity, or 25 percent of the whole electricity demand in Lampung," PGE's general manager for the Ulubelu region, Dirgo Rahayu, told reporters during a media visit to the Ulubelu facility in Lampung on Friday.
At present, PGE contributes around 35 percent energy produced by all existing geothermal power plants in Indonesia, which have a combined capacity of 1,698.5 MW.
By the end of 2017, the government targets an increase in total capacity of 1,858.5 MW through the completion of three other facilities: the Sarulla Unit II plant (110 MW) and the Sorik Merapi Modular Unit I plant (20 MW) in North Sumatra, and the Karaha Bodas plant (30 MW) in West Java. In the long run, Indonesia aims to produce 7,200 MW from geothermal power plants by 2025, or 3.8 percent of the targeted 23 percent of the national energy mix from renewable energy sources. (bbn)
Join the discussions