Dual citizenship, rift headline Indonesian diaspora congress
Marguerite Afra Sapiie

The Jakarta Post
Jakarta |

Mon, July 3, 2017

| 10:29 am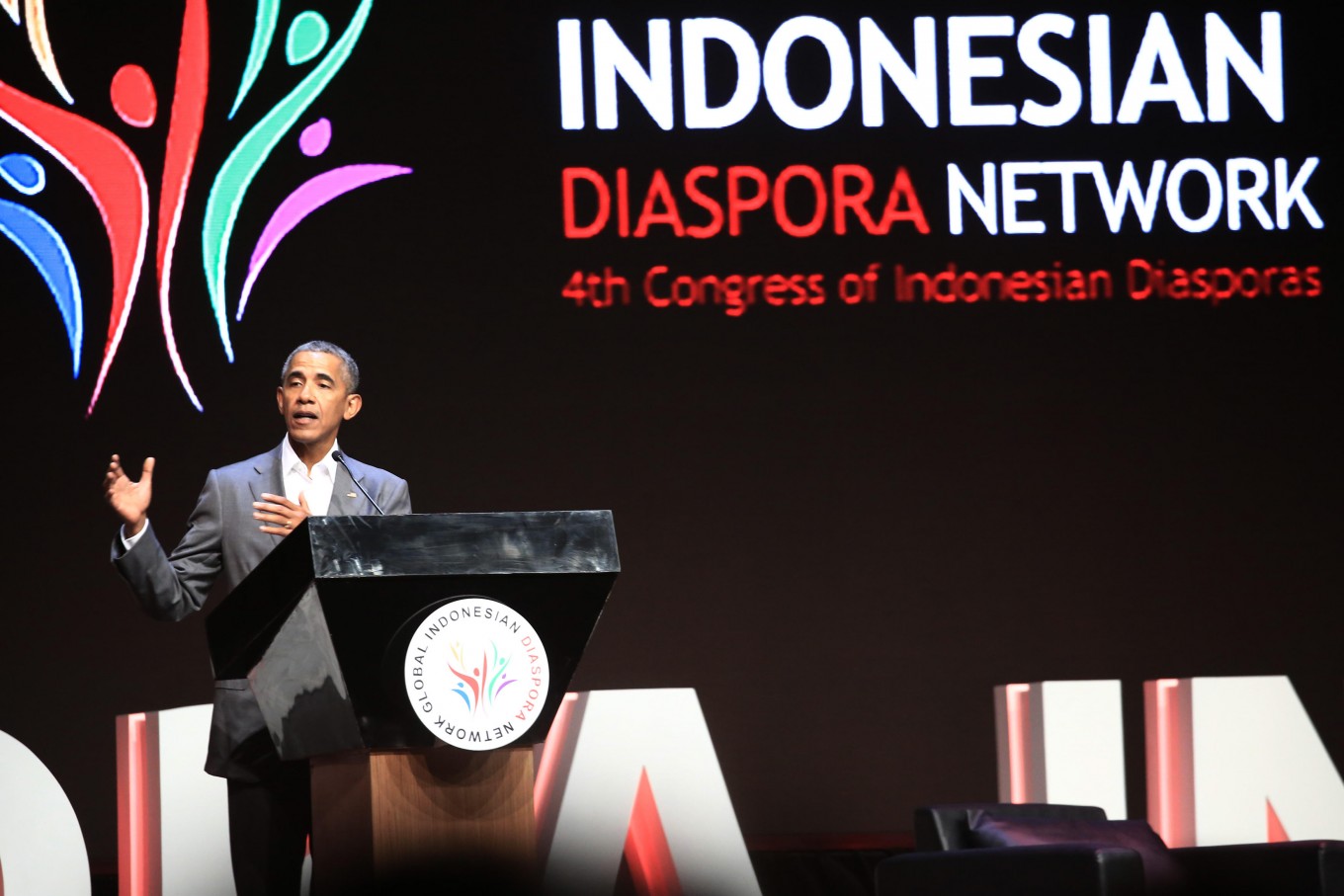 Former US president Barack Obama delivers his speech in the 4th Indonesian Diaspora Congress in Jakarta on July 1, 2017. (JP/Dhoni Setiawan)
On the international stage, 17-year-old Luis Leeds is known as an Australian racer who has taken part in numerous competitions and won trophies in championships around the world.
Not many people know that Leeds also holds an Indonesian citizenship. The racer, who was born in Melbourne in 2000, is the son of a mixed marriage between Maria, from Ngawi regency, East Java, and Dean Leeds, an Australian.
"Leeds feels that a part of him belongs to [Indonesia], so he also features [the Indonesian flag] on his racing car," said Sulistyawan Wibisono, a member of Indonesian Diaspora Network (IDN) Australia, who knows Leeds and his family.
Leeds turns 18 next year, which means that under the existing law in Indonesia, he should soon choose between his two nationalities. Even though Australia recognizes dual nationality, Indonesia does not allow dual citizenship for adults.
Sulistyawan and Leeds are among 76,000 Indonesian nationals living in Australia, a small part of an Indonesian diaspora comprising 8 million people who take up residence all over the world and continue to hope that the government will move to allow dual citizenship.
Herman Syah, a member of IDN who lives in the Netherlands, said he also faced difficulties obtaining a visa to travel to some countries, such as the United States, as he holds an Indonesian passport.
His wife and children, who have been naturalized and are Dutch citizens, were easily able to apply for a visa and left for the US without Herman, whose visa has yet to be issued.
"It's been two and a half years, but when I recently asked about my visa status to the US Embassy, they told me, 'Please wait,'" Herman said.
Last year, the Indonesia diaspora was delighted when President Joko "Jokowi" Widodo announced that his administration was considering to revise the 2006 Citizenship Law to allow dual nationality. However, the move was met by controversy, with the opposition citing security as the reason behind their objection.
But amid the debate, Foreign Minister Retno LP Marsudi said her office planned to introduce a set of privileges for the diaspora, including by launching diaspora card that would function as an identity token for Indonesians living abroad.
"Hopefully the cards could be issued next month," Retno said.
Dual nationality was one of the issues discussed in the fourth Indonesian Diaspora Congress initiated by Indonesian Diaspora Network (IDN) Global in Jakarta.
However, the congress itself was surrounded by controversy as several IDN chapters refused to acknowledge the event, which they claimed was unofficial and not organized by the current IDN Global leadership of president Ebed Litaay.
The congress was initially set for August, but due to differences between Ebed and IDN Global board of trustees chairman Dino Patti Djalal, which led to divisions in the organization, Dino took over and pushed the congress for July, said IDN USA president Herry Utomo, who also opposed the event.
Members attending the event did not represent IDN USA as an organization, but came as individuals, Herry said, adding that IDN Australia, Malaysia and Singapore also opposed the congress.
"We suspect that the July event also aimed to remove Pak Ebed from his position as president […] because a letter to dismiss him had been issued," Herry said. "We rejected the July election because it seemed forced and looked like a coup d'etat, while in fact, it should be held democratically."
Meanwhile, Dino rebuffed the accusation, saying the July congress had been agreed to by all IDN National chapters, but suddenly some parties, including Herry and Ebed, changed their minds and wanted to hold the congress in August.
"It does not make sense to create an event that will compete with the July congress because the majority of the diaspora has come to the July event, which is the largest Indonesian diaspora event ever. So it only makes sense to hold the election in July," Dino told The Jakarta Post.
Topics :
Join the discussions