Jokowi-Turnbull discuss Rakhine, CEPA
Fedina S. Sundaryani

The Jakarta Post
Da Nang, Vietnam |

Sun, November 12, 2017

| 02:51 pm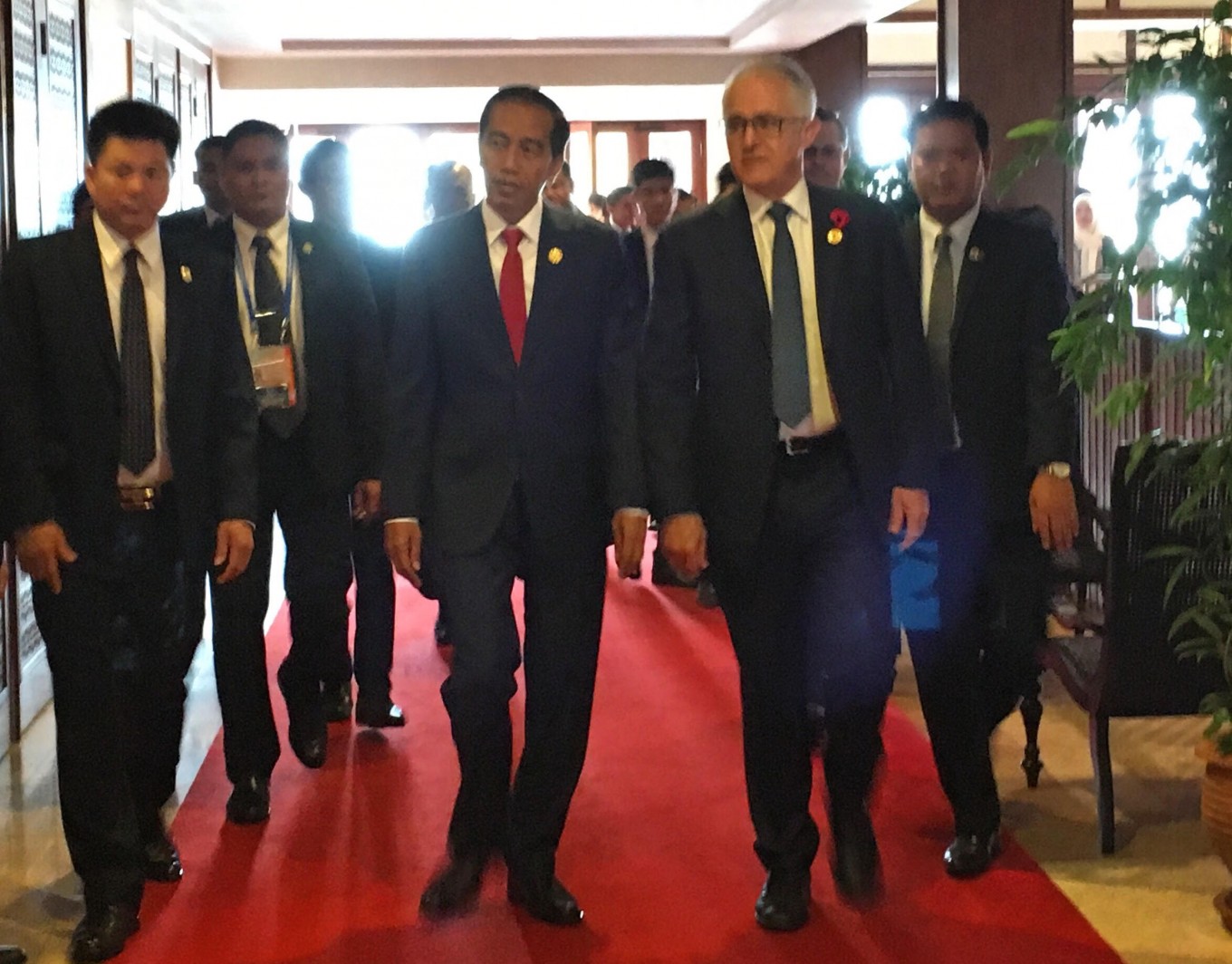 President Joko "Jokowi" Widodo (middle left) and Australian Prime Minister Malcolm Turnbull (middle right) walk to where their bilateral meeting which was held in Da Nang, Vietnam on Saturday. The two leaders discussed various issues, including the situation in Rakhine state in Myanmar and the completion of the Indonesia-Australia comprehensive economic partnership agreement (CEPA). (JP/Fedina S. Sundaryani)
President Joko "Jokowi" Widodo and Australian Prime Minister Malcolm Turnbull discussed a wide variety of issues during a bilateral meeting held on the sidelines of the APEC Economic Leaders Week held in Da Nang, Vietnam over the weekend.
Following the meeting, Cabinet Secretary Pramono Anung confirmed that the two leaders discussed the situation in Rakhine state in Myanmar and Marawi in the Philippines, as well as the completion of negotiations on the Indonesia-Australia comprehensive economic partnership agreement (CEPA).
"At every leader's summit, Prime Minister Turnbull has always asked for a bilateral meeting with President Jokowi, which shows the close relationship between the two," he said.
Pramono explained that Australia encouraged Indonesia to continue playing an active role in finding a peaceful resolution to the situation in Rakhine state.
In turn, Indonesia also asked Australia to take part in the restoration of Marawi, with Jokowi stating that Indonesia was committed to sending moderate Muslims to the shattered city to help in deradicalization efforts.
Read also: Jokowi and Turnbull to focus on economic, strategic links
"They also hope the CEPA will be completed by the end of this year. It has already reached the final stages, however there are still some sensitive issues [to be resolved], for example, whether or not vocational educators can be foreigners or not," Pramono said.
Bilateral trade between Indonesia and Australia has decreased over the past few years. It dropped to US$8.46 billion last year from $10.2 billion in 2012, down by 4.63 percent on average per year, according to data from the Trade Ministry.
Topics :
Join the discussions