Jakarta to give Rp 1.6 trillion to mass organizations, religious institutions
Agnes Anya

The Jakarta Post
Jakarta |

Wed, November 22, 2017

| 04:17 pm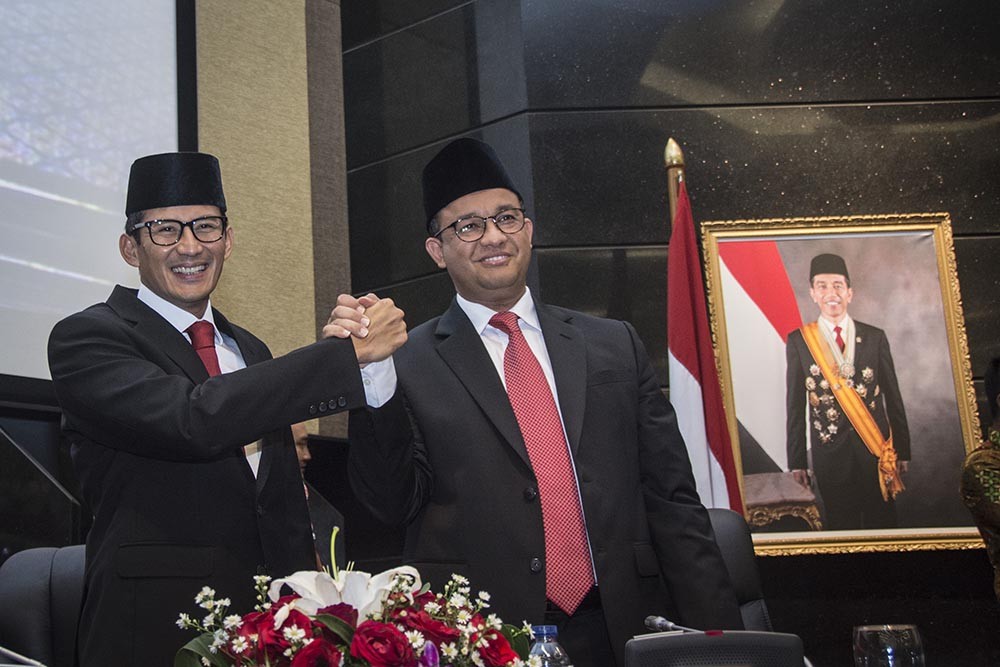 Jakarta Governor Anies Baswedan (right) and Deputy Governor Sandiaga Uno pose for a photograph on Nov. 15, after a plenary meeting at the City Council building in Central Jakarta. (Antara/Aprillio Akbar)
The Jakarta administration has allocated Rp 1.6 trillion (US$118.3 million) in grants for 104 non-profit mass organizations, mostly Islamic ones, next year.
The Islamic organizations include mosques, musholla (prayer rooms), and majlis taklim (Quran study congregations), according to the city's budget website apbd.jakarta.go.id.
The mosques, such as Al Qodiyatul Ikhlas in Cengkareng, West Jakarta, and Baitul Maqdis Al Rahmah in Johar Baru, Central Jakarta, will receive grants between Rp 40 million and Rp 100 million each. Meanwhile, the musholla will be granted between Rp 30 million and Rp 100 million, and each majlis taklim is set to receive Rp 20 million to Rp 25 million.
Jakarta Mosques played a significant role in paving Anies' victory during the gubernatorial election earlier this year.
During the gubernatorial campaign, some mosques called on Muslims not to hold funeral prayers for deceased Muslims found to have supported Anies' contender, Basuki "Ahok" Tjahaja Purnama, who is a Christian of Chinese ethnicity.
Nonetheless, some of the funds are also allocated for other religious institutions, such as a Protestant church in Tanjung Priok, North Jakarta, the Bethel Church in Kebon Jeruk, West Jakarta, and Parisada Hindu Dharma Indonesia. The grants vary from Rp 80 million to Rp 1 billion.
Aside from religious organizations, grants are also given to other institutions, like university student paramilitary groups (Komando Resimen Mahasiswa), youth organization Karang Taruna, the Indonesian Cancer Foundation, the Betawi Culture Consultative Body (Bamus Betawi) and mass organization Laskar Merah Putih.
City councilor William Yani has questioned the method used by the administration to determine the sum granted to each institution.
"I request [that the administration explain] the criteria, [to see] why Komando Resimen Mahasiswa gets Rp 1 billion and Laskar Merah Putih Rp 500 million, while there are many mass organizations in the capital," he said, as quoted by kompas.com.
Join the discussions