NU to discuss 18 key issues at national meeting
Panca Nugraha

The Jakarta Post
Mataram, West Nusa Tenggara |

Thu, November 23, 2017

| 04:10 pm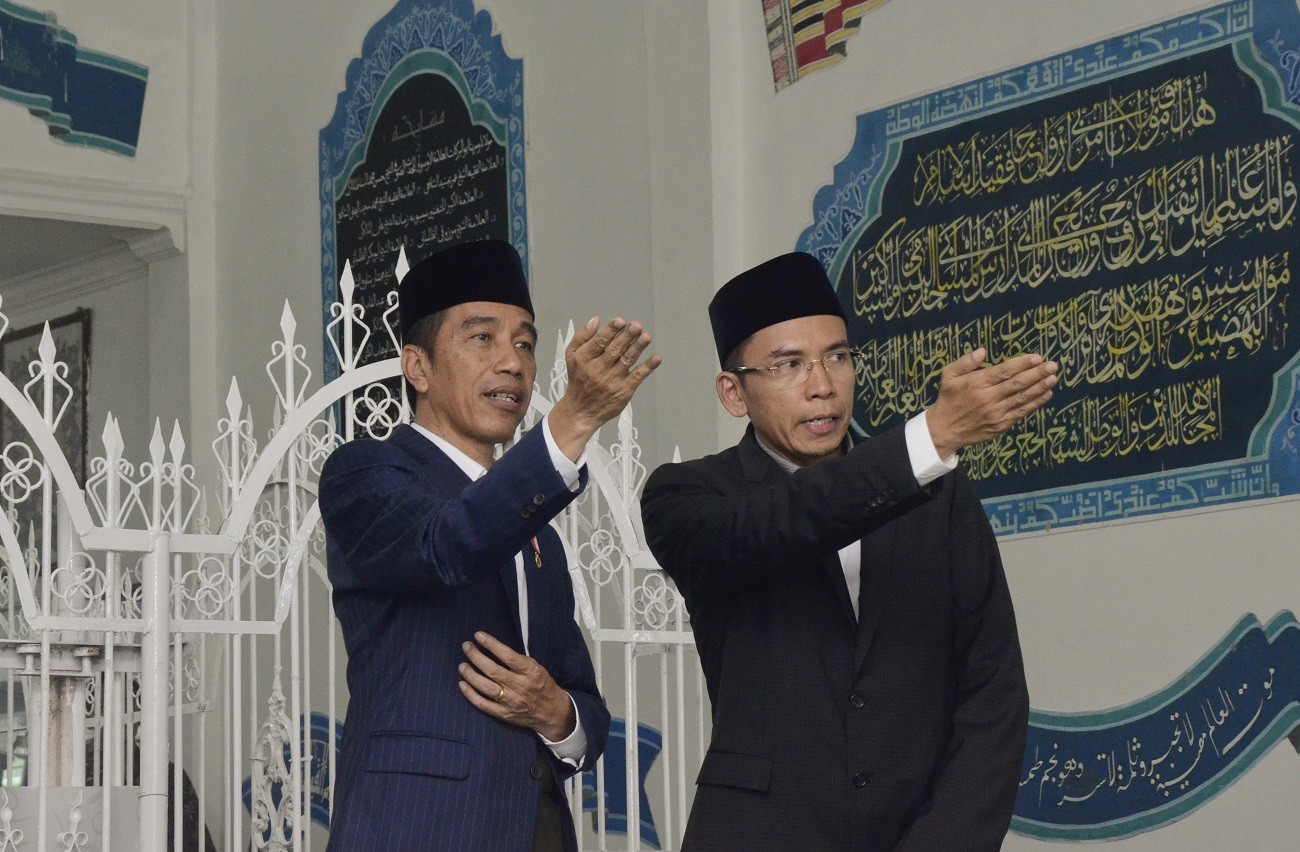 Promoting tolerance: President Joko "Jokowi" Widodo (left) and West Nusa Tenggara (NTB) Governor TGB Zainul Majdi (right) visit the grave of national hero Maulana Syekh TGKH Muhammad Zainuddin Abdul Majid at the Nahdlatul Wathan Islamic boarding school in Pancor, East Lombok, NTB, on Thursday. (Antara/Ahmad Subaidi)
Eighteen major national issues will be discussed at the national meeting (Munas) and major conference (Konbes) of Indonesia's biggest Islamic organization, Nahdlatul Ulama, in Lombok, West Nusa Tenggara (NTB), from Thursday to Saturday.
The issues include the eradication of radicalism, the deradicalization of terrorists and support for people with disabilities. The use of media to spread "ideas that are not educating and tend to be partisan" will also be discussed at the meeting.
Munas NU organizing committee head Robikin Emhas said promoting the rights of people with disabilities was an interesting issue to be discussed, as NU considered Indonesia a country that was not disabled-friendly.
Few special facilities for disabled people are available in public areas across Indonesia. "At mosques, for instance, it is still quite difficult for disabled people to do the wudhu [ablution ritual]. NU wants to encourage all stakeholders to be more accommodating of people with disabilities," said Robikin on the sidelines of the meeting.
President Joko "Jokowi" Widodo gave his remarks during the opening ceremony of the event at the NTB Islamic Center in Mataram at 2 p.m. on Thursday. Around 1,500 ulemas and NU officials are attending the national meeting.
Economic empowerment is another key issue to be discussed at the NU's national meeting and conference in Lombok, as the NU sees a close connection between welfare and Indonesia's successful effort to promote democracy and tolerance. (ebf)
Topics :
Join the discussions