PDI-P backs Soekarno's granddaughter for East Java election
News Desk

The Jakarta Post
Jakarta |

Wed, January 10, 2018

| 05:50 pm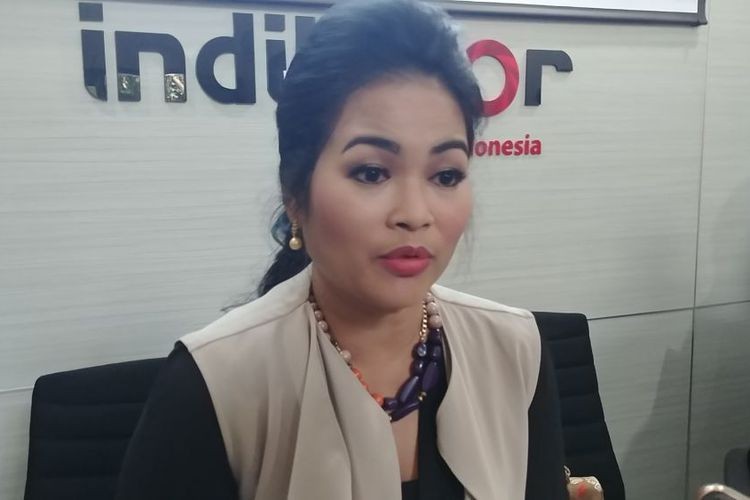 Indonesian Democratic Party of Struggle (PDI-P) politician Puti Guntur Soekarno speaks to journalists in this file photo taken on Oct. 11, 2017. (Kompas.com/Ihsanuddin)
The Indonesian Democratic Party of Struggle (PDI-P) is backing PDI-P politician and first president Soekarno's granddaughter, Puti Guntur Soekarno, as its candidate for East Java deputy governor in the 2018 East Java regional election.
Puti replaces Banyuwangi Regent Azwar Anas as the running mate of Saifullah Yusuf, the incumbent East Java deputy governor, kompas.com reported on Wednesday.
The new candidate pair was seen visiting the PDI-P central executive board (DPP) headquarters in South Jakarta on Wednesday. A photograph had also been circulated of the party decree endorsing the pair that bore the signature of PDI-P chairwoman Megawati Sukarnoputri.
Puti, who is currently serving as a House of Representatives lawmaker, is the daughter of Soekarno's eldest son, Guntur Sukarnoputra, and Megawati's niece.
PDI-P election campaign head, Bambang Dwi Hartono, confirmed Puti's candidacy and said that the pair had visited the DPP office to receive a copy of the decree.
"Ibu [Megawati] will make an announcement later," Bambang added.
The pair is backed by the National Awakening Party (PKB) and the PDI-P, two largest parties in East Java. The province is considered the stronghold of the country's biggest Muslim organization, the Nadhlatul Ulama.
Puti had been touted as a possible replacement for Azwar Anas, who withdrew his candidacy last week following the circulation of photographs that allegedly showed him with an unidentified woman.
Join the discussions