Palm oil businessman indicted for graft
Moses Ompusunggu

The Jakarta Post
Jakarta |

Wed, March 7, 2018

| 06:37 pm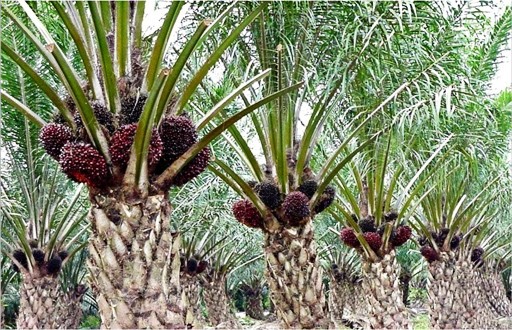 Crisis: Indonesia's oil palm plantations have been cited as the cause of land and forest fires. The National Development Planning Board (Bappenas) says Indonesia needs to intensify its campaign on sustainable palm oil to save the country's palm oil industry. (pajak.go.id/-)
Corruption Eradication Commission (KPK) prosecutors on Wednesday indicted a businessman in a bribery case related to oil palm plantation permit issuance in East Kalimantan, a province in Indonesia's part of Borneo Island with a long history of deforestation.
Hery Susanto Gun, president director of palm oil firm PT Sawit Golden Prima, was indicted for allegedly bribing suspended Kutai Kertanegara regent Rita Widyasari with Rp 6 billion (US$436,363) to issue a business permit for the former's 16,000 hectares of palm oil concession in the regency.
Hery, a close friend of Rita's late father and former Kutai Kartanegara regent Syaukani HR, applied for the location permit in 2009, finding his request rejected because a local land office had granted land-use recommendation for two oil palm plantations in the area, the indictment finds.
Timber firm PT Kartika Kapuas Sari had also been granted a Timber Business Inside Natural Forest Permit (IUPHHK-HA) for some parts of the area, according to the indictment.
The prosecutors allege that Hery ordered one of his staffers to negotiate with Rita to expedite the issuance of a location permit for his oil palm plantation, which, according to activists, is located within a peat swamp ecosystem.
Rita then ordered Ismed Ade Baramuli, a land administration official of the regency, to prepare the draft of the permit, KPK prosecutor Burhanuddin said during the Jakarta Corruption Court on Wednesday as reported by state-run news agency Antara.
The prosecutors also find that Rita finally signed the permit document for the 16,000-ha oil palm plantation, even though a local regulation prohibits agriculture companies from having over 15,000 ha of concession land.
Hery, who is charged under Article 5(b) of the 2001 Corruption Law, which carries a maximum sentence of five years in prison, has insisted that the Rp 6 billion was related to a transaction of gold between him and Rita.
The case was part of an investigation by the KPK into multiple environmental permit scams allegedly committed by Rita, who was indicted on Feb. 21 for receiving Rp 469 billion in bribes related to dozens of infrastructure projects in Kutai Kartanegara and the Rp 6 billion bribe from Hery.
The arrest of Rita in September 2017, which coincided with a climate summit of numerous governors across the world hosted by East Kalimantan, has provided momentum for the province to seriously deal with environmental degradation in the province, activists have said.
Deforestation on the island has contributed to the dwindling of various endangered species' habitats, such as Borneo orangutans, leading to the increase of human-wildlife conflicts, with the apes having no choice but to inhabit agricultural plantations owned by locals and companies.
Land conversion to industrial plantations accounts for nearly 99 percent of deforestation in East Kalimantan, according to an estimate last year by Daddy Ruhiyat, head of the province's Climate Change Regional Board (DDPI).
Only half of Borneo is currently covered by intact forests, down from 75 percent in the 1980s due to the rapid deforestation rate of 1.3 million ha per year, according to a World Wildlife Fund (WWF) estimate.
A study published in September 2016 in Nature found that rapid conversion of forests in Indonesian Borneo to industrial plantations had increased significantly since 2005, which in part was caused by local administrations having greater authority to issue land conversion permits since the fall of the New Order regime in 1998. (ahw)
Topics :
Join the discussions