Gerindra officials in West Java declare support for Prabowo
Arya Dipa

The Jakarta Post
Bandung, West Java |

Wed, March 14, 2018

| 11:18 pm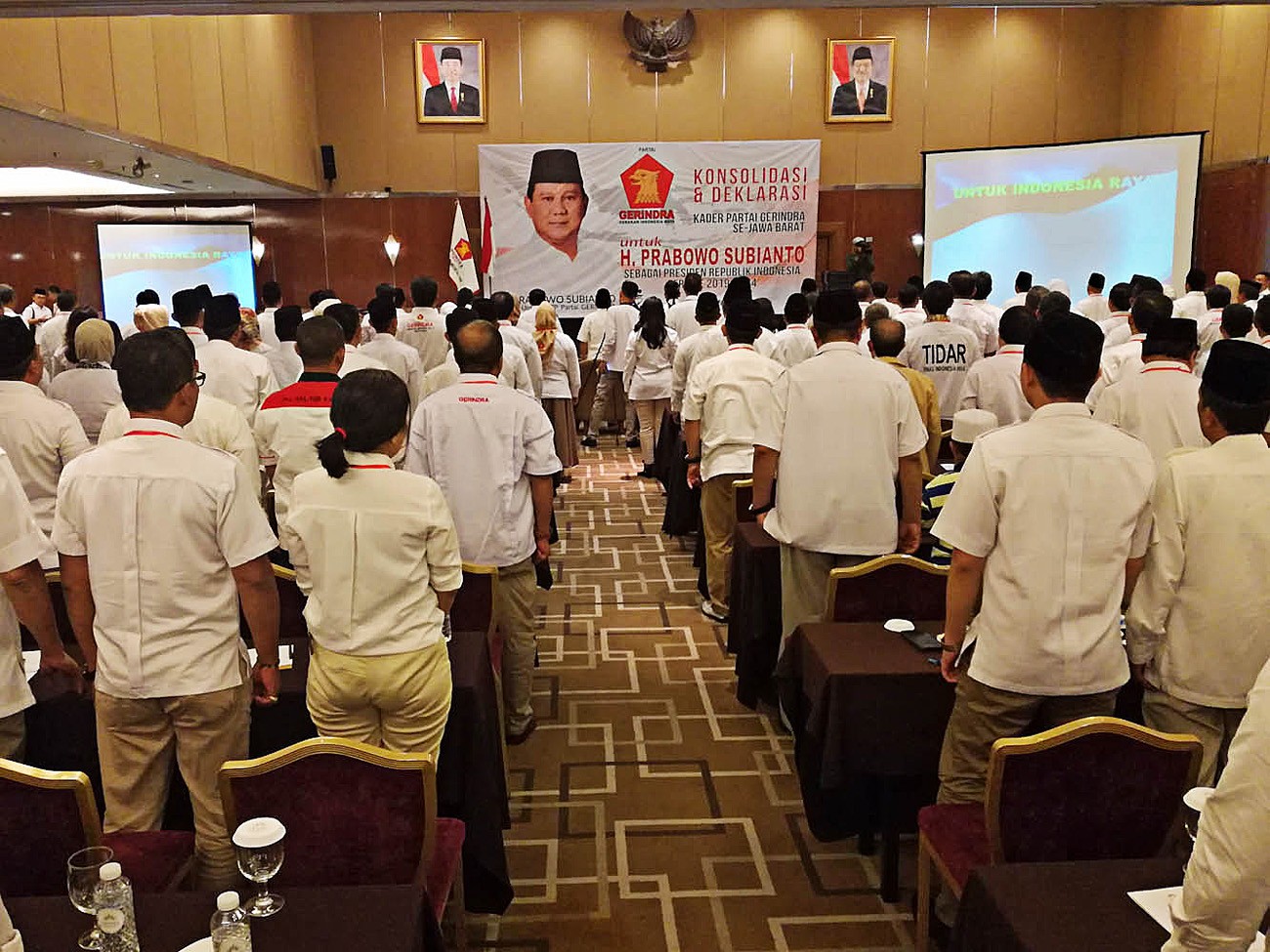 Show of support: Hundreds of Gerindra Party officials declare Wednesday their support for Prabowo Subianto in the 2019 presidential election. (JP/Arya Dipa)
Hundreds of Gerindra Party officials and members in West Java declared Wednesday their support for Prabowo Subianto in the 2019 presidential election.
The chairman of Gerindra's West Java executive office, Mulyadi, said the declaration was made as a show of commitment from officials, party members and Gerindra's organizational branches.
"There have been some agendas, issues, concerns in society and public opinions, which has given the impression that the Gerindra Party will give way to other candidates. For West Java, that is not the case. Prabowo must become a solution for problems currently faced by the nation," Mulyadi said on Wednesday.
The declaration was supported by 27 Gerindra executive branches at the regency and municipal levels, 5,692 officials of party branches at the district level and 27 officials of Gerindra organizations in areas across West Java.
Mulyadi handed over the declaration statement to Gerindra secretary-general Ahmad Muzani. "We hope Gerindra's central executive board can make this declaration the official decision of the party," Mulyadi said.
Muzani said he would convey the declaration and support Prabowo. In the 2014 presidential election, West Java was a stronghold for Prabowo, who secured more than 14 million votes in the province. His contender, Joko "Jokowi" Widodo, obtained only 9.5 million votes in West Java.
"Our preparations now are far better than in 2014. It means Pak Prabowo's victory as a president in 2019 will be determined by our strength as a party called Gerindra," he said. (sha/ebf)
Topics :
Join the discussions