Electric car-riding Dutch man stops in Lombok
Panca Nugraha

The Jakarta Post
West Lombok |

Sun, April 1, 2018

| 10:23 pm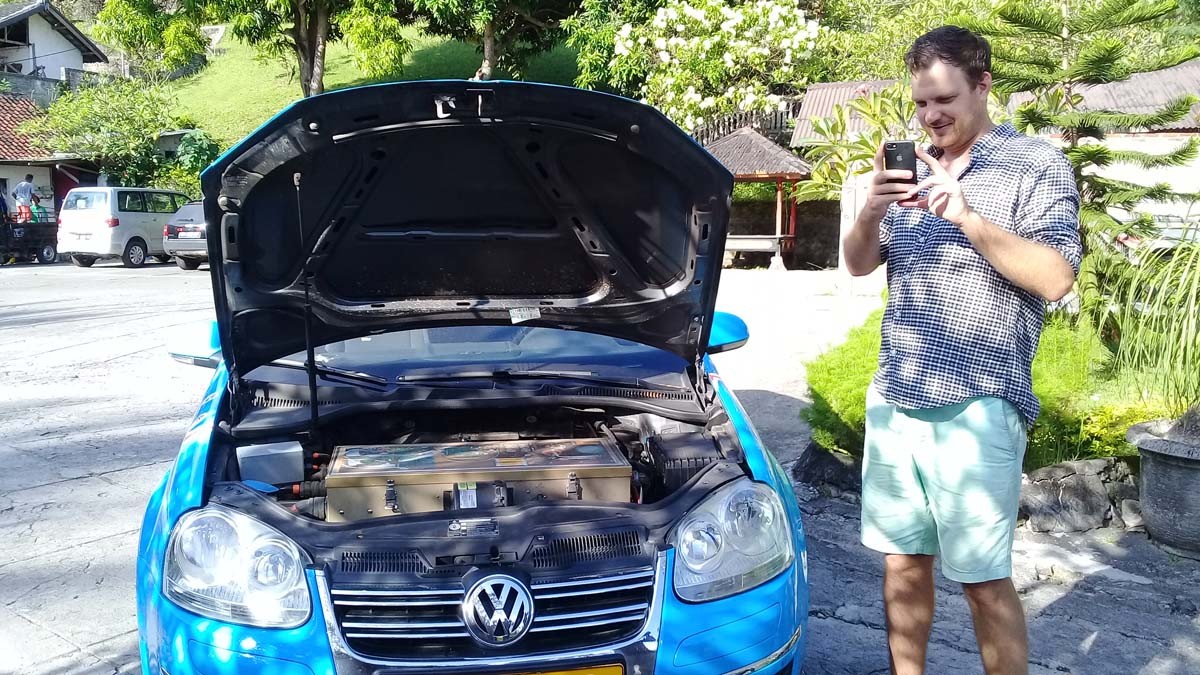 Wiebe Wakker stands next to his electric car in West Lombok, West Nusa Tenggara, on March 30. He is traveling from the Netherlands with Australia as his final destination to campaign for sustainable technology. (JP/Panca Nugraha)
Wiebe Wakker, 31, has visited 31 countries in a Volkswagen e-Golf, with his most recent stop being in West Lombok, West Nusa Tenggara, on his way to Australia.
"I have spent two years and over two weeks so far. My destination is Australia," he said on Friday in Puri Bunga Senggigi hotel in West Lombok.
His travels, under a campaign called "Plug Me In" on plugmeinproject.com, are sponsored by several companies and individuals, especially those with a sustainable technology vision. Wakker said he wanted to promote sustainable technology and environmentally friendly mobility with his travels.
He said fossil fuels had contributed to air pollution and greenhouse gas. He argued that cars powered by electricity were more environmentally friendly.
A European Union study found that even when an electric car was charged with oil-fired power plant, it used two thirds the energy a fossil fuel car used to travel the same distance.
He left the Netherlands in March 2016 and went to Germany, Russia, India, and Thailand. Indonesia is his 32nd country to visit.
"I have traveled 60,000 kilometers and I haven't found any significant problems with the electric car," he said.
Puri Bunga Senggigi's owner, Marcel Navest, said he met Wakker several months ago when encountered flooding in East Java. "The car's engine experienced some trouble from the flooding. I knew someone at the car workshop where the electric car was being repaired and I read about him in the media, so I invited him to stay at my hotel," Navest said.
After Lombok, Wakker plans to visit Timor Leste before heading to Australia. (evi)
Topics :
Join the discussions