Bay almost cleaned after oil spill: Balikpapan official

Balikpapan |

Sun, April 8, 2018

| 11:00 pm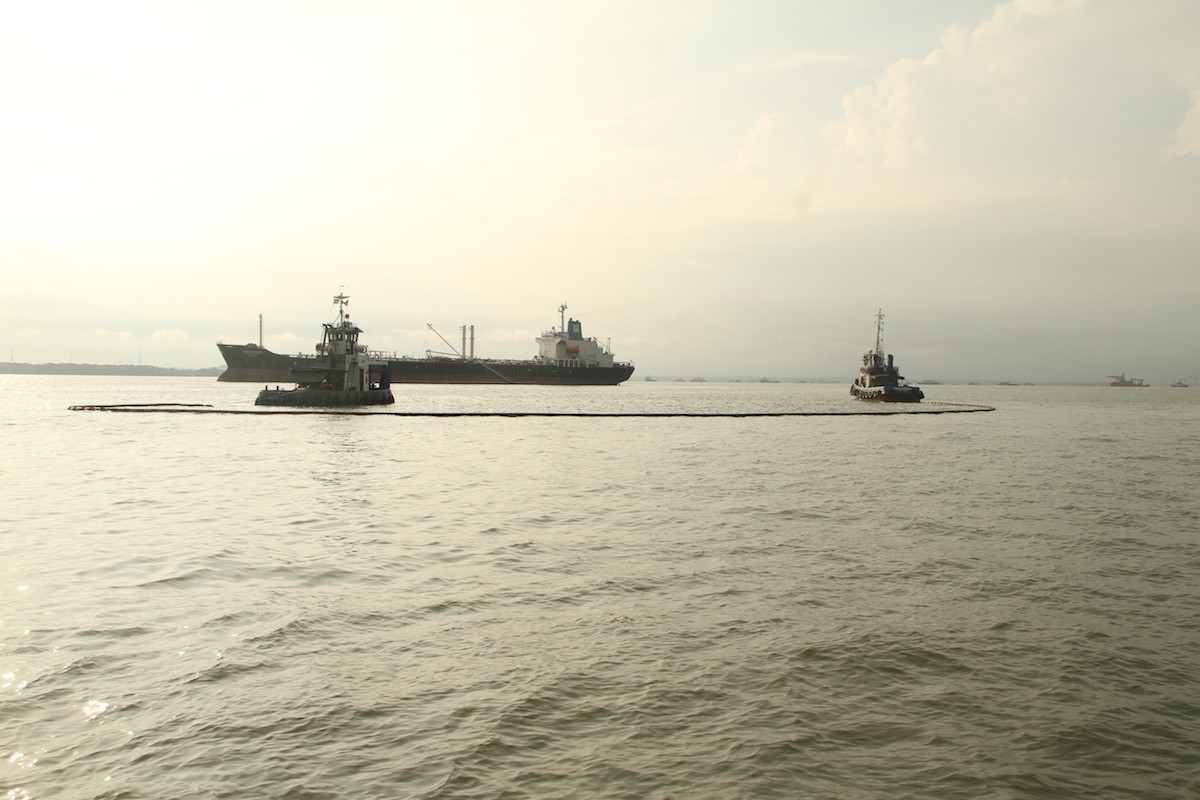 A containment boom cleans the oil spill in Balikpapan Bay in East Kalimantan on April 6, 2018. (JP/N. Adri)
On the sixth day after a large amount of crude oil was spilled in Balikpapan Bay, East Kalimantan, the cleaning efforts are almost done, the head of the Environmental Agency in Balikpapan, Suryanto, said Sunday.
He claimed that the cleaning process had reached 90 percent and that the remaining oil was still in the coastal areas.
Suryanto added that the clean-up would end next week, vowing that the coastal and residential areas would be clean. "I'm sure we will finish this in a week at the maximum."
Since Friday, the waters around Semayang Port have returned to its bright green color and there were no black spots.
"There is actually a thin film of oil. We have localized it with an oil-boom," said an officer with state-owned oil and gas company PT Pertamina who requested anonymity.
The cleaning personnel corralled the oil between Semayang Port and Pertamina's jetty where there is a small bay.
The cleaning process involved vacuuming the oil slick into a truck and transferring it to drums. The thin film of oil will be hosed down with a dispersant to make it dissolve.
The same method was applied in Kampung Atas Air Margasari, where oil covered mangrove trees and the columns of residents' stilted houses.
Pertamina has deployed 21 ships to clean the bay, Makassar Strait in Balikpapan and Penajam Paser Utara. "We have deployed 234 people," Pertamina Balikpapan spokesperson Alicia Irzanova said.
The ships are working in four designated zones: Pertamina's Jetty 1 to Kampung Baru, including Kampung Atas Air Margasari; Semayang Port pond; Monpera Beach and the waters of Makassar Strait to the north. The last zone is the estuary in Balikpapan Bay.
The cleaning operation is a joint effort by Pertamina, private oil companies Chevron Indonesia and Petrosea.
On March 31, an oil spill caused a fire that killed five people. After the spill, Pertamina denied responsibility, saying that the spill was marine fuel oil and not crude oil.
Pertamina's general manager for Refinery Unit V, Togar MP, said on the day of the spill and the fire that Pertamina had checked their undersea pipes connecting the Lawe-Lawe terminal and the Refinery Unit V and had found no leakage.
On April 4, at a press conference along with the police, Togar changed his statement and said the oil spill was in fact crude oil from a leakage in the pipelines connecting the Lawe-Lawe terminal and their refinery unit.
On April 5, Jakarta came to Pertamina's defense, saying that the burst undersea pipe had not been Pertamina's fault.
"The pipe was allegedly dragged by an anchor dropped by a vessel, though no vessel was permitted to drop anchor or even pass through the bay," Djoko Siswanto, the Energy and Mineral Resources Ministry's oil and gas director general, told reporters. (evi)
Topics :
Join the discussions