Prabowo tells Gerinda's rank and file to be patient
Karina Maharani Tehusijarana and Margareth S. Aritonang

The Jakarta Post
Jakarta |

Wed, April 11, 2018

| 04:26 pm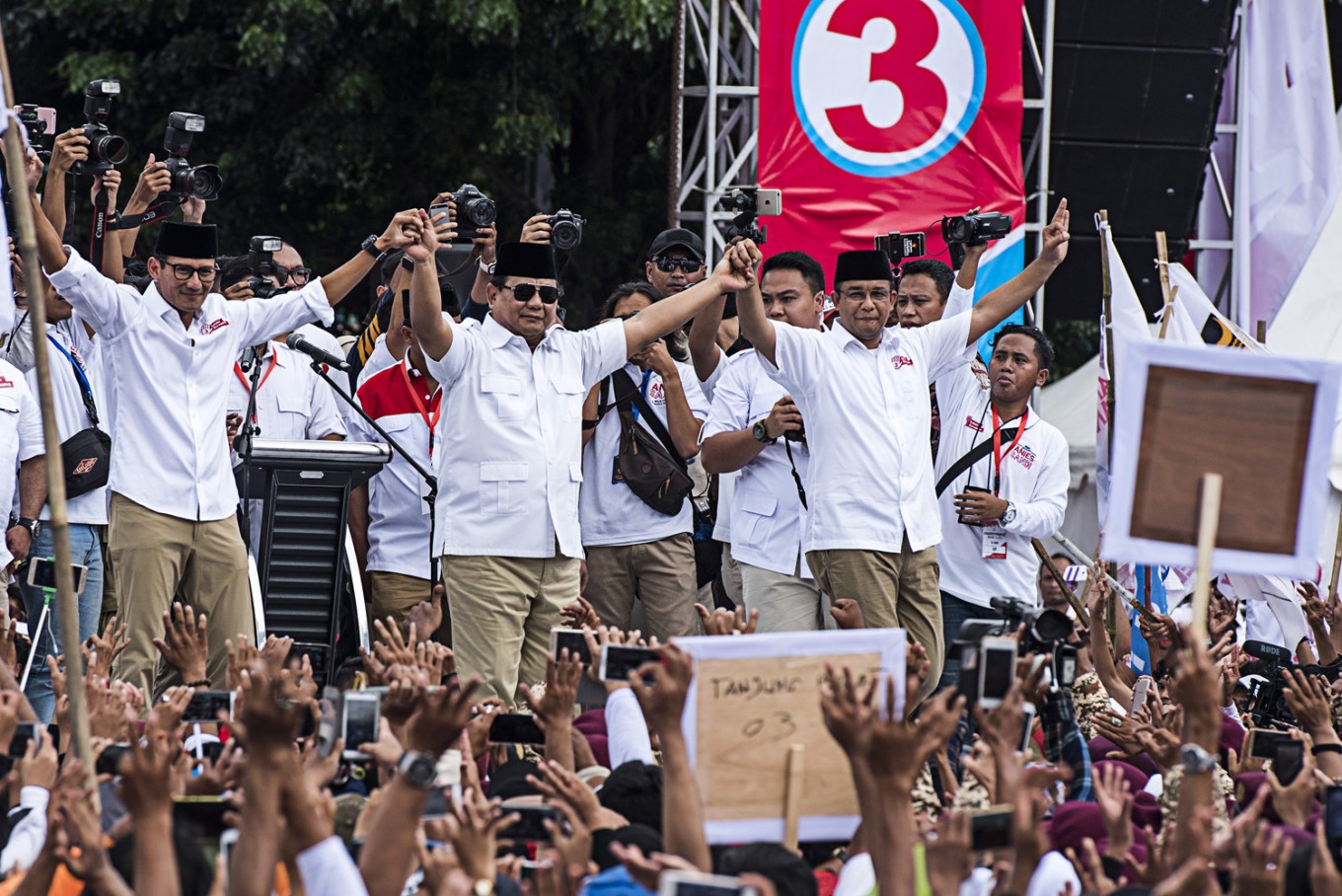 Energetic -- Gerindra Party chairman Prabowo Subianto (center) attends a campaign event of Jakarta gubernatorial candidate pair Anies Baswedan-Sandiaga Uno at Banteng Square, Central Jakarta, on Jan.5, 2017. (Antara/M.Agung Rajasa)
Gerindra Party chairman Prabowo Subianto said he was ready to run for president in 2019, in a speech at his residence in Hambalang, West Java, on Wednesday, but added that his presidential bid was dependent on support from other parties.
"As long as I am able to fight and as long as I have the trust of the Gerindra Party, I am ready to carry out whatever task is assigned by the Gerindra Party," he said during the opening of the party's national coordination meeting, according to a Gerindra politician who was present.
"With all my energy, body and soul, if the Gerindra Party orders me to run in the upcoming presidential election, I am ready to carry out that task," he said to the applause of Gerindra members in attendance.
"Please be patient, I said 'if'," he said. "Let us wait until this meeting is over. There is one condition: I need the support of friendly parties."
A press release issued by Gerindra secretary-general Ahmad Muzani stated that the party's 34 provincial branches had officially declared Prabowo the party's presidential candidate.
However, deputy secretary-general Andre Rosiade denied that any official decision had been made as of Wednesday afternoon.
"The meeting is ongoing; only 10 provincial branches have spoken," he told The Jakarta Post.
(Read also: Will Prabowo run for president again?)
Over the past few weeks, Prabowo has seemed to hesitate over whether to run against President Joko "Jokowi" Widodo in the 2019 presidential election.
Gerindra has also appeared split on the matter, with some members insisting on Prabowo, while others seem open to other options.
The General Elections Commission (KPU) will open registration for presidential candidates in August. (ahw)
Join the discussions