Will Prabowo run for president again?
Karina Maharani Tehusijarana

The Jakarta Post
Jakarta |

Wed, April 11, 2018

| 02:24 pm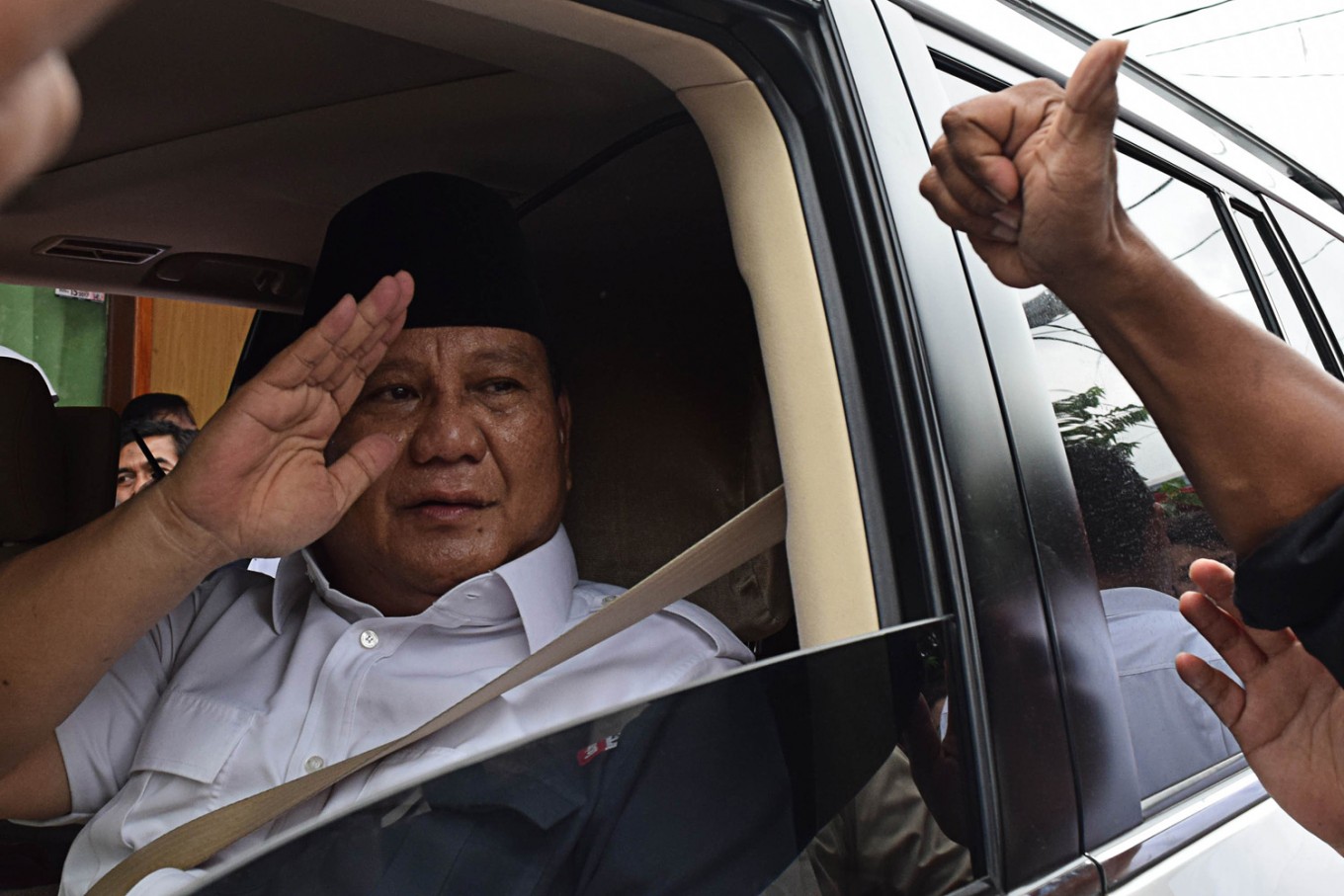 Gerindra Party chairman Prabowo Subianto salutes supporters after he attended a campaign event in South Tambun, East Cakung, Jakarta on Jan. 31. (Antara/Atika Fauziyyah)
As the Gerindra Party holds its closed-door national coordination meeting at party chairman Prabowo Subianto's residence in Hambalang, West Java on Wednesday, the question on everyone's mind is: will Prabowo run for president in 2019?
As leader of the opposition, Prabowo seemed almost certain to run again in 2019, in what would be his fourth bid for the presidency. But in recent weeks he has appeared to waver on the matter, and has gone so far as to cancel the planned official declaration of his candidacy.
Saiful Mujani Research and Consulting program director Sirajuddin Abbas said Prabowo's hesitancy was understandable given his inability to match President Joko "Jokowi" Widodo's popularity.
Prabowo has also been dogged by an electability rating that continues to hover below 35 percent, against Jokowi's rating of 45 to 55 percent.
Gerindra itself seems split on the matter.
One side, represented by House of Representatives deputy speaker and party deputy chairman Fadli Zon, remains adamant that Prabowo will be the party's presidential candidate.
"Prabowo is the most eligible candidate from Gerindra, in terms of his electability and other factors. As long as he has the support of the Gerindra cadres and the people, he is ready [to run]," he said on Monday.
The cost of not having Prabowo as Gerindra's candidate would not be insignificant for the party, which heavily relies on his popularity to win votes in legislative elections.
"If Prabowo doesn't run, as of now there is no other candidate that can give Gerindra a boost," he said on Tuesday as quoted by kompas.com.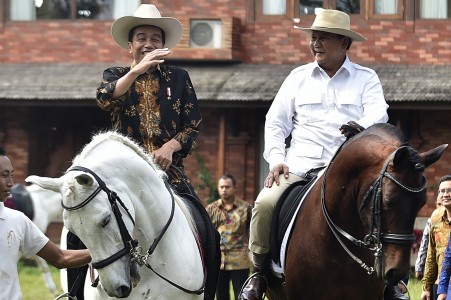 President Joko "Jokowi" Widodo (left) and Gerindra Party chairman Prabowo Subianto ride horses at the latter's house in Hambalang, Bogor, West Java on Oct. 31. (Antara/Puspa Perwitasari)
On the other hand, several prominent Gerindra members seemed ready to consider other potential candidates, positioning Prabowo as a kingmaker who could handpick the eventual winner.
"If there is a different candidate [that the people want], then we will support the will of the people," Gerindra central executive board head Desmond Junaidi Mahesa said on Tuesday. "The important thing is that we replace Jokowi."
Prabowo's brother and Gerindra advisory council vice chairman Hashim Djojohadikusumo also seemed to suggest that Prabowo did not have enough resources to run again.
"There are many factors to consider, such as health, and whether or not the logistics are sufficient," he said last month as quoted by kompas.com.
Other names that have been put forward to replace Prabowo include former Indonesian Military chief Gatot Nurmantyo and Jakarta Governor Anies Baswedan.
Gatot met with the Gerindra leadership last month to discuss the possibility and party members confirmed that it was being considered.
"Gatot came to us several days ago to register himself as a presidential candidate. He said if it was possible, he was ready [to contest the election]," Gerindra executive Muhammad Syafi'i said at the time.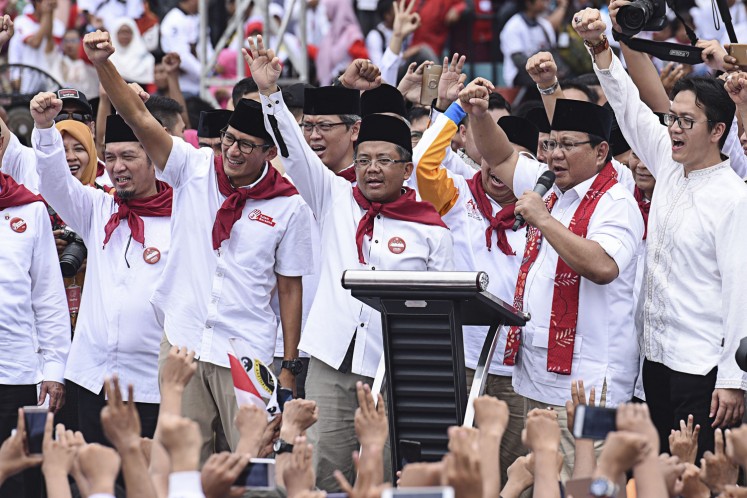 Upbeat: Gerindra Party chairman Prabowo Subianto (second from right) gives a speech in support of then-candidate pair Anies Baswedan and Sandiaga Uno at a rally in South Jakarta on Jan. 29. Prosperous Justice Party (PKS) president Sohibul Iman (center) and then-deputy governor candidate Sandiaga (second from left) attended the event. (Antara/Hafidz Mubarak A.)
There has also long been speculation that Anies Baswedan has ambitions for the presidency, despite his pledge during last year's gubernatorial debates that he would serve his five-year term as governor.
He has so far refused to comment on the matter, most recently saying, "I am taking care of Jakarta right now," as quoted by tempo.co.
Another interesting, if improbable, possibility that has been sounded out in some quarters is the idea of Prabowo crossing the aisle and becoming Jokowi's running mate.
A survey conducted by SMRC at the end of 2017 found that 66.9 percent of respondents approved of a Jokowi-Prabowo partnership in 2019, with most preferring Jokowi at the top of the ticket.
Jokowi's own Indonesia Democratic Party of Struggle (PDI-P) seemed open to the possibility, though no decisions have been made yet.
"[A Jokowi-Prabowo] ticket is entirely possible," PDI-P central executive board head Puan Maharani said at the party's national convention in February.
If Prabowo does decide to sit out the election, it is possible that Jokowi may face a blank box in 2019, as none of the other possible candidates are seen as popular enough to unseat him, unless the Muslim-based parties—the National Awakening Party, the National Mandate Party or the Democratic Party—decide to endorse either Gatot or Anies.
The Islam-based Prosperous Justice Party (PKS), Gerindra's closest ally, has said it will continue to support Gerindra whether or not Prabowo chooses to run.
"The choice of whether to be a kingmaker or a candidate is in the hands of Prabowo and the Gerindra Party. We are comfortable with Gerindra," PKS executive Mardani Ali Sera said on Tuesday as quoted by tribunnews.com. (ahw)
Join the discussions