Knitted Knockers Indonesia empowers breast cancer survivors
Vela Andapita

The Jakarta Post
Tangerang |

Sat, April 21, 2018

| 06:30 pm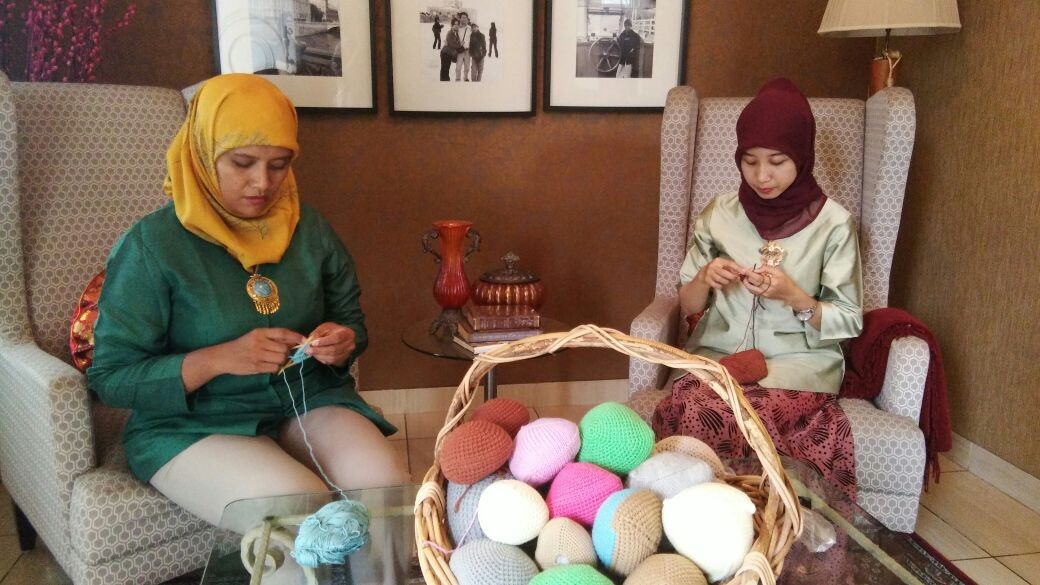 Volunteers of Knitted Knockers Indonesia (KKI) knit and crochet prosthetic breasts on Saturday. With the help of its 200 volunteers and support from hundreds of donors, as of today, KKI has delivered more than 2,000 pairs of prosthetic breasts, called "knockers", to breast cancer survivors in 44 municipalities across the country. (JP/Vela Andapita)
A group of women in kebaya were sitting and chatting around a dining table with a tumpeng (cone-shaped yellow rice with various side dishes) at a house in Karang Tengah, Tangerang, on Saturday. Some of them were busy knitting and crocheting prosthetic breasts.
These women, the founders of Knitted Knockers Indonesia (KKI), who were accompanied by volunteers, gathered not only to commemorate Kartini Day, but also to celebrate the Law and Human Rights Ministry's official recognition of KKI as an association of volunteers who knit artificial breasts.
"It's been a year since KKI was founded. We have grown from only having eight volunteers to more than 200 knitters," said KKI founder Rosalina Lee.
"We've delivered more than 2,000 pairs of prosthetic breasts to breast cancer survivors across Indonesia. We hope that the ministry's recognition will enable us to better manage the organization and eventually help more women."
Dressed elegantly in traditional red attire, Mari Irawati Sidharta cut the tumpeng before handing it over to Rosalina as the volunteers' sign of support toward Rosalina, who manages the organization.
Mari recalled her first encounter with KKI as a cancer survivor who requested a set of the artificial breasts, called "knockers", before she became a knitting volunteer. Mari had her left breast removed in 2016 after being diagnosed with malignant cancer cells.
"I used to wear a silicone knocker, but it was too heavy and uncomfortable," Mari said.
"I fell in love with this knitted knocker, hence I want more breast cancer survivors to know that we're here to help them gain their confidence back after a mastectomy," she explained, referring to the process of removing a breast.
KKI maintains a close relationship with the Indonesia Breast Cancer Foundation (YKPI), as the two groups help each other to empower breast cancer patients and survivors in the country. It is also an official branch of the global Knitted Knockers organization, based in the United States.
To order a set of knitted knockers from KKI, you can contact them at its official website http://www.knittedknockersindonesia.org/section/request_knockers.
https://www.facebook.com/knittedknockersindonesia/
https://www.instagram.com/knittedknockersindonesia/?hl=en
Topics :
Join the discussions