What you need to know about Jakarta's odd-even traffic policy
Fachrul Sidiq

The Jakarta Post
Jakarta |

Tue, April 24, 2018

| 06:10 am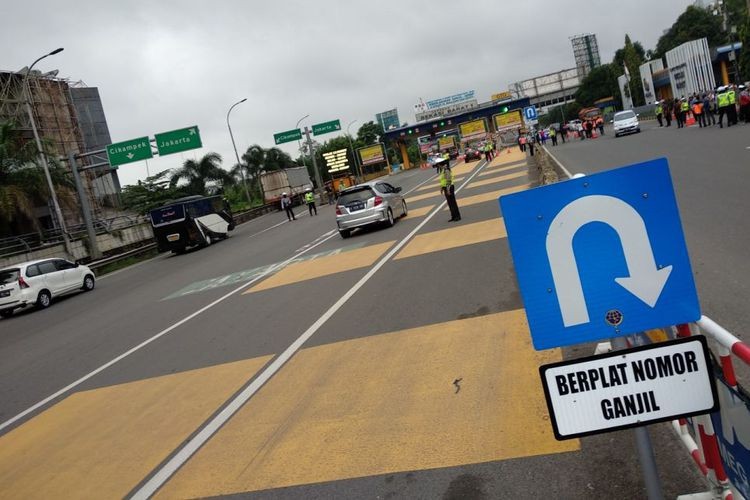 The West Bekasi toll gate during the first day of odd-even plate license policy on March 12. (kompas.com/Setyo Adi )
To call Jakarta, home to some 10 million people, a gridlocked city is an understatement. The traffic woes continue to worsen particularly because of the ongoing construction of some infrastructure projects in the Indonesian capital, where a short trip can take hours.

The capital has been listed among the world's most congested cities, according to the latest survey by United States-based transportation analytics firm Inrix, which ranked Jakarta the second-worst Asian city after Bangkok.

According to the Greater Jakarta Transportation Body (BPTJ), there were 13 million motorcycles and 4.4 million cars in Jakarta in 2015. Meanwhile, there were 2.12 million trips being made daily from the city's outskirts to Jakarta.

Amid all the hardships, only around 20 percent of trips in Jakarta were made with public transportation, due in part to the lack of an integrated transportation system for commuters.

In an attempt to limit the number of cars entering Jakarta, as well as ease congestion at toll roads, the BPTJ recently issued several policy packages, including implementing an odd-even license plate rule for cars aiming to pass through several tollgates on three busy toll roads, namely the Jakarta-Cikampek, Jakarta-Tangerang and Jagorawi toll roads.

Here is what you need to know about the policy

What is an odd-even policy?

An odd-even policy is a way to limit the number of cars entering Jakarta. The policy stipulates that cars whose license plate ends in an odd number are only allowed through certain roads and tollgates on odd-numbered dates and vice versa, with several exceptions such as logistic trucks.

The policy is applied only during certain hours and at certain roads as decided by the authority.

The odd-even policy replaces an older car limitation policy, called the 3-in-1 policy, which had been implemented since 1994. In May 2016, then-Jakarta governor Basuki Tjahaja Purnama changed it to the odd-even policy. Since then, all roads on which the 3-in-1 rule applied have implemented the odd-even policy: Jl. Sudirman - Jl. MH Thamrin from 7 a.m. to 10 a.m. and 4 p.m. to 8 p.m.
But the same policy on Jl. Gatot Subroto was revoked.

Later, the BPTJ applied the odd-even policy at toll roads connecting Jakarta's suburbs with the city.

East Bekasi and West Bekasi tollgates on the Jakarta-Cikampek toll road in West Java: 6 a.m. to 9 a.m.
Cibubur 2 tollgate on the Jagorawi toll road in West Java and Jakarta: 6 a.m. to 9 a.m.

Kunciran 2 and Tangerang 2 tollgates on the Jakarta-Tangerang toll road in Banten and Jakarta: 6 a.m. to 9 a.m.
Starting Monday, the policy on Jl. Sudirman and Jl. MH Thamrin was extended to apply from 6 a.m. to 9 a.m.

These tollgates were chosen based on the high number of cars passing through them.

"By synchronizing the policy, more people will be discouraged to travel by car because they would have to depart very early in the morning," BPTJ spokesperson Budi Rahardjo said.

Why is it necessary?

BPTJ head Bambang Prihartono said that currently, vehicles in Jakarta moved at slow speed at the respective toll roads. Moreover, his office has also been instructed to ease Jakarta's traffic congestion ahead of the Asian Games, slated for Aug. 18 to Sept. 2.

Traffic congestion was highlighted as the main obstacle during the Asian Games test event in February, forcing authorities to rack their brains to solve the problem, with a decision made to close all schools during the two-week quadrennial sporting event.

Travel time between where the athletes stay and the sports venues should not exceed 34 minutes, as set by the Olympic Council of Asia (OCA). However, the travel time from the Athletes Village in Kemayoran Central Jakarta to Gelora Bung Karno (GBK) sporting complex reportedly reached 60 minutes during February's test event.

Does it work?

While many motorists skirt the rules by departing earlier or using a car with the appropriate plate number, Jakarta Police traffic director Sr. Comr. Halim Pagarra said the policy had been proven effective in easing the congestion in Jakarta.

According to state-owned toll road operator Jasa Marga, 8,205 cars passed through the East and West Bekasi tollgates during morning peak hours before the policy was implemented. Three weeks after the odd-even policy was introduced, the figure decreased to 5,146.

Cars now move at 35.61 kilometers per hour, faster than the 23.13 kmph before the policy was introduced.

Commuters have opted to depart earlier or take public transportation, such as commuter trains and Transjabodetabek bus services, which use a dedicated lane on the toll road.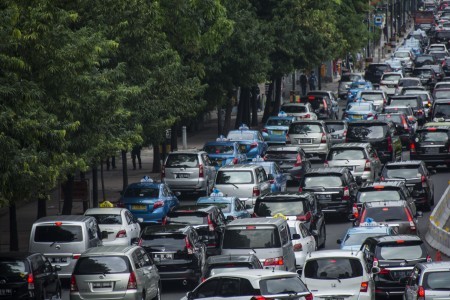 Vehicles stuck in traffic in Jl. MH Thamrin in Central Jakarta on June 20. The Jakarta administration will start implement a month-long trial of odd-even license plate policy next month before fully implement it in August in a bid to ease worsening traffic congestion. (Antara/Aprilio Akbar)

The agency said the load factor of the premium bus had increased to 30 percent from a mere 10 percent previously.

"The bus service transports 900 passengers, nearly reaching its target of transporting 1,000 passengers daily. There is also a report from PT KCI that there has been an increase of passengers commuting from Bekasi to Jakarta during the morning peak," Budi said, referring to PT Kereta Commuter Indonesia, which operates Greater Jakarta's commuter trains.

Drivers have also been advised to take alternative routes such as the non-toll Kalimalang road and the Becakayu toll road that connects Bekasi to Cawang and Kampung Melayu in East Jakarta.

Prior to the policy being implemented on the Jagorawi toll road, 7,799 cars passed through the Cibubur 2 tollgate daily during the morning peak hour, the most congested of the 12 tollgates on the Jagorawi toll road. Over 40,000 cars entered the 12 tollgates during the morning peak, slowing cars to a speed of 31.65 kmph.

During the five-day odd-even policy trial run, the pace became 39.63 kmph, indicating a 25 percent increase, state-owned toll operator PT Jasa Marga said.

Meanwhile on the Tangerang-Jakarta toll road, cars move at a faster speed now, Jasa Marga recorded. Cars are moving at 29.83 kmph from a mere 22.09 kmph previously.

The operator has also seen a decrease in cars entering the Kunciran 2 and Tangerang 2 tollgates on the Tangerang-Jakarta toll road, where normally 3,367 and 3,025 cars entered, respectively.

The agency has prepared point-to-point bus services called Transjakarta Premium buses and Jakarta Residential Connection (JR Connexion), which will transport residents to several busy points in Jakarta from selected gated housing complexes.
Topics :
Join the discussions