Mako Brimob riot: Islamic State claims standoff with anti-terror squad
Moses Ompusunggu

The Jakarta Post
Jakarta |

Wed, May 9, 2018

| 01:19 pm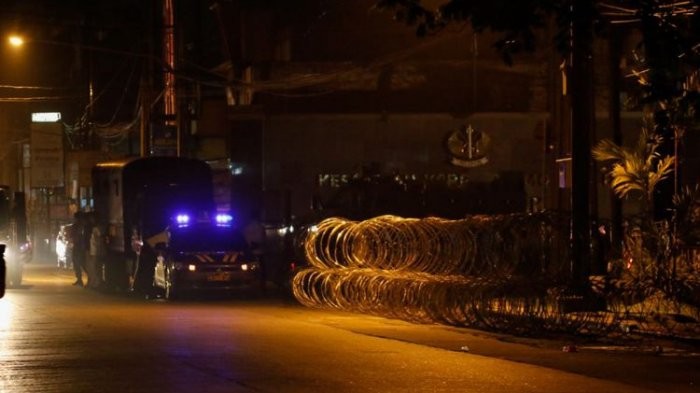 Barbed wires installed at the entrance to the National Police Mobile Brigade (Brimob) headquarters in Depok, West Java, following a riot on Tuesday night. (Warta Kota/Maulana Mahardihka )
The Islamic State (IS) has claimed its fighters are engaged in a standoff with the nation's anti-terror squad at the National Police's Mobile Brigade headquarters' (Mako Brimob) detention center in Depok, West Java, according to an intelligence group monitoring extremists on social media.
"The East Asia Division of the Islamic State reported on the ongoing clashes inside the Depok city prison […] and provided photos of fighters and seized weapons," SITE Intelligence Group said on its website.
A video of alleged terror convicts pledging their allegiance to the Islamic State (IS) movement and photos of seized weapons and what appeared to be the body of a dead police officer had been circulating online.
The Jakarta Post was unable to verify the authenticity of the video or the photos.
Police have confirmed there was a clash between detainees and security officials at Brimob headquarters' detention center, which houses imprisoned IS militants, but denied reports of fatalities during the incident.
A top terrorism analyst has given credibility to IS' claim. "I think you can safely say that pro-ISIS Indonesians are behind [the incident]," said Sidney Jones, director of Jakarta-based Institute of Policy Analysis of Conflict (IPAC), on Wednesday. "But they've been causing trouble for some time at [Mako Brimob]."
National Police spokesman Insp. Gen. Setyo Wasisto did not respond to numerous calls from the Post on Wednesday morning.
The clash at Mako Brimob detention center took place just one day after the National Police apprehended three individuals in Bogor, also in West Java, for allegedly plotting a string of attacks on police stations in three different locations across the conservative province. (ahw)
Join the discussions