'We forgive them', says son of Surabaya church bombing victim
News Desk

The Jakarta Post
Jakarta |

Thu, May 17, 2018

| 10:58 am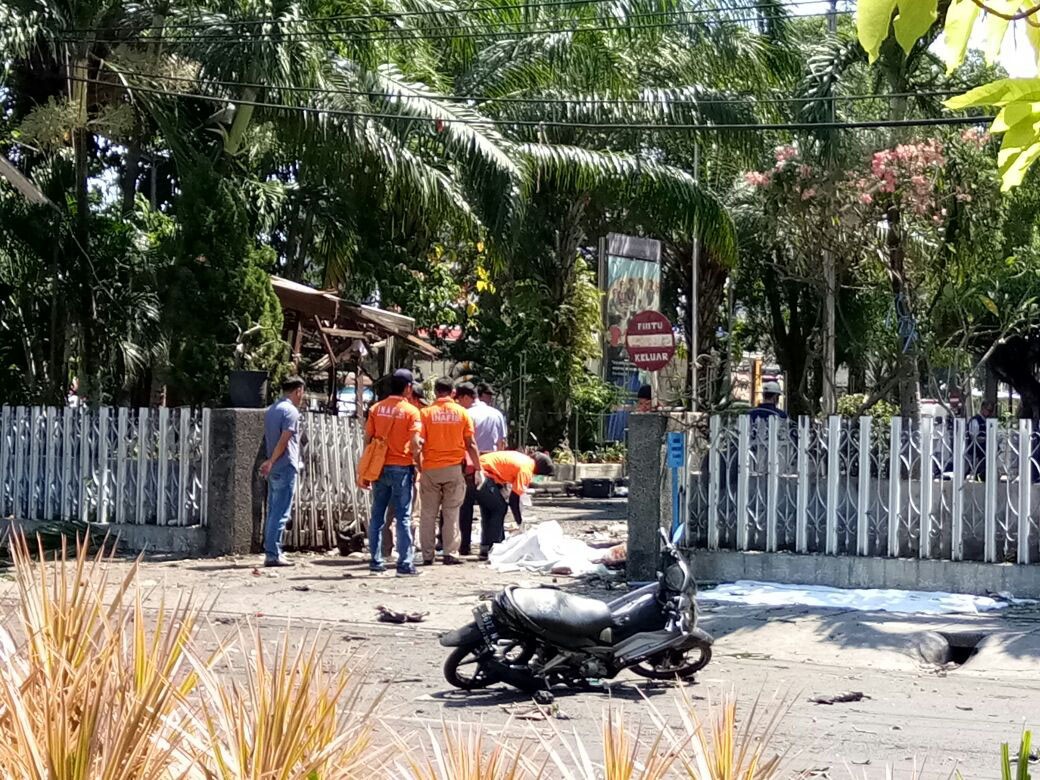 East Java Police identify the site of the explosion at Saint Mary Immaculate (SMTB) Catholic Church on May 13 in Ngagel, Surabaya, East Java. (JP/Wahyoe Budhiwardhana)
The son of a Surabaya bombing victim has said that the family had forgiven those responsible, during the funeral for his mother, Lim, who was killed in the blast at Saint Mary Immaculate (SMTB) Catholic Church on Sunday.
Kurnianto arrived on Monday at Bhayangkara Police Hospital along with his father and siblings to take his mother's body home to Tangerang, Banten, reported kompas.com.
His voice shaking, "On behalf of my mother, I apologize if she made any mistakes during her life, and please pray for her, she is now in heaven," he said on Monday as quoted by kompas.com. "And as for the perpetrators, we forgive them and I believe my mother is in the House of the Lord."
Kurnianto said his mother was on a business trip to Surabaya with her friends, Siska and Susana, to take part in a batik exhibition. They were staying in a hotel that was actually closer to Surabaya Cathedral than SMTB church. "But this is perhaps God's way. She went to the church in Ngagel instead, which people say is one of the oldest churches in Surabaya," he said.
According to the CCTV footage he had seen, Kurnianto said his mother was right next to the bomber's motorcycle in front of the church when the bomb detonated.
"When I saw the CCTV, I don't know, perhaps it was God's beautiful plan. When Mama arrived at the gate, she did not enter the church [and] she stayed there about five minutes," he said.
Kurnianto said he trusted the nation's security apparatus and that they had been diligent. "My message to the public [is]: Please don't judge any religions, because no religion asks [the believers] to do evil things. We believe the government has done their best for the nation and stated. And finally, God please help Indonesia," Kurnianto said. (evi)
Join the discussions