'Reformasi' yet to bring justice for some
Vela Andapita

The Jakarta Post
Jakarta |

Fri, May 18, 2018

| 09:34 am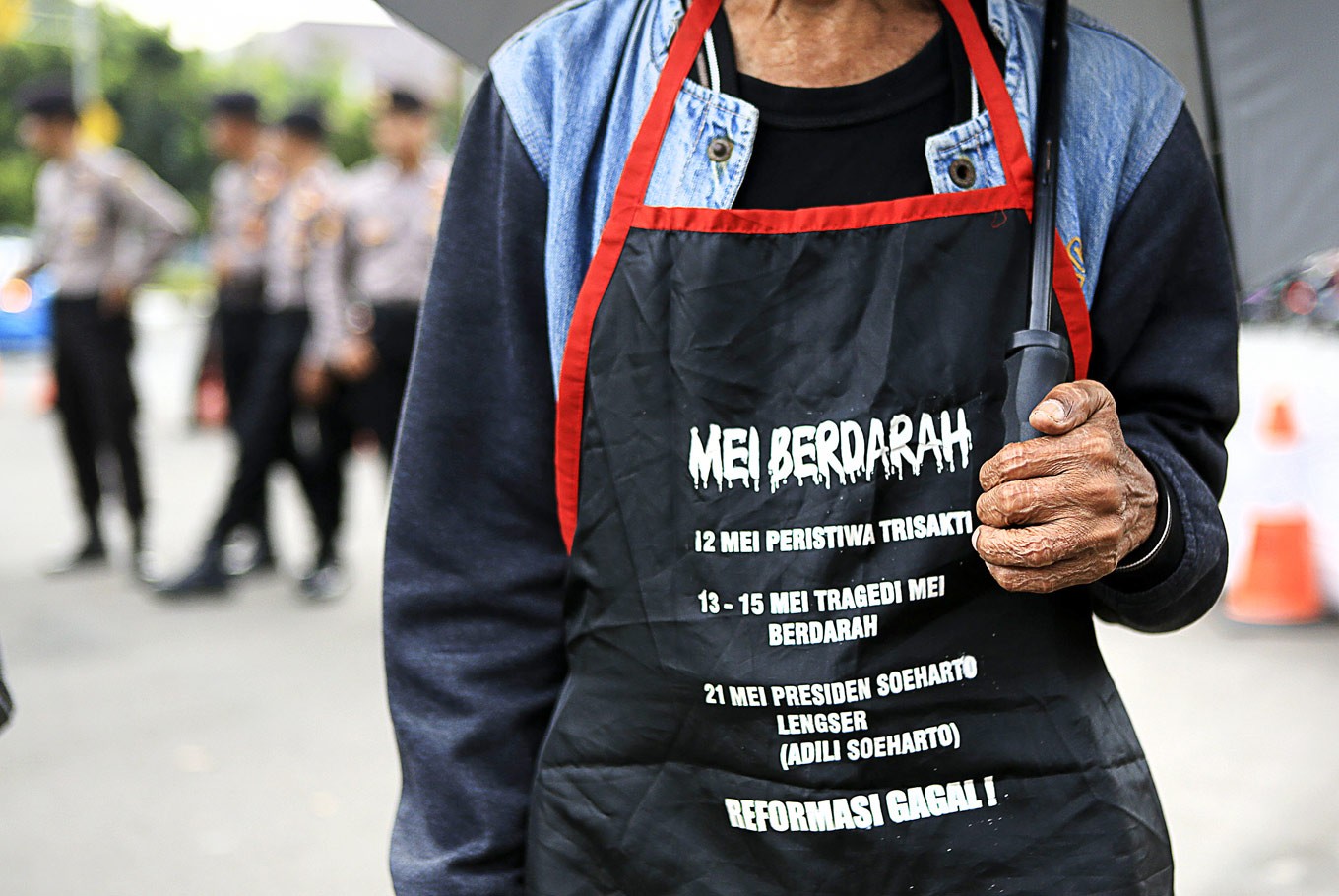 Pressing for reform: A member of the Victims Soladirity Network for Justice (JSKK) participates in the 538th edition of the Kamisan rally in front of the Merdeka Palace in Jakarta on Thursday. The network's activists accused the government of failing to fulfil its promise to carry out a six-point reform program. (JP/Seto Wardhana)
Twelve years have passed since Maria Catarina Sumarsih, 66, initiated the first Kamisan rally following the death of her son, Benardinus Realino Norma Irawan, also known as Wawan.

Wawan was among four Trisakti University students who were gunned down in the 1998 Trisakti Shooting.

Every 4 p.m. on a Thursday, or Kamis in Indonesian, Sumarsih, along with dozens of human rights abuse victims, activists and civilians, gather in front of Merdeka Palace without fail to protest the government's slow response in handling human rights abuse cases.

On Thursday, during the 538th Kamisan rally to commemorate 20 years of Reformasi, Sumarsih said in a resigned tone that the so-called reform era had failed her.

"Seeing that the government failed to meet the six points of the reform agenda, it's safe to say that the [reform era] failed," she said.

The six points of the reform agenda, Sumarsih said, demanded that the government try former president Soeharto and his cronies for abuse of power and other violations committed during his regime; revise the 1945 Constitution; remove the Indonesian Military's (TNI) dual function; eradicate corrupt practices; uphold the supremacy of law and expand regional autonomy.

"None of these were realized."

Sumarsih is not only protesting in front of the palace, after every Kamisan rally she writes a letter to whoever is president. She has sent approximately 508 letters.
Read also: 10th anniversary of Kamisan silent protest in pictures
"All these years of organizing the Kamisan rallies and sending letters, never once did the government [representatives] come down [from their offices] to see us," she said.

Despite her disappointment at the government's lack of attention, Sumarsih still feels upbeat that her movement will be successful and believes that the role of younger people is important to maintain the Kamisan spirit.

"There has been a major change at Kamisan rallies. Previously, only the older generation participated. Nowadays, I see a lot of young people taking part in the movement," she said.

When asked what kept her going despite the government's lack of response, Sumarsih responded with a smile. "It is my duty to finish what Wawan started."

Amid the gloomy mood of the 538th Kamisan rally, private university students Mulyani Citra and Rini Oktaviani seemed lost among the hundreds of Kamisan protesters holding up black umbrellas.

With high-end cameras hanging around their necks and heavy backpacks, they asked the protesters what event it was.

"I was only two months old when the [1998] riots in Jakarta took place," said Citra.

"I knew about the four students who were killed from history books.

"As I was growing up, my mother told me stories of people raiding malls and burning stuff. But I didn't know that the victims' parents are still fighting for justice, until today," she told The Jakarta Post.

"It's sad to realize that there were students who were the same age as me who died for such an important cause," Rini added.

Both Citra and Rini, who were born and raised in Tangerang, Banten, and West Jakarta, respectively, admitted that not only did they not know about Kamisan, but they also had very little idea about the human rights issues raised by the protesters at Kamisan rallies.

"It's an eye-opening experience for me. I have become more aware about tragedies that happened in the country along with the injustices that still prevail today," Rini added, emphasizing that she would join other Kamisan rallies in the future. (dpk)
Topics :

Join the discussions