Jokowi to meet Kamisan protesters for first time
Marguerite Afra Sapiie

The Jakarta Post
Jakarta |

Thu, May 31, 2018

| 10:04 am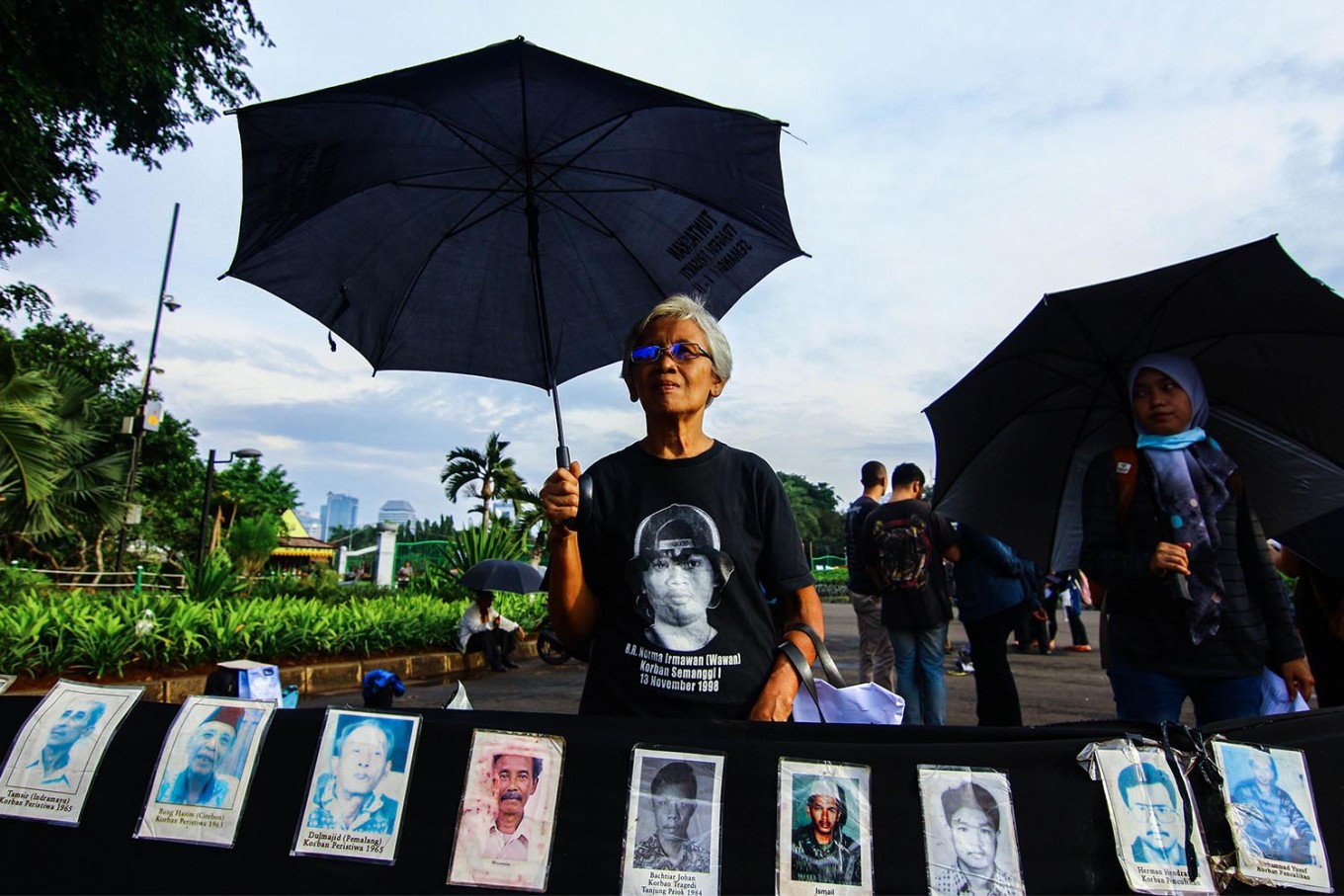 Maria Catarina Sumarsih holds an umbrella during the 536th kamisan, a weekly silent protest in front of the State Palace in Jakarta, on Thursday, April 26. The protests have been held since 2007 to urge the government to resolve human rights abuse cases, including the 1998 Semanggi shooting, which resulted in the death of Maria's son, Bernardus Realino Norma Irawan. (JP/Aditya Bhagas)
President Joko "Jokowi" Widodo is scheduled to meet survivors and families of the victims of past human rights abuses who regularly participate in a weekly protest known as Kamisan, says a prominent human rights activist.
Kamisan is a silent protest held every Thursday that calls on the government to take responsibility to resolve cases of past human rights abuses.
The plan to meet the protesters came after a meeting between Jokowi and human rights activists on Wednesday.
Amnesty International Indonesia director Usman Hamid said Jokowi had claimed that over the years he had tried to receive the victims and survivors, but they always refused to meet him.
"So I told [Jokowi] that if he seriously wants to meet Kamisan participants, we should just schedule a meeting," Usman told journalists.
He said, "The President replied 'how about tomorrow [Thursday]?'" to which Usman replied that Thursday coincided with the Kamisan protest.
Usman went on to quote Jokowi who said, "Alright, so we schedule the meeting for tomorrow, I [Jokowi] will communicate with the victims' families."
The meeting, if realized, will be the first time that Jokowi personally receives the victims and survivors, grouped in the Kamisan protest, since taking office in 2014.
During his 2014 election campaign, Jokowi promised to prioritize the investigation into and reconciliation of past human rights abuses.
However, activists, victims and survivors were dismayed with the Jokowi administration's inconsistencies in the handling of at least seven cases of human rights abuses that the government had promised to solve, including the 1965 purge and 1998 riots.
During the meeting, which was also attended by Coordinating Political, Legal and Security Affairs Minister Wiranto, Attorney General HM Prasetyo and Law and Human Rights Minister Yasonna Laoly, activists also highlighted the government's lethargy in handling rights abuse cases, Usman said.
"Let's hope that [Thursday's] meeting will be positive," he added. (ahw)
Join the discussions