Gerindra supports Rizieq's idea of creating 'ummah alliance'
Nurul Fitri Ramadhani and Margareth Aritonang

The Jakarta Post
Jakarta |

Tue, June 5, 2018

| 06:11 pm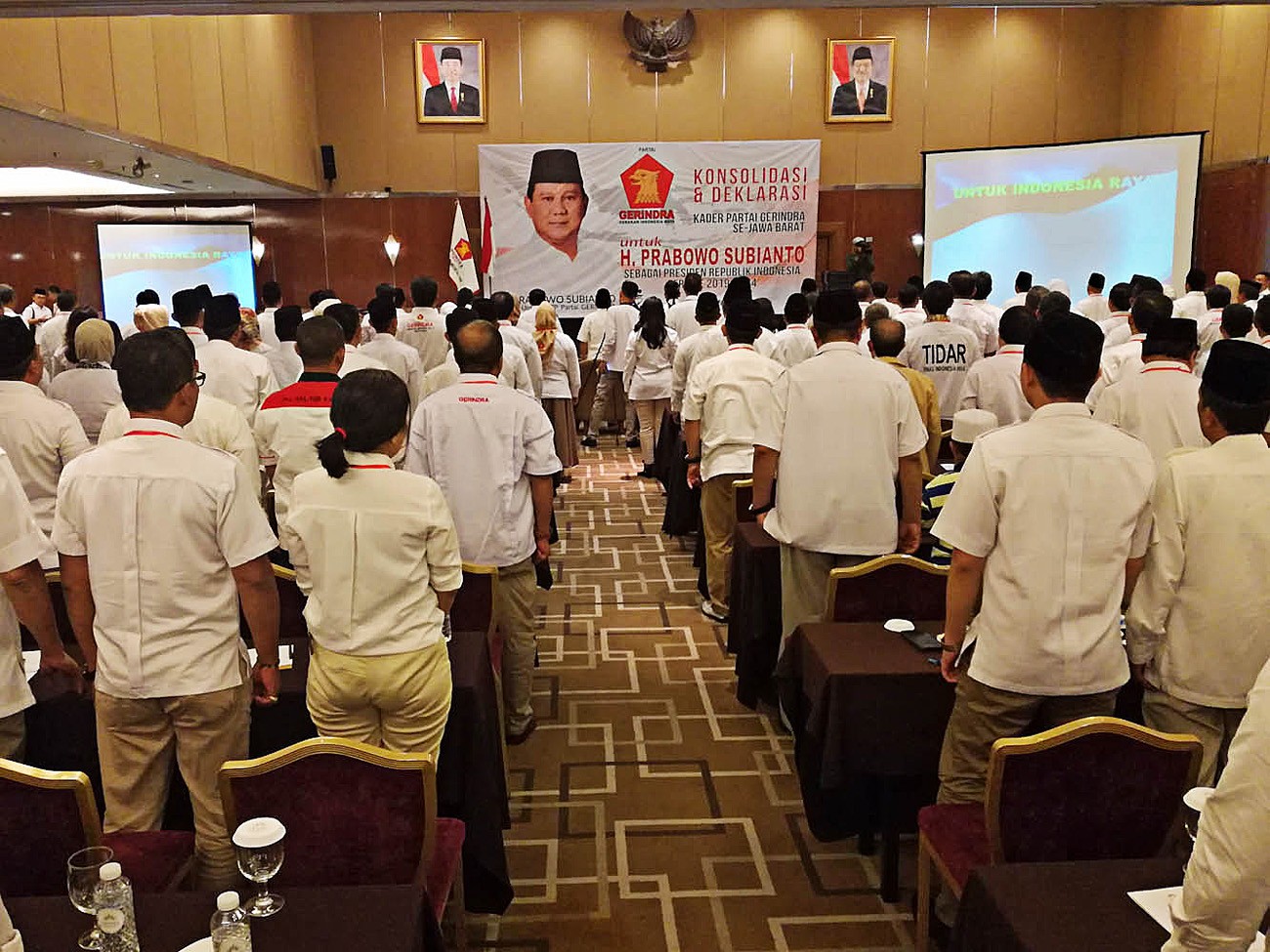 Show of support: Hundreds of Gerindra Party officials and members declare on Wednesday Prabowo Subianto the party's presidential candidate in the 2019 election. (JP/Arya Dipa)
The Gerindra Party, a nationalist-based opposition party led by Prabowo Subianto, appears to have supported an idea floated by Islam Defenders Front (FPI) leader Rizieq Shihab that it form an "ummah alliance" to challenge President Joko "Jokowi" Widodo in the 2019 presidential election.
The party called on the nation's Islamic parties to stand behind its candidate, Prabowo, against Jokowi, who has only secured the support of one Islamic party, the United Development Party (PPP).
The initiative to form a religiously orientated political alliance was proposed after Prabowo met with National Mandate Party (PAN) patron Amien Rais and Rizieq in Mecca, Saudi Arabia, last week.
Gerindra deputy chairman Fadli Zon confirmed on Tuesday that the party's attempt to create an "ummah alliance" was Rizieq's idea. Rizieq, who fled to Saudi Arabia while under investigation for his alleged role in a pornography case, appears to have become more influential among conservative Muslim groups opposed to the Jokowi administration.
"It makes sense we name it an 'ummah alliance', because the coalition is for the sake of the ummah and all of the people," Fadli said.
The party's move has fueled concerns that sectarian politics could play a role in the upcoming presidential election as it did during the 2014 presidential election and the 2017 Jakarta gubernatorial election.
Gerindra is currently close to two Muslim-based parties — PAN and the Prosperous Justice Party (PKS). PAN is closely associated with Muhammadiyah, the nation's second-largest Islamic group after Nahdlatul Ulama (NU), while the PKS controls a vast network of urban Muslim activists inspired by Egypt's Muslim Brotherhood.
The National Awakening Party (PKB) is the only Muslim-based party that has yet to decide whether to side with Jokowi or Prabowo in 2019. The PKB's support could be decisive as it is widely regarded as the party of NU, even though, like Muhammadiyah, NU is an independent organization with no affiliation to any political parties.
Gerindra has reportedly offered the PKB ministerial seats, along with the Democratic Party, a nationalist party that remains undecided whether to back Jokowi or Prabowo or to create a third axis and offer an alternative candidate.
The PKB has been aggressively offering its chairman, Muhaimin Iskandar, as a vice presidential candidate to Jokowi and Prabowo, but neither has yet accepted the offer. The Democratic Party is also seeking to pair its member, Agus Harimurti, with either of the two candidates.
"I am not saying that we would offer them ministerial seats, but we can offer power sharing. Power sharing is a requisite in any political negotiations for building an alliance," Fadli said. (ahw)
Join the discussions