Low numbers hamper Indonesia's pledge to send more women peacekeepers
Agnes Anya

The Jakarta Post
Jakarta |

Tue, June 26, 2018

| 07:21 am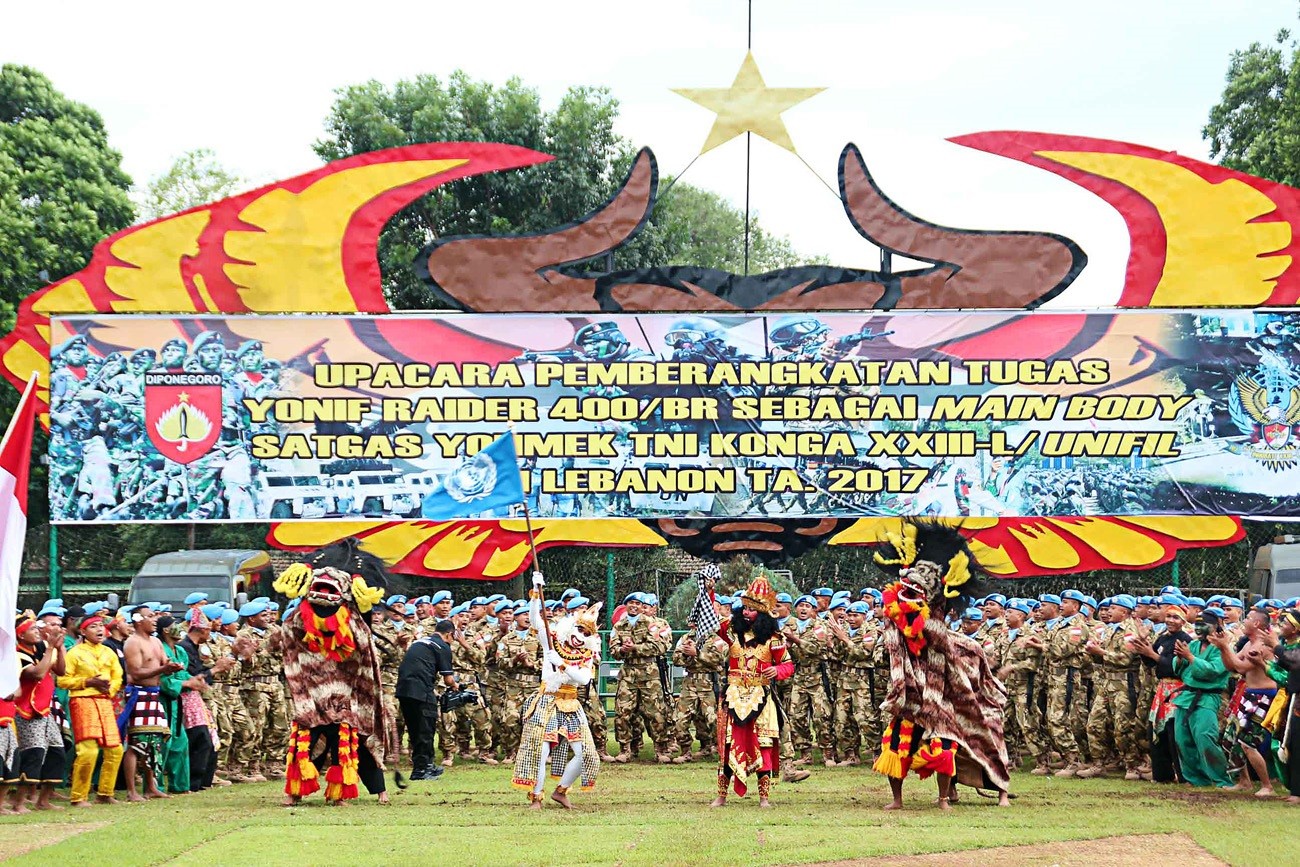 Personnel of the Banteng Raider Infantery Battalion (Yonif Raider) stage traditional performances during a ceremony to mark their dispatch for a peacekeeping mission in Lebanon last year. (JP/Suherdjoko)
Indonesia is finding it difficult to increase the number of women participating in its peacekeeping missions as not enough are applying to join the country's military and police.
The role and participation of women is among Indonesia's main focus after winning a seat as a non-permanent member of the United Nations Security Council (UNSC) for the 2019-2020 period.
The country aims to increase women's participation in its peacekeeping efforts, both as civil officers and uniformed troops, Foreign Minister Retno LP Marsudi said during her speech after the UNSC bid earlier this month in New York.
However, the government has yet to set a target for how many women it hopes to include in its peacekeeping efforts, said Grata Endah Werdaningtyas, the Foreign Ministry's director of international security and disarmament.
"It's because we realized that we have very few female soldiers," Grata told The Jakarta Post.
Only 3 to 4 percent of the nation's military personnel are women. The figure is slightly higher in its primary police force, at 7 percent, according to Greta.
In 2017, Indonesia had 435,750 active military soldiers and 443,193 police officers throughout the country, according to the military-ranking Global Firepower Index and National Police data.
The country is now the eighth largest contributor of peacekeeping troops in the world with 2,694 military and police personnel working in nine missions. However, with regards to female soldiers, Indonesia is in 12th place with only 81 women.
Increasing female participation, Greta added, was stated in UNSC Resolution 1325/2000 on women, peace and security, which urges related parties to increase the participation of women and incorporate gender perspectives in all United Nations peace and security efforts.
Research suggests that the participation of women can greatly improve peacekeeping efforts.
"It has been increasingly recognized that the needs of women and children in conflict areas can be better served if more women are active in UN Peacekeeping Missions, as these female peacekeepers can have more empathy, communicate better and are, therefore, more trusted by the women and children in the troubled areas," said Dewi Fortuna Anwar, an international relation expert from the Indonesian Institute of Sciences (LIPI).
Female officers, she said, were needed amid current international conflicts, which were mostly internal in nature and, hence, required the UN Peacekeeping Operations' (UNPKO) hybrid characteristics, combining the need for peacekeeping with peace-building and state-building.
Dewi said hybrid missions required more diverse peacekeeping troops, not only gender-wise. The UNPKO, she said, should combine military and police personnel as well as civilians to fill in different roles, from peacekeepers, law enforces and mediation experts to governance specialists.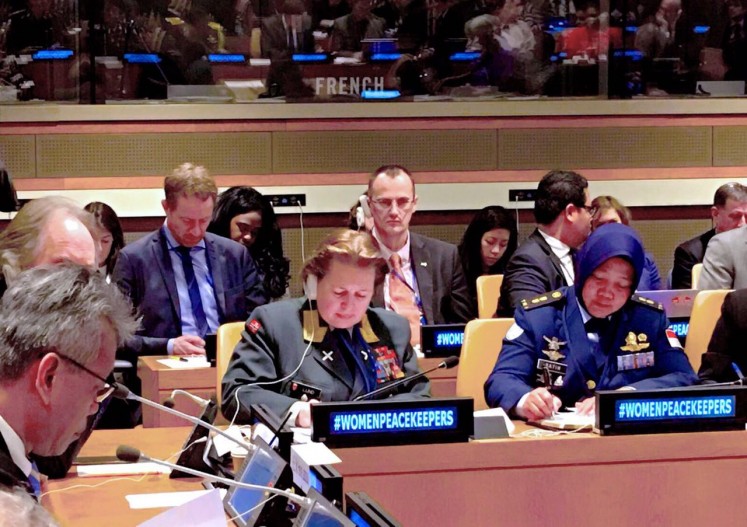 Indonesia's Lt. Col. Ratih Pusparini (right) and Norway's Maj. Gen. Kristin Lund (center) attend a session of the United Nations' Special Committee for Peacekeeping Operations (C-34), in New York last year. (Courtesy of Foreign Ministry) (Foreign Affairs Ministry/file)
Both Grata and Dewi said Indonesia needed to make several changes in relation to peacekeeping.
One is to broaden the recruitment program of the Indonesian National Defense Forces Peacekeeping Center in Bogor, West Java, Dewi said.
Another, Grata said, was to encourage reform in the security sector.
Indonesian Military (TNI) spokesman Brig. Gen. Sabrar Fadhilah said it was difficult to recruit female candidates, even though the institution imposed no different requirements for women.
As a result, the TNI had a shortage of female soldiers for peacekeeping missions.
Sabrar said even programs tailored specifically for women, like the newly established policy allowing them to enroll in the TNI's highest educational program, were not effective in getting more women to join the military.
Fitriani Bintang Timur, a researcher at the Centre for Strategic and International Studies (CSIS), said the National Police and TNI should revise their regulations and ambiguous policies if they wished to increase the number of female peacekeeping personnel.
"The TNI, for instance, requires married female personnel to obtain written permission from her husband to join the [peacekeeping] troops," said Fitri, who advocates for greater female participation in peace missions through her academic papers.
In addition, TNI and police personnel could potentially lose their position if they go on peacekeeping missions, she said.
"Both institutions, instead, should promote [personnel] participating in UN peace missions as they have made the country proud," she said, adding that the women's concerns over losing their job was among the biggest obstacle to increasing female participation in peacekeeping.
House Commission I member Evita Nursanty, who focuses on defense and security, urged the TNI and police to promote their female personnel as role models to convince the public that women played an important role in the institutions and also as peacekeepers.
"All TNI and police officials should think of creative ways to promote the position of female personnel while creating a proper environment for them. The aim is to give women officers a positive image and increase their sense of pride as soldiers," she said. (evi)
Topics :
Join the discussions