World tropical forest conference kicks off in Oslo
M. Taufiqurrahman

The Jakarta Post
Oslo, Norway |

Wed, June 27, 2018

| 03:20 pm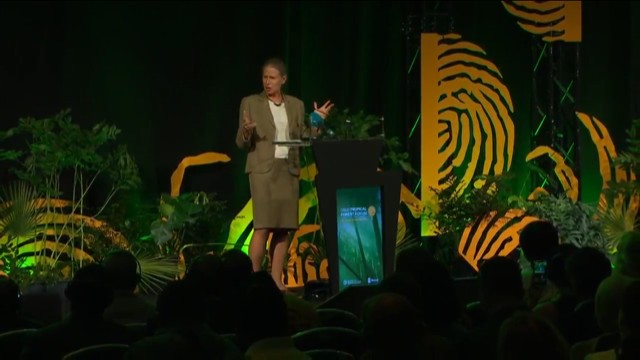 Program committee chair for the Oslo Tropical Forest Forum Frances Seymour speaks during the opening ceremony of the conference on June 27. (The Jakarta Post/Norwegian Agency for Development Cooperation)
An international conference kicked off on Wednesday in Oslo, Norway's capital city, to discuss ways to bolster protection of tropical forests, which participants agree could help contribute to efforts to stop global warming.
The Oslo Tropical Forest Forum, organized by the Norwegian Agency for Development Cooperation, will feature two high-level plenary sessions that will include presentations on the latest science about the importance of forests for climate and development goals.
It will also feature a panel discussion on the state of play in terms of progress toward targets to end deforestation.
Ola Elvestuen, Norwegian minister for climate and environment said the world was facing serious problems of deforestation despite efforts in the past 10 years to mitigate the problem.
"The situation is still serious and its seriousness can't be overstated. But together with all partners it is possible to end the loss of tropical forest," Elvestuen said.
Brazilian climate scientist Carlos Nobre said the world needed to come up with new means to restore tropical forest immediately.
"We don't have 30 years. We only have a decade to commit to major reforestation," Nobre said.
The conference started as new report from the Global Forest Watch emerges, showing that tropical forests around the globe lost 15.8 million hectares (39 million acres) of tree cover in 2017 — an area the size of Bangladesh. That makes 2017 the second-worst year on record, after 2016, since researchers began gathering the data in 2001.
Topics :
Join the discussions