Irwandi Yusuf, ex-Aceh 'freedom fighter' embroiled in graft scandal
Devina Heriyanto

The Jakarta Post
Jakarta |

Wed, July 4, 2018

| 04:04 pm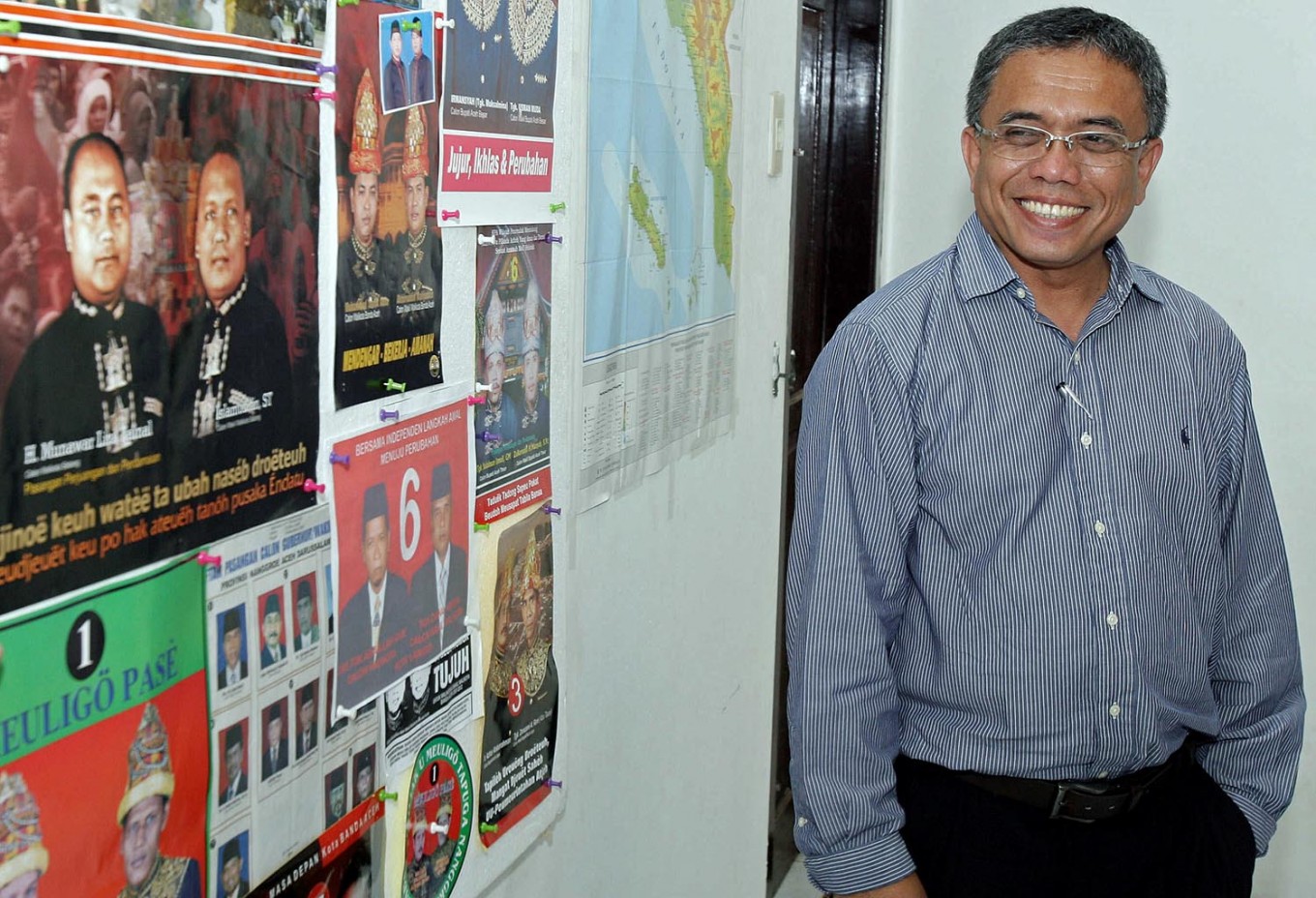 Irwandi Yusuf, the former spokesman of the Free Aceh Movement (GAM), is the first governor of Aceh directly elected by the Acehnese people. (AFP/Jewel Samad)
Aceh province is again in the news following the arrest of Governor Irwandi Yusuf on corruption allegations on Tuesday evening.
The former Free Aceh Movement (GAM) leader is the second Aceh governor implicated in a corruption case after Abdullah Puteh, who was sentenced to 10 years for graft surrounding the procurement of an MI-2 Rostov helicopter worth US$872,500.
Irwandi was arrested along with Bener Meriah Regent Ahmadi and eight other individuals following a suspicious transaction involving provincial and regency officials, according to the Corruption Eradication Commission (KPK).
A popular figure in Aceh, Irwandi is in his second non-consecutive term as governor. He previously held office from 2007 to 2012.
Backed by the Democratic Party, the National Aceh Party (PNA) and several smaller parties, Irwandi returned to office in 2017 after defeating his rivals, most of whom are former members of the now-defunct GAM. Irwandi's notable campaign programs were Jaminan Kesehatan Aceh (Aceh Health Insurance) and the Aceh scholarship program.
Veteran Aceh politican
Irwandi is a veteran politician in Aceh politics.
When the tsunami hit Aceh in 2004, Irwandi was in prison for treason against the state. He ran out of the prison and waited until the water receded before moving to Jakarta and later joined a GAM delegation in the historic 2005 Helsinki Agreement. The agreement ended decades of conflict in Aceh.
Irwandi is the first governor of Aceh directly elected by the Acehnese people. He ran for governor as an independent candidate in the 2006 regional election. In a 2007 report by International Crisis Group (ICG), Irwandi was by then "free from any taint of corruption or abuse of power".
In 2012, he failed to retain his position as governor after being defeated by Zaini Abdullah, his senior in GAM. Zaini was then supported by the Aceh Party, a powerful local party established by former GAM members.
The defeat encouraged Irwandi to form the National Aceh Party (PNA) and win the support of former GAM members who felt disenfranchised by Zaini and Aceh Party leaders. The fragmentation of support from former GAM members in the 2017 election is said to have benefited Irwandi.
Sharia controversy
Like many GAM leaders, Irwandi is not the staunchest supporter of sharia.
In 2009, during his first term, Irwandi refused to sign the Qanun Acara Jinayat, a sharia-based criminal procedures code, amid loud criticism from human rights activists. The controversial 2009 Qanun Jinayat included the punishment of stoning to death.
Aceh fully enforced sharia in 2014, under Zaini's rule.
Irwandi said he was aware of the impact of sharia rule on the province's image and had sought to make changes to how it was applied.
Earlier this year, Irwandi issued a gubernatorial regulation ending the practice of caning convicts in public. Caning is now limited to prisons, with only adults as viewers. Previously, canings often made headlines and became a public spectacle with children watching.
Several mass organizations protested the move, saying that Irwandi's regulation violated the qanun jinayat as the law required that caning be held in public so as to create a deterrent effect. (ahw)
Topics :
Join the discussions