Dems, Gerindra's path to coalition 'wide open'
Karina M. Tehusijarana

The Jakarta Post
Jakarta |

Tue, July 24, 2018

| 10:14 pm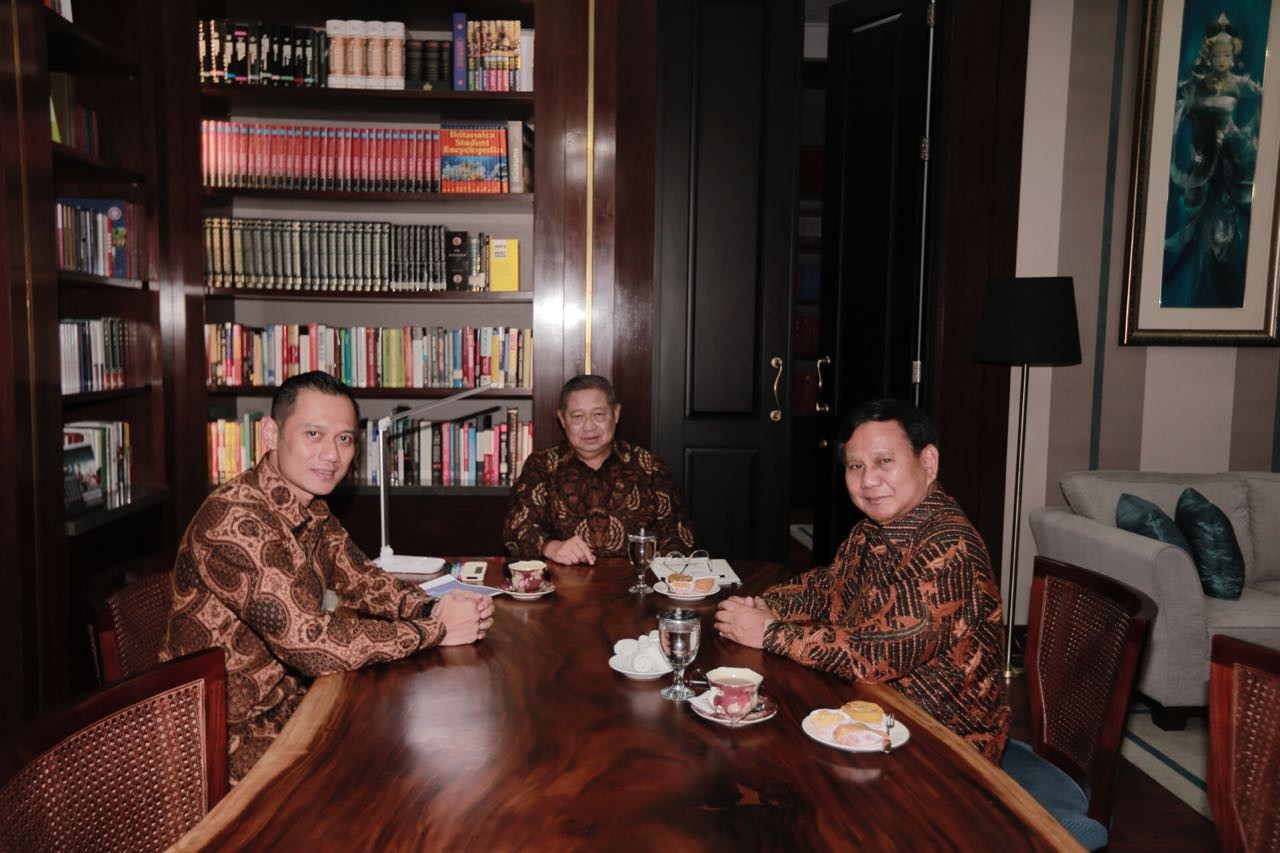 Agus Harimurti Yudhoyono (left), Democratic Party chairman Susilo Bambang Yudhoyono (center) and Gerindra Party chairman Prabowo Subianto pose for a picture during a closed-door meeting in Yudhoyono's house in Mega Kuningan in South Jakarta on July 24. (Courtesy of Democratic Party/Handout)
Democratic Party chairman Susilo Bambang Yudhoyono said in a joint press conference with Gerindra Party chairman Prabowo Subianto that both parties were talking about the possibility of a coalition to contest in the 2019 presidential election.
"The path to building this coalition is wide open, especially after we have agreed on what problems the people are facing," said Yudhoyono on Tuesday night after an almost three-hour closed door meeting with Prabowo at his house in South Jakarta.
After Yudhoyono's speech, Prabowo delivered his, saying that they had "very good chemistry".
"We feel very good chemistry; both of us are concerned with the nation's economic condition," Prabowo said. "In the following days, there will be meetings on more technical matters toward a coalition that will be able to give solutions to this nation."
Prabowo added that he had been in intensive communication with the Justice and Prosperous Party (PKS) and the National Mandate Party (PAN). He said when he was about to depart to Yudhoyono's house, the "friends in the other parties" were happy with this meeting.
The joint statement was made following a closed-door meeting between Prabowo and Yudhoyono at Yudhoyono's house in Mega Kuningan, South Jakarta.
Clad in brown batik, Prabowo arrived at the house at 7:15 p.m. He was welcomed by Yudhoyono and his son, Agus Harimurti Yudhoyono. The former president and Agus, touted by the Democractic Party as a vice presidential candidate, were both wearing brown batik as well.
With them were top executives from both parties. (evi)
Join the discussions