Anies should reinstate dismissed officials: Commission
Callistasia Anggun Wijaya

The Jakarta Post
Jakarta |

Sat, July 28, 2018

| 08:08 am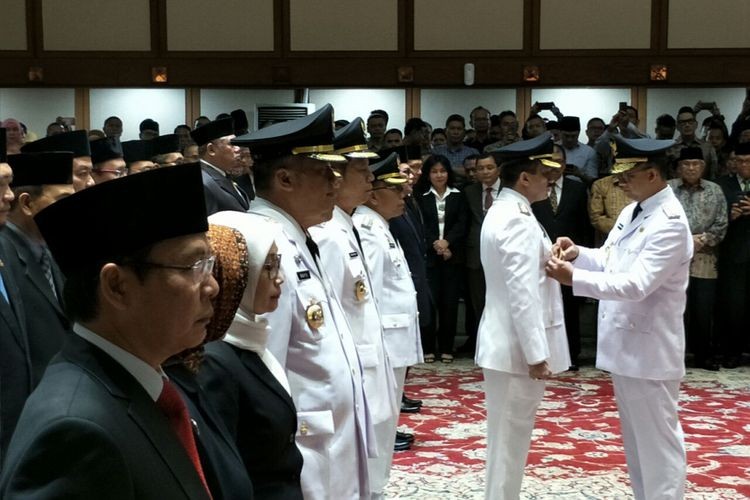 Jakarta Governor Anies Baswedan (right) inaugurates new city mayors and echelon II officials at City Hall on July 5. (kompas.com/Jessi Carina)
The State Civilian Bureaucracy Commission (KASN) has urged Jakarta Governor Anies Baswedan to reinstate 16 civil servants he fired, on the grounds that procedures and regulations were violated during the dismissal process.
The KASN came to the conclusion that violations had occurred after questioning the dismissed officials, Anies, the city secretary Saefullah and the acting head of the Jakarta Employment Agency (BKD).
"Should there be new evidence regarding violations conducted by the dismissed officials, [the city administration] should submit the evidence within no later than 30 working days to the KASN," KASN head Sofian Effendi said in a statement on Friday.
Sofian said civil servants could be assessed after one year working in a certain position. After that, the city administration should give the civil servants a chance to improve their performance within a period of six months.
He went on to say evaluation of the civil servants' performance should be written on assessment reports.
Citing Article 33 (1) of Law No. 5/2014 on the state apparatus, Sofian said the KASN would ask the president to punish the acting head of the BKD or the related officials who failed to fulfill the KASN's recommendation.
The governor would also be violating Law No.23/2013 on the regional government should he disregard the KASN's recommendation, Sofian said.
Earlier in June, Anies dismissed three agency heads amid problems surrounding his flagship programs, namely the zero down-payment housing program and the Jakarta Smart Card Plus program.
On July 5, Anies dismissed more officials, including mayors and a regent, as they had reached retirement age.
Join the discussions