Rescue operation commences for hundreds of hikers on Mt. Rinjani
Gemma Holliani Cahya

The Jakarta Post
Jakarta |

Mon, July 30, 2018

| 07:51 pm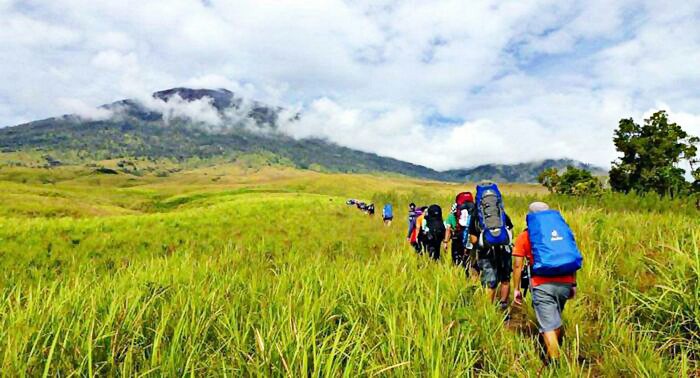 Hikers pass through tall grass along the foot of Mount Rinjani in Lombok, West Nusa Tenggara. (Courtesy of the Mount Rinjani National Park (TNGR) management agency/File)
A joint rescue team of 184 personnel from the Mount Rinjani National Park Agency, the National Search and Rescue Agency (Basarnas), National Police, Indonesian Military (TNI), as well as medics and volunteers has been deployed from Sembalun in East Lombok regency to rescue around 500 hikers trapped on Mount Rinjani after a powerful earthquake triggered a landslide.
According to the National Disaster and Mitigation Agency (BNPB), the team departed from Sembalun at 7 a.m. local time on Monday morning, focusing on two locations on Mount Rinjani where most of the climbers were located: Sembalun trek KM 10 and the Batu Ceper area.
The hikers who were at Sembalun trek KM 10 when the earthquake struck had made their way down to Post 1 by Monday afternoon with the help of the rescue team, said Rinjani National Park Agency head Sudiono.
"Post 1 is only two hours away from Sembalun, one of the entry points to Rinjani," Sudiono told The Jakarta Post. "They are safe and sound."
"Six hikers remained at Lake Sagara Anak. They suffered from trauma and asked to be transported by a helicopter," he said, adding that the team would do so when the weather permits.
Another 40 hikers who were trapped at Batu Ceper have also climbed down and arrived at Post 2.
The death toll from the earthquake has increased to 16 as of Monday afternoon. One of the casualties was identified as Muhammad Ainul Taksin, 26, from Makassar, South Sulawesi.
Ainul was among more than 800 hikers who were on Mount Rinjani, one of the country's highest mountains, when a 6.4 magnitude earthquake struck the island. He died from a serious head injury after being hit by rocks.
BNPB spokesperson Sutopo said aftershocks had hampered rescue operations and several access routes had been blocked by landslides.
According to the BNPB, 829 people comprising 637 foreign nationals and 192 Indonesians ascended Rinjani on Friday and Saturday. The real figure could be even higher as those who ascended earlier might still be camping there. (swd)
Join the discussions