Rubella kills baby in Jambi as vaccination campaign meets resistance
Jon Afrizal

The Jakarta Post
Jambi |

Wed, September 5, 2018

| 03:36 pm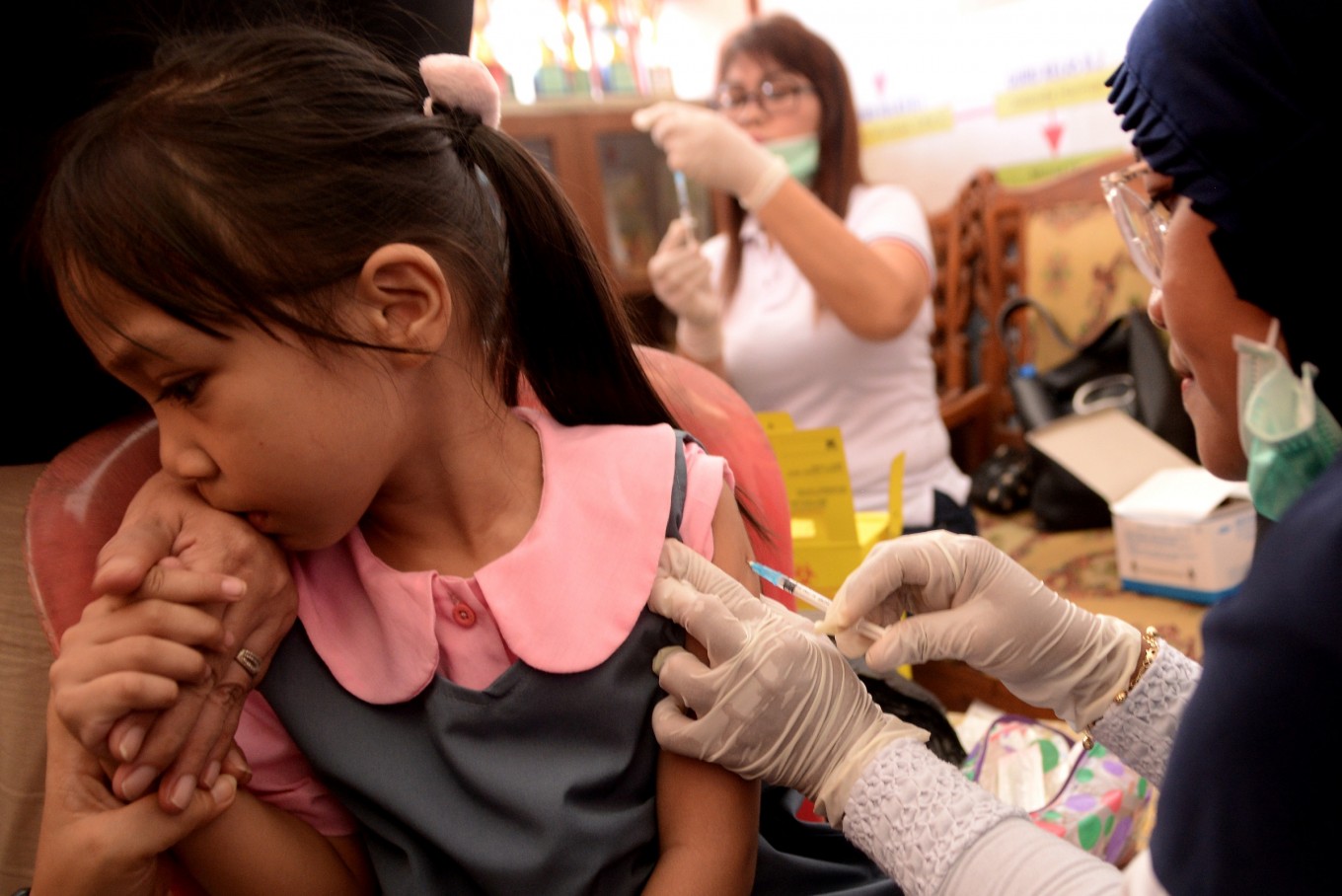 A child gets the measles and rubella vaccination in Manado, North Sulawesi, on Aug. 2. (Antara/Adwit Pramono)
A baby in Batanghari regency, Jambi, reportedly died due to the rubella virus as a vaccination campaign in the predominantly Muslim area meets public resistance.
Batanghari Health Agency head Elfie Yennie confirmed the report to The Jakarta Post on Wednesday, saying that the mother was found to be rubella positive after a toxoplasma rubella cytomegalo virus herpes simplex (TORCH) test.
"The baby was born with defects and passed away," said Elfie.
The mother contracted the rubella during pregnancy and infected the baby.
Rubella, also known as German measles, is caused by the rubella virus and usually only lasts about three days. But infections in pregnant women can lead to miscarriages or permanent deformities.
The government is currently promoting a measles-rubella (MR) immunization campaign for children aged 9 months to under 15 years old in provinces outside Java Island from August to September this year with a coverage rate target of 95 percent.
The government hopes that the immunization coverage targeting children will also protect people, who are older, from rubella. Pregnant women are not included in the program.
Read also: Govt targets 95% coverage in MR immunization
The Batanghari regency recorded 57 cases of rubella over the past 20 months. Some cases caused miscarriages, infected pregnant women and saw babies being born with defects.
Elfie said the recent death is one of two cases of babies born with defects who had the rubella virus. The other baby is still alive.
The vaccination program is lagging behind in Batanghari, reaching only 38.2 percent coverage after five weeks of implementation. Nationwide, the program, which is being implemented in provinces outside Java, only averaged 39.3 percent as of Wednesday afternoon.
Concerns that the vaccine contains pork gelatine has raised the ire of Muslim residents as pork is considered forbidden in Islam.
Read also: MR vaccine contains haram substance, but Muslims may use it
The Indonesian Ulema Council (MUI) has issued an edict declaring the MR vaccine to be mubah (permitted for Muslims) despite containing the prohibited substance. But more people decided to opt out of the program after the edict, especially in predominantly conservative Muslim regions.
In Aceh, a conservative Muslim province that implements sharia, vaccination coverage only reached 6.8 percent, the lowest in the country. (sau)
Join the discussions