At San Francisco summit, non-state actors take lead in climate fight
Adisti Sukma Sawitri

The Jakarta Post
San Francisco |

Fri, September 14, 2018

| 12:18 pm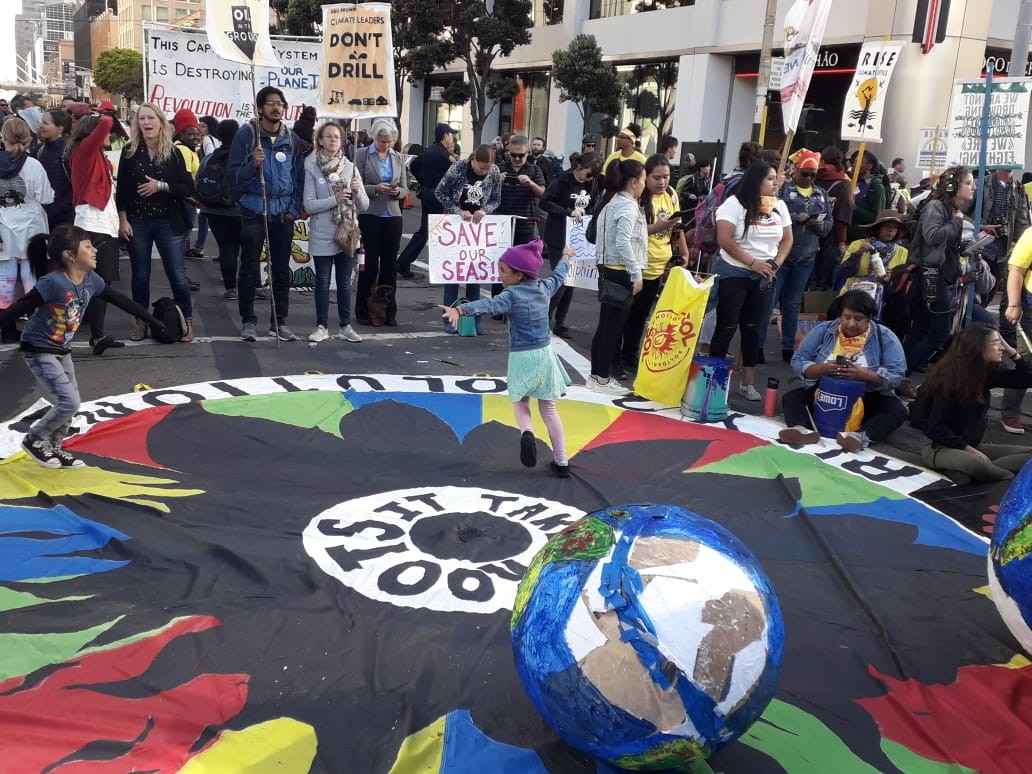 A group of protesters stage a rally in front of the Moscone Center in San Francisco on Thursday to demand end of fracking, a controversial gas drilling process that has raised environmental concerns. The Global Climate Action Summit is being held in the building until Sept. 14. (The Jakarta Post/Adisti Sukma Sawitri)
Thousands of government and business leaders, as well as environmentalists flocked to San Francisco on Thursday to attend a global climate summit held by California Governor Jerry Brown.
Inspired by the governor and dozens of other American mayors and governors who have stood against the President Donald Trump administration, which has backtracked from the Paris Agreement, summit attendees are scheduled to trumpet successes and share experiences on what has been done to reduce emissions at the grassroots level.
United Nations special envoy for climate action Michael Bloomberg said real action was happening in cities, states and the private sector because the most important decisions for climate were not made by national governments but by those at the local level.
"[The decisions] are made by CEOs who want to save money and capitalize a new business created by advanced technology. And they are made by citizens who want to breathe in fresh air and drink clean water that otherwise that will make them sick," he said in his opening remarks at the Global Climate Action Summit.
Bloomberg and Brown rounded up support last year from dozens of mayors, governors and business leaders in the US and launched America's Pledge initiative, in which they recorded and quantified the actions of non-national actors in the country in reducing greenhouse gas emissions in the absence of the Trump administration.
The former New York mayor said over the past year, with no help from Washington, US emissions held their lowest levels in 25 years.
During the conference this week, hundreds of companies, local governments and foundations have followed suit. Among the new initiatives that have come forward is the Japan Climate Initiative, a network of local governments, organizations and NGOs in the country that have organized themselves to create a low-carbon society.
Read also: Philanthropic groups siphon US$459 million to protect forests, indigenous peoples
All of the new initiatives are expected to rejuvenate formal talks among countries to develop guidelines to implement the Paris Agreement ahead of the annual UN climate change conference, COP24, in Katowice, Poland, in December.
A series of meetings to prepare the guidelines to implement the agreement have collapsed as nations still disagree on mechanisms and support of technology and financing for developing countries.
Thursday's conference also saw hundreds of protesters circling the Moscone Center, the building where the summit took place.
The various groups had their own environmental concerns.
Antonio Gonzales from the American Indian Movement said he wanted to remind people of the urgent need to begin sustainable living to protect future generations.
"Indigenous peoples are rising. Our voices are rising. The world is listening. We are in a very critical time, but a very good time to live and to share our knowledge and experiences with people so we can have more sustainable living," he said.
Another protestor, William Callahan, raised concerns about the growing use of solar panels, a popular energy alternative to fossil fuels.
"You have to do all the mining and the processing of minerals [to produce the panels]. We really just need to cut back our consumption," he said.
Earlier, an alliance of philanthropic organizations pledged to allocate US$459 million to save forests and protect the land rights of indigenous peoples.
Join the discussions