Asian Para Games: Visually impaired sprinters, guides run as one
Ramadani Saputra

The Jakarta Post
Jakarta |

Fri, October 12, 2018

| 10:44 am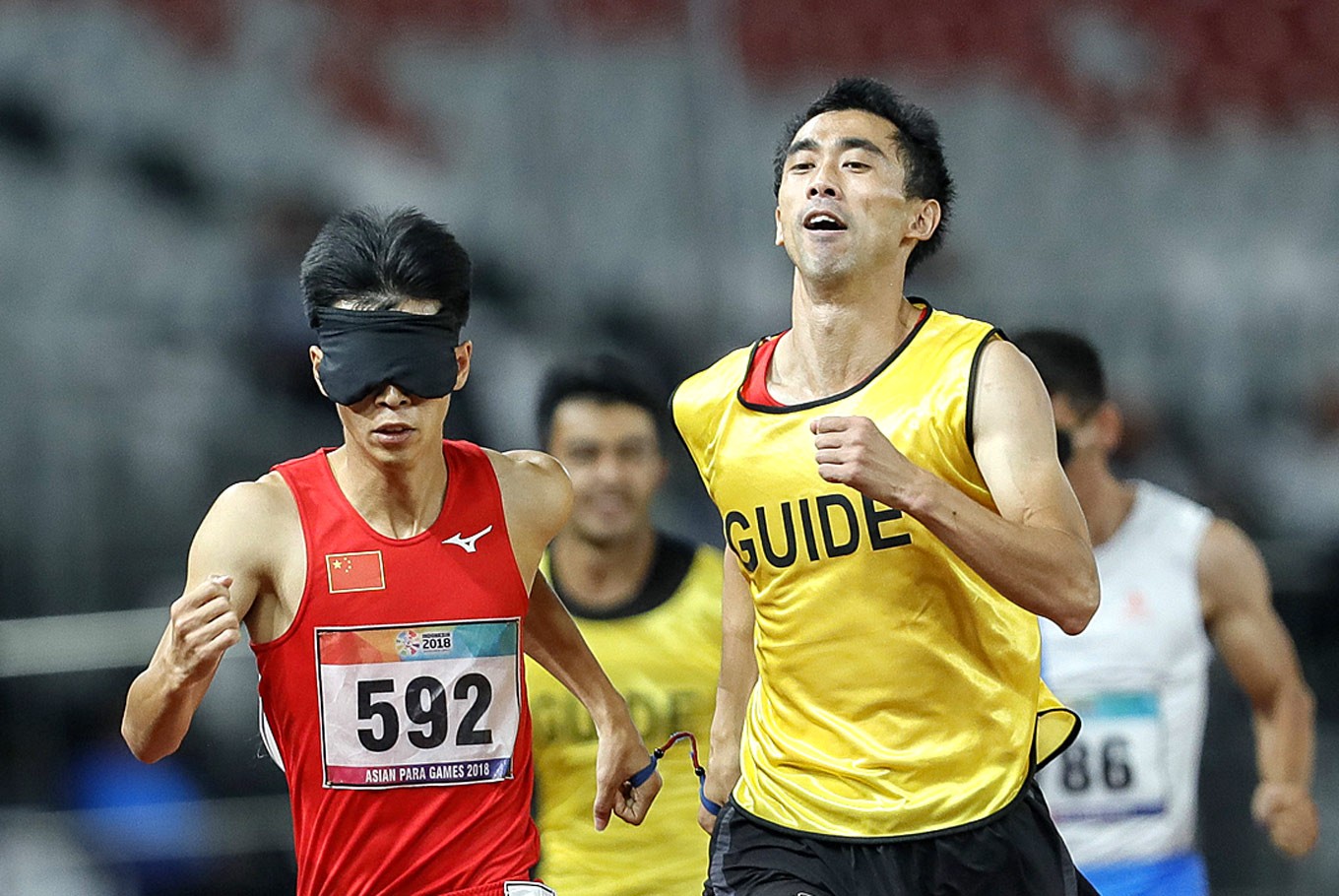 Hear my voice: China's Mao De Yi (right) the running guide for Di Dongdong led his charge to victory in the men's 400 meters T11 (visual impairment) race at the Gelora Bung Karno sports complex in Senayan, Central Jakarta, on Thursday. (INAPGOC/Herka Yanis Pangaribowo)
People unfamiliar with blind running may be surprised to see that the athletes are accompanied by a guide, who runs alongside them.

At the 2018 Asian Para Games, sprinters in the T11 and T12 (visually impaired) categories are competing with their guides.

Tethered to each other by the arm, both guide and sprinter must coordinate their movement while racing to be the fastest. A clash or fall could happen at any time if they are not able to harmonize their movements.

The guide is not allowed to pull the athlete during the race. The athlete must cross the finish line before the guide.

It is not easy at all to be a guide for visually impaired sprinters. China's Mao De Yi, who guides Di Dongdong in the men's T11, said synchronizing their running rhythm was one of the biggest challenges for them at first.

"Our movement was not in sync when we were first paired. As time went by, we were able to fix that gradually. And [it feels like] it happens naturally," Mao said.

Mao and Di have been running together for five years. They first competed at a para athletics tournament in South Korea in 2014.

Guide and sprinter must also have good chemistry between them. Di said he had a good relationship with Mao outside the running track.

Accompanied by Mao, Di has already collected three medals at the 2018 Para Games: a bronze in the men's 100 meters and two gold medals in the men's 200 m and 400 m.

Guide Ahmad Azlan of Indonesia also considers that building chemistry with the sprinter is important.

Ahmad, who accompanied Abdul Halim Dalimunte in the men's T11 category, said he liked to spend time with Abdul away from the track to tighten their bond.

"If one of us gets nervous [before competing in the race], we like to remind each other not to panic," he said. "And we are honest with each other if one of us feels nervous."

Ahmad has been Abdul's guide since 2013. They first competed together at the 2014 ASEAN Para Games in Naypyidaw, Myanmar.

With Ahmad's guidance, Abdul has scored a number of victories on the international stage. At the 2015 ASEAN Para Games in Singapore, he was the fastest in the men's 100 m.

The journey continued with other gold medals as Abdul triumphed at the 2017 ASEAN Para Games in Kuala Lumpur, Malaysia. Abdul, with Ahmad at his side, won two gold medals in the 100 m and 200 m events.

During Jakarta's Para Games, Ahmad has escorted Abdul to the podium twice, after they won silver in the men's 100 m and bronze in the 200 m.

Ahmad and Abdul stopped partnering for a while when Ahmad was summoned to join the national training center in Jakarta ahead of the 2017 SEA Games in Kuala Lumpur.

He only spent about a month in the camp before deciding to go back to Surakarta, Central Java, to accompany Abdul again as a guide preparing for the 2017 ASEAN Para Games.

"I just want to help him to achieve at the international level," Ahmad said.

For Theo Sanjaya, who guides Indonesian sprinter Susan Unggu in the women's T11, becoming a guide for a visually impaired runner was his calling.

"[In terms of movement], the biggest challenge is harmonizing our step at the start. As the guide, I am the one who has to adjust [to her movement]," said Theo.

He has been accompanying visually impaired runners since the 2015 Southeast Asian Para Games in Singapore. He has been partnered with Susan since the 2017 ASEAN Para Games.

Besides trying to synchronize his movement with the runner, understanding the runner's feelings is also important to be a good guide, said Theo.

"Based on my experience, visually impaired people are quite sensitive. If we say something wrong, they can feel irritated for months. So, I don't go into their personal problems, unless they ask for help," he said.
Topics :
Join the discussions