No unity without justice: Anies Baswedan
Vela Andapita and Andi Muh. Ibnu Aqil

The Jakarta Post
Jakarta |

Thu, October 18, 2018

| 09:13 am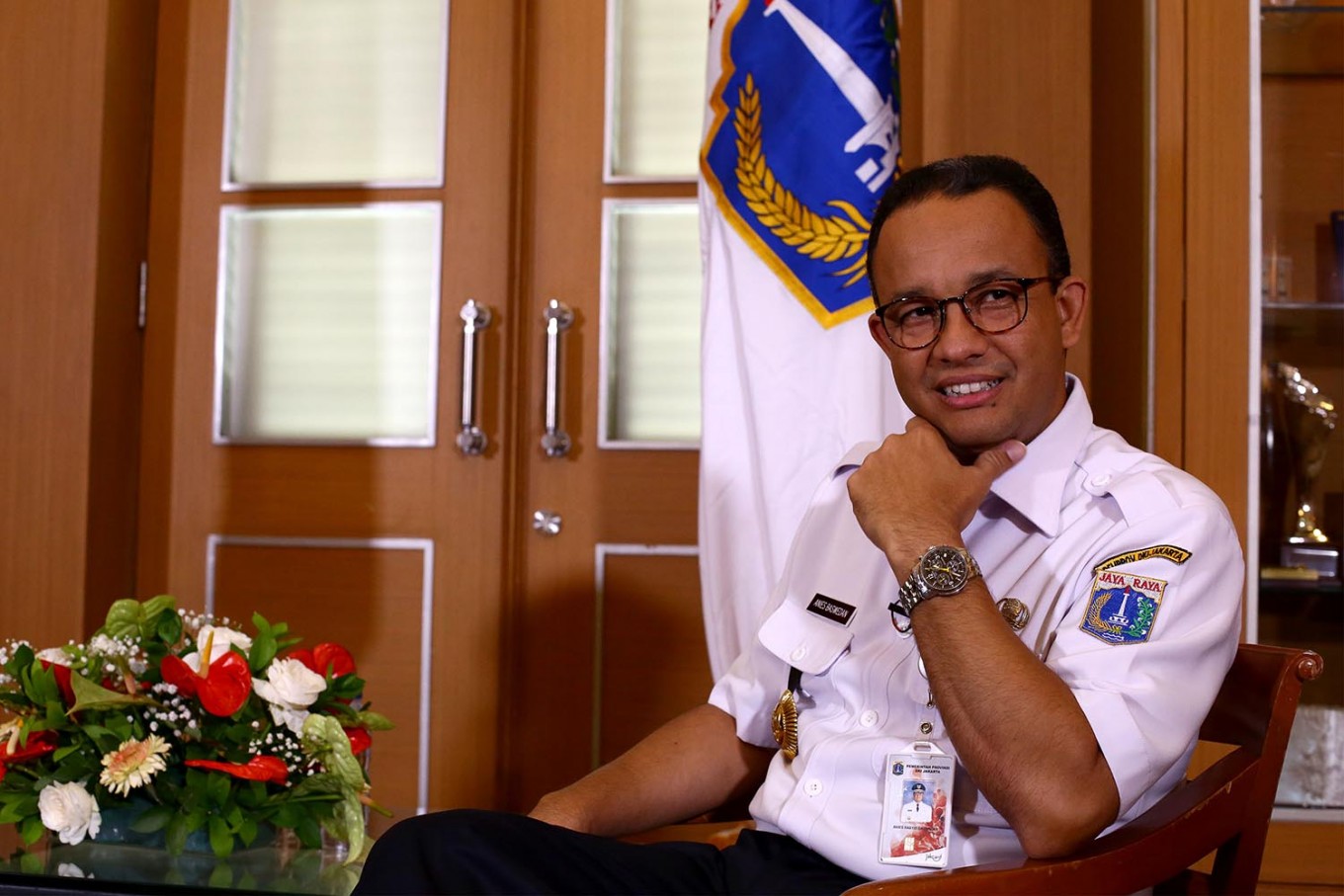 Jakarta Governor Anies Baswedan during an interview with 'The Jakarta Post' at City Hall on March 14. (JP/Wienda Parwitasari)
This mid-October marks Anies Baswedan's first anniversary as Jakarta governor. Despite the public's running commentary and criticism of every single step he takes, Anies said he was doing a good job in office.

"All my campaign promises have been translated into a five-year plan," he said during an exclusive interview with The Jakarta Post on Wednesday.

The plan was important, he said, because without a plan there would be no money and no money meant no programs.

Anies said Jakarta's biggest problem was social injustice, and that there would be no unity without justice. In his first year, Anies said he had focused on gaining the trust of people who had been suspicious of public officials so that he could realize programs that served everyone's interest.

Among his priority programs is the provision of housing for middle-to low-income families through the zero-down-payment financial scheme and the integration of Jakarta's public transportation under the banner Jak Lingko. His ambition is to integrate all modes of public transportation, from public minivans to the currently under-construction MRT, so Jakartans can traverse the city with ease.

Anies claimed that many private "partners" had been eager to join the zero-down-payment scheme.

He also raised concerns about a "segregated" Jakarta, where people of different income groups did not mingle. "Wealthy Jakartans do not go to Ragunan [Zoo] or to Monas [National Monument], right?"

Anies said he had told his subordinates to focus on programs that supported his "justice for unity" mission. The MRT, for example, should be designed to make commuters from all walks of life feel welcome.

He also instructed the Monas management unit to open the area for more interactive activities. The city administration plans to hold a competition to redesign Monas park to make it a more "interactive" space. "Monas is a garden where people go to see plants. We should change that so it is a park where people are not afraid to step on the grass."

"I also revoked the motorcycle ban on [Jl. Sudirman and Jl. Thamrin in Central Jakarta]. It's an important road where, according to data, almost half a million motorcycle delivery drivers pass every day," he said.

He was aware that many people did not agree with his decision to allow motorcycles to reenter the business district. But everyone deserved equal opportunity, he said.

The development of Klapa Village in Pondok Kelapa, East Jakarta, under the zero-down-payment housing program, meanwhile, was aimed at making it easier for people to own their own homes, which he said would help eliminate social injustice. The project was launched on Friday.

Earlier this week, the city administration disseminated a digital flyer containing a list of the most notable works Anies had accomplished as of Tuesday.

Anies himself said from "over 30 accomplishments" in his first year, the ones that had the most public impact were the housing program and Jak Lingko.

Some Jakartans and netizens have, however, frequently criticized his programs.

Trisakti University urban development expert Nirwono Joga criticized Anies' claim that he was "providing social justice to create unity," arguing that many of the governor's policies were opposed to existing regulations.

"He revitalized some kampungs that are located in non-residential zones. He closed Jl. Jatibaru Raya in Tanah Abang [Central Jakarta] for street vendors. What kind of justice is he trying to bring while he himself is violating regulations?" Nirwono said.

Anies, however, shrugged off his critics. "I can't force everyone to like me. I only ask everyone to help me improve Jakarta. They may continue to dislike me, but let's unite and work together for the city," he said.

Join the discussions