Christian school rumor leads to closure of vocational academy in Batam
Batam |

Sat, November 17, 2018

| 09:31 am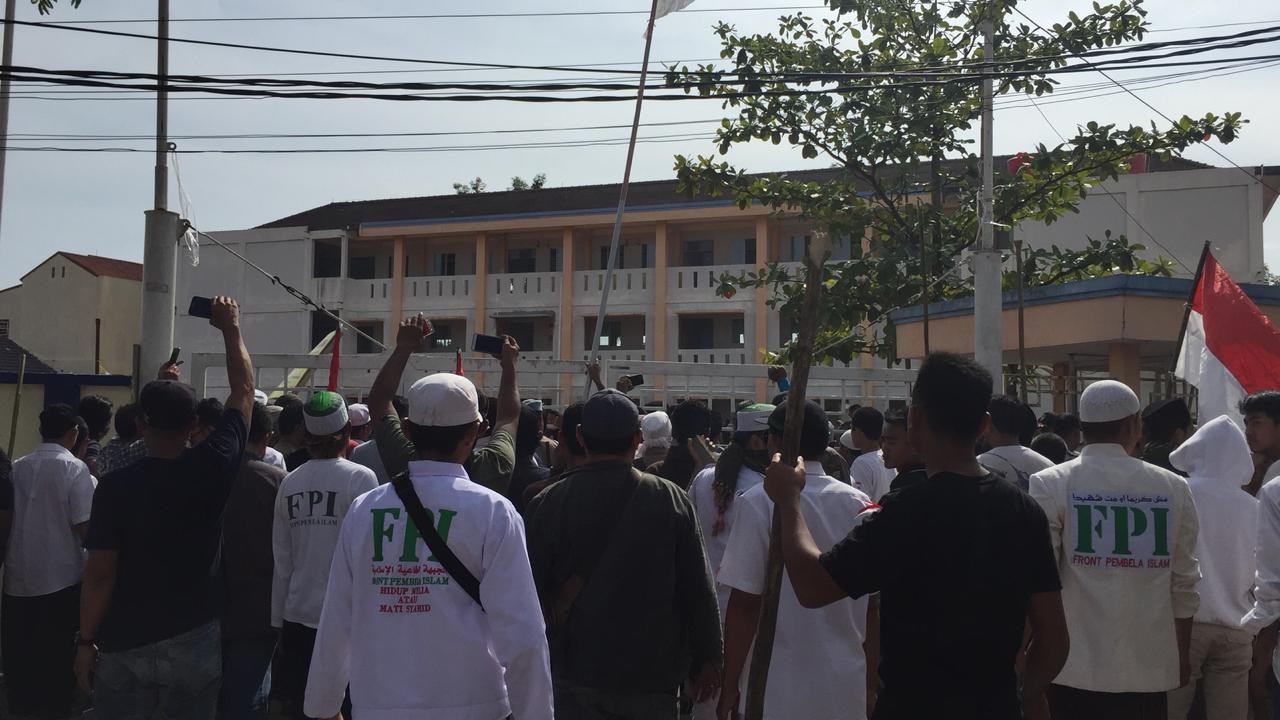 A group of people, including members of the Islamic Defenders Front (FPI), protest in front of a vocational school building in Batam, Riau Islands, on Friday, Nov. 16, 2018. They demanded the school, which located in a housing complex, to be removed following rumors that it was a Christian school. (The Jakarta Post/Fadli)
Dozens of residents of a housing complex in Batam, Riau Islands, and members of the Islam Defenders Front (FPI) attacked on Friday a vocational school building, forcing the school's closure.
Suryadi, a community unit (RW) head in the Merlion complex in Batu Aji district, said the residents claimed the vocational school, recently opened by the Suluh Mulia Pioner Foundation, was built on an area designated for social and public facilities.
"We want [the local administration] to build a state elementary school here, not the [vocational] school," he said.
The residents also reportedly complained that it was a Christian school.
Clashes occurred when a mob attempted to enter the school after it was discovered that Batam city administration had not sealed the school following earlier protests. They attempted to enter the building while another group of people inside the school, some believed to be carrying weapons, prepared to meet them. The residents smashed the school's signboard before dozens of police personnel on duty at the school stopped them.
Batam One-Stop Integrated Licenses Service Agency head Gustian Riau said the agency decided to revoke the school building's construction permit (IMB) following the incident, but he was at a loss as to why the residents were only now expressing opposition. "We have revoked the IMB, but during the building's licensing process, no one objected," he said.
Nixon Sihombing, a lawyer who represents the foundation, said the protest was a result of incitement by outsiders. He said there had been no opposition to the school construction because it was planned as a regular vocational school.
"It is also wrong for residents to accuse us of land grabbing. The housing developer has granted the land to us. They should have complained to the developer," he said.
Topics :
Join the discussions