North Jakarta looks to water hyacinths in tackling 'Black River' pollution
News Desk

The Jakarta Post
Jakarta |

Thu, November 29, 2018

| 01:55 pm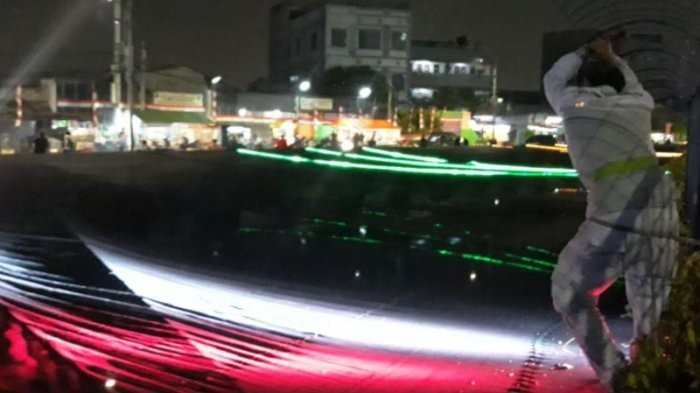 Decorative lighting is strung along the nylon netting that covers the Sentiong River on July 24. The "beautification" measure was taken to try and improve the river's appearance and reduce its odor ahead of the 18th Asian Games. (tribunjakarta.com/Gerald Leonardo Agustino)
The North Jakarta municipality is mulling the use of water hyacinths to improve the water quality of the heavily polluted Sentiong River, its deputy mayor has said.
The Jakarta administration has tried a variety of methods from nylon netting to nanobubble technology to try and reduce the smell coming from the river.
"[We] will try [growing water hyacinths] in the Sentiong River, nicknamed kali item [black river]. The roots of the water hyacinth can absorb toxic substances from the water, while its leaves can beautify the river," North Jakarta Deputy Mayor Ali Maulana Hakim said, as quoted by kompas.com.
The Sentiong has been dubbed "black river" for its discolored waters and putrid odor.
Lambas Sigalingging, who heads the implementation unit of the North Jakarta water management agency, said that the idea emerged when he learned that bodies of water inhabited by the fast-growing plant generally became clearer.
"That's one of the benefits of the plant," said Lambas.
Indonesian Institute of Sciences (LIPI) limnologist Gadis Sri Haryani confirmed that the plant would be effective in purifying the river, as it could absorb both organic and non-organic particulate matter. She added that the plant was able to live in water with excessive nutrient content – also called nutrient pollution.
However, Gadis stressed that the administration would do better to focus on preventive measures.
"It would be more difficult to purify the water continuously, compared to developing a public wastewater treatment facility [such as] a wastewater treatment plant that could be used for several businesses," she said.
Besides, Gadis said, the North Jakarta administration would need to manage the water hyacinth's development, because it was an invasive species that tended to spread undesirably, as had happened at Rawa Pening Lake in Central Java and Limboto Lake in Gorontalo.
The administration said it had anticipated the potential problem and would implement measure to limit the plant's spread.
If the water hyacinths succeeded, Lambas said, the municipality would also try planting lotuses in the river. (sau/vla)
Topics :
Join the discussions