Rising political violence overshadows Jokowi's populist policies in Papua
Arnold Belau and Kharishar Kahfi

The Jakarta Post
Jayapura/Jakarta |

Tue, December 4, 2018

| 06:15 pm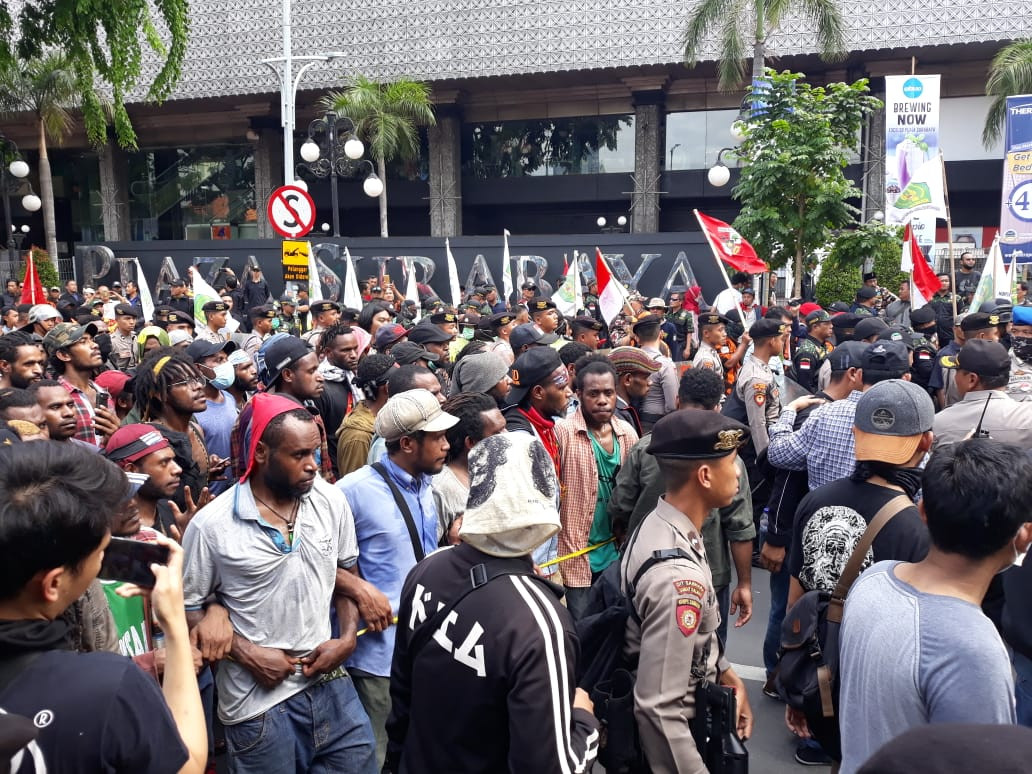 Hundreds of people march in Surabaya on Saturday under the banner of the Papuan Students Alliance (AMP) to commemorate Dec. 1, the day they consider the West Papua Liberation Day. (JP/Wahyoe Boediwardhana)
President Joko "Jokowi" Widodo has done more than any of his predecessors to build Papua and West Papua, the nation's easternmost provinces that have long been plagued by extreme poverty and violent separatism.
Jokowi, who is seeking reelection in 2019, has sped up infrastructure development and implemented a policy of uniform fuel prices in the two provinces—where market prices for fuel would be much higher than in other regions —to boost the local economy and bring prosperity to Papuans.
The populist policies, however, have failed to put an end to the desire of some Papuans to be independent from Jakarta.
Mass killing
The region has seen increasing political violence in recent days, with the latest incident taking place on Sunday, when a rebel group led by Egianus Kogoya allegedly massacred at least 28 workers hired by state-owned construction firm Istaka Karya in Yigi district, Nduga regency, Papua.
Read also: OPM gunmen accused of massacring 31 construction workers
The group, believed to be a faction of the National Liberation Army of West Papua (TPNPB), also killed an Indonesian Military (TNI) member and injured another.
The workers, mostly from South Sulwesi, were assigned to build a 275-kilometer section to connect Wamena and Mamugu, which is part of Jokowi's signature trans-Papua road project.
Construction of the 4,300-km road through Papua and West Papua is expected to finish in 2019.
National Police and TNI personnel have been deployed to the location of the alleged massacre to verify the report and recover the bodies of victims, if a massacre did take place.
"Our duty and priority is to rescue those who are still alive and check if the number of victims reported in the media is correct," National Police spokesman Insp. Gen. M. Iqbal said in Jakarta on Tuesday.
Read also: Trans-Papua road project suspended amid worsening security
Mass arrests
The alleged massacre took place only days after police arrested more than 500 Papuans taking part in nationwide rallies on Dec. 1 to commemorate what some Papuans claim to be the birth of the West Papuan nation in 1961.
The lawyer of the arrested Papuans, Veronica Koman, said in a statement on Saturday that 537 people had been arrested in Kupang in East Nusa Tenggara (NTT), Ternate in North Maluku, Manado in North Sulawesi, Makassar in South Sulawesi, Jayapura, Asmat and Waropen in Papua and Surabaya in East Java. Of the total, 322 were arrested in Surabaya.
In Papua, 90 people were arrested in separate places and at different times.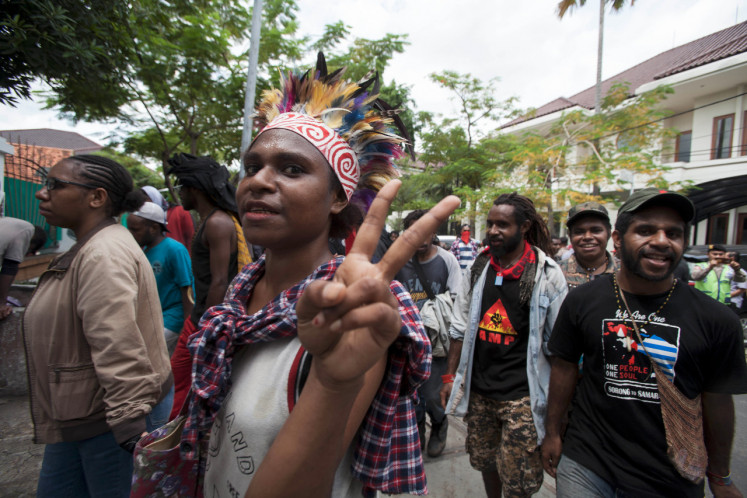 Hundreds of people march in Surabaya on Saturday under the banner of the Papuan Students Alliance (AMP). (JP/Sigit Pamungkas)
On Friday, a day before the rallies, a force of the military and National Police searched the headquarters of the National Committee for West Papua (KNPB) in Kampung Vietnam in Jayapura. The joint force also arrested Larius Heluka on Friday.
The following day, the joint force arrested 89 people in Abepura in the Jayapura municipality, in separate places in Jayapura regency and in Yapen regency. All 90 have since been released.
In Surabaya, which saw one of the biggest Dec. 1 rallies, a clash occurred between about 300 people grouped under the Papuan Student Alliance (AMP) and other groups that accused the Papuans of treason.
Seventeen people were injured, with some sustaining head wounds.
AMP spokesperson Dorlince Iyowau said the Papuans only demanded the right to decide their own fate.
"Our main demand is the right to decide our own fate, as a democratic solution for West Papua. We want Papuans to have their own political rights," Dolince said.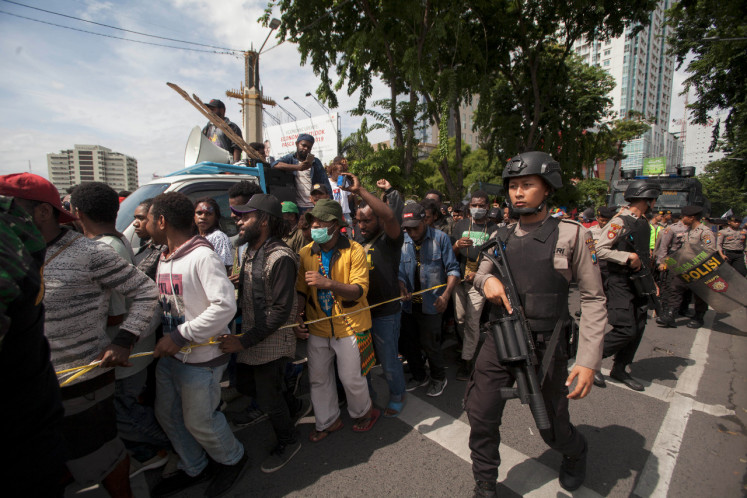 The East Java Police and Surabaya Police deployed 1,055 police officers, aided by two Army groups and the Surabaya Public Order Agency (Satpol PP), to disperse a clash between members of the Papuan Students Alliance and other groups that accused them of committing treason. (JP/Sigit Pamungkas)
Human rights groups have condemned the arrests, calling on the authorities to release the arrestees and respect the rights of the Papuans.
"This is a clear and shocking violation of Papuans' human rights to freedom of expression and assembly. These people did nothing, but peacefully attend public events," said Amnesty International Indonesia executive director Usman Hamid.
"These arbitrary arrests add to the long list of acts of harassment, intimidation and arrests faced by Papuans this year."
Usman further said: "The police must bring to justice the attackers and should not be arresting peaceful Papuans – it should instead respect and protect their right to come together in peace and say what they think, in a safe environment."
Populist policies
Responding the reported violence in Nduga, President Joko "Jokowi" Widodo, who is seeking reelection and has been touting his infrastructure drive in his campaign, gave assurances that the development in Papua would continue.
"Papua's infrastructure development will not stop because of this."
Jokowi has drawn support from Papuans, winning 72 percent of the vote in the region during the 2014 presidential election.
Since he was elected President in 2014, Jokowi has visited Papua eight times, with the last visit taking place in April this year, when he vowed to accelerate development in Papua.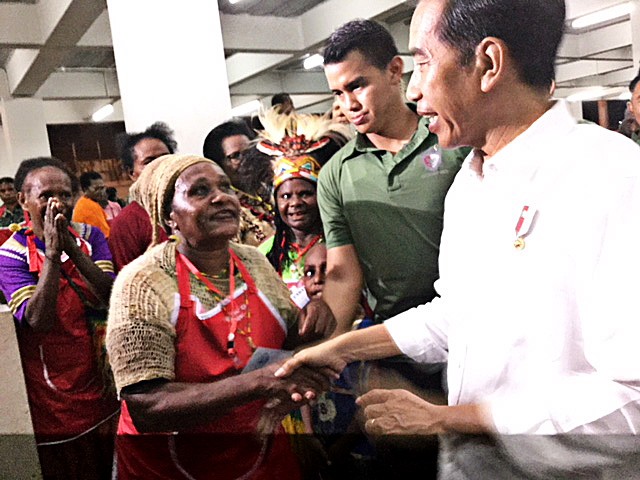 Warm welcome: A female vendor greets President Joko "Jokowi" Widodo during his visit to the Mama-mama Market in Jayapura, Papua, on April 11. (JP/Nethy Dharma Somba)
During his visit, Jokowi directly handed over land certificates to around 3,000 Papuan residents. He also visited the Mama-mama Market in Jayapura, which was finally built under the Jokowi administration after years of delay.
Jokowi has also insisted that his fuel price policy would work, even though the policy would force state-owned energy company Pertamina to shoulder Rp 800 billion in subsidies annually.
The President said the most important consideration was not the money, but social justice for all Indonesians. "We should not let just one or two people enjoy the fuel prices enjoyed in other parts of the country, while others have to buy fuel at a higher price."
'Referendum as solution'
Analysts, however, said Jokowi's populist policies were not enough to contain the separatist sentiment.
"The separatist sentiment in Papua is still strong, because the government, in particular President Jokowi, has not tackled the root of the problem yet, from the Papuan perspective," Adriana Elisabeth, head researcher on Papua studies at the Indonesian Institute of Sciences (LIPI), told the Post via telephone on Tuesday.
"The root of the problem includes discrimination and marginalization, priority of development, and violence as well as the violation of human rights."
"Jokowi's infrastructure development only focused on the structures, and not yet on the human resources," she further said. "All of the problems are correlated."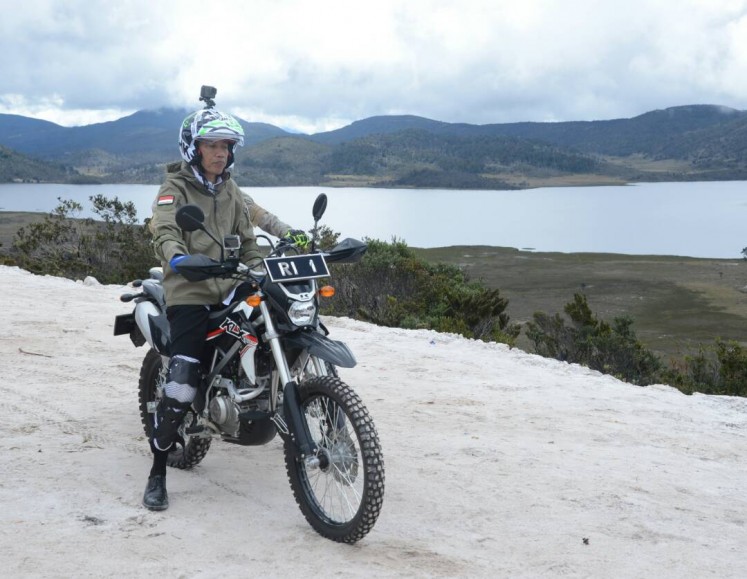 President Joko "Jokowi" Widodo gets ready to inspect the progress of trans-Papua road project by trail motorbike in Wamena on May 10. (Courtesy/State Palace)
National Committee for West Papua chairman Agus Kossay deplored the reported mass killing in Nduga, saying civilians should not have been killed in an ongoing war between the TNI and the TPNPB.
"The KNPB as the media of the Papuan people called on the two militaries to focus on their respective targets. They must not disturb civilians."
In light of the incident, the KNPB argued that political rights was an important issue for Papuans.
Agus said the solution offered by the committee was for Indonesia to hold a referendum on whether it should stay with Indonesia, "so that we can address the problem of Papua peacefully and honorably."
"Indonesia is a democracy so [Indonesia] could show the Papuans and the world that there is democracy in Papua, and in a democracy all parties that are against Indonesia should be given the right to speak."
Meanwhile, Papuan figure Theo Hasegem conveyed his condolences over the reported death of the construction workers. "We are saddened, because the action is wrong. The action will create a huge problem for civilians in Nduga," he said, as quoted by suarapapua.com on Tuesday. (ggq/spl/ahw)
Topics :
Join the discussions