New orang utan species found
Kota Kinabalu |

Sat, November 4, 2017

| 08:33 am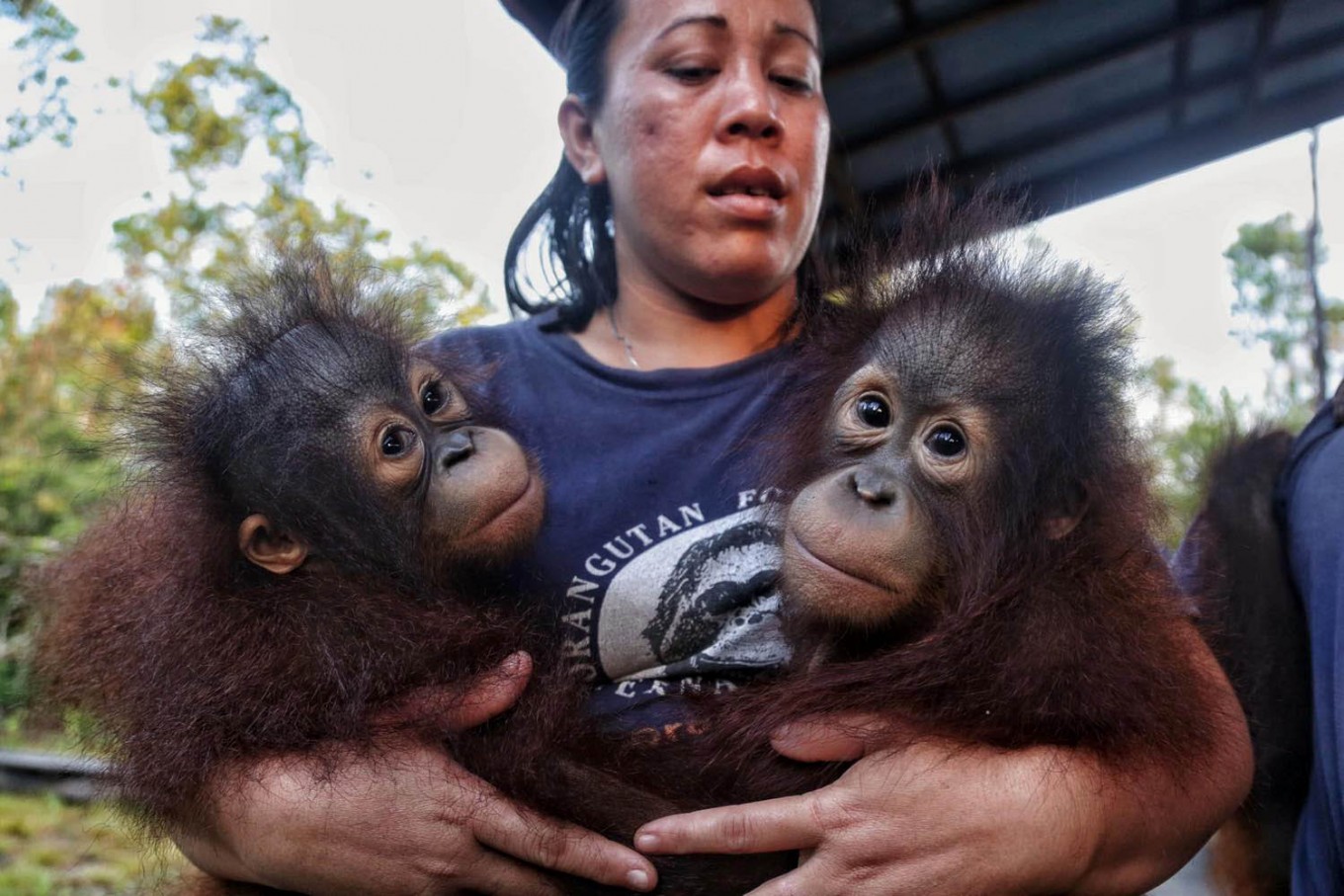 A worker cares for two infant orangutans at the Orangutan Care Center and Quarantine in Pangkalan Bun, Central Kalimantan. Camp workers carry an orangutan for its release into the wild at Camp Seluang Mas 2. (JP/Wendra Ajistyatama)
A four-year global effort spanning four continents has resulted in the discovery of a new ape species – a feat that is unlikely to be repeated any time soon.
The discovery of the world's third orang utan species involved 37 scientists from 10 countries since 2013.
Prior to that, science had identified two orang utan species – Pongo pygmaeus in Borneo and its cousin Pongo abelii in Sumatra.
However when researchers received the skeletal remains of an orang utan from the Tapanuli region in Sumatra four years ago, they realised that they were onto something significant.
Scientists and wildlife experts in Indonesia, the United Kingdom, Switzerland, Germany, Spain, the Netherlands, the United States, Australia, Brunei and Malaysia got to work.
Among them was Sabah-based wildlife researcher Dr Benoit Goossens who heads the Danau Girang Field Centre in Kinaba­tangan at the state's east coast.
After four years of research, the scientists and wildlife experts confirmed that the orang utan inhabi­tants of the 150,000ha Batang Toru Ecosystem conservation area in Sumatra were indeed a different species from the Pongo abelii.
They named the new species Pongo tapanuliensis or Tapanuli orang utan found at three Tapanuli districts in northern Sumatra.
"The orang utan from the Tapanuli region were physically and genetically different from the other two known species. The skull was dramatically different," said Goossens, a Reader at Cardiff University who was involved in the research.
The international team of scientists and researchers was headed by Professor Michael Krützen at University of Zürich and a key component of their work was completing the largest genomic study of wild orangutans in history.
Computer modelling recons­tructed the population history of the three orang utan species, revealing that the Batang Toru apes have been isolated for 10,000 to 20,000 years.
Cardiff University lecturer Pablo Orozco-ter Wengel said the divergence between the Tapanuli orang utan and the other two orang utan species came as a surprise.
With no more than 800 left, the new species of orang utan is now considered the most endangered species of ape on the planet.
"It's exciting to describe a new ape species in the 21st century but with such low numbers of the Batang Toru orang utans, it is vital that we now work to protect them, Goossens said.
"Mining, hunting, deforestation and human encroachment all risk the lives of these apes.
"It is crucial that we work to conserve the forest, because if we do not take the steps needed to protect the Tapanuli orang utans, we could see their discovery and extinction within our lifetime," he added during the interview.
Join the discussions