SE Asian countries use fight against hoaxes to silence critics: Report
Devina Heriyanto

The Jakarta Post
Jakarta |

Fri, June 22, 2018

| 04:05 pm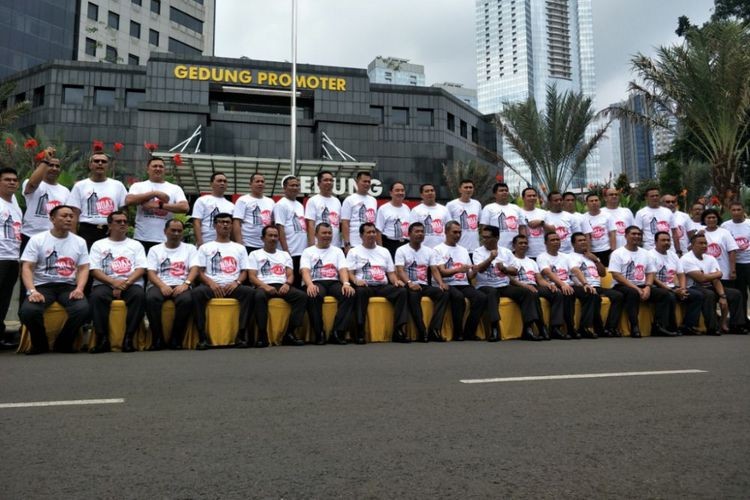 Police officers pose for a photograph during an anti-hoax movement declaration event at the Jakarta Police headquarters in South Jakarta on March 12. (kompas.com/Sherly Puspita)
Governments in Southeast Asian countries are using the fight against hoax and fake news to curb criticism and control official narratives, a new report by watchdog SAFEnet has said.
The definition of fake news is often tailored to advance a government's interests, the report finds.
Government strategies in dealing with hoax news could undermine harmony and political stability, particularly in multicultural societies such as Indonesia, Singapore and Malaysia.
Others are hunting down "fake news" that criticizes the government or in the case of Thailand, members of the royal family. In Myanmar, the spread of fake news has been blamed for fueling hatred toward the Rohingya.
Written by Southeast Asia Freedom of Expression Network (SAFEnet) volunteers Damar Juniarto and Alvin Nicola, the 10-page report described the situation in Southeast Asia as "unique" as there is "a framework where existing laws already inhibit freedom of expression".
SAFEnet cites that the definition of fake news in Indonesia is "hoaxes against Joko Widodo and the government." Since campaigning for the 2014 presidential election began, President Joko "Jokowi" Widodo has been battling hoax and fake news that accuses him of being a communist, anti-Islam and a puppet of China.
"The police's reasons for arrests mostly relate to anti-Jokowi comments," Damar said on Friday.
Nearing another election in 2019, Jokowi's administration has upped the ante of its antihoax campaign. Earlier this year, the Communications and Information Ministry deployed artificial intelligence to curb hoax and hate speech on social media. Members of two groups have been arrested for spreading hoax and hate speech online, namely Saracen and the Muslim Cyber Army.
In April, Malaysia under then-prime minister Najib Razak passed the Fake News Act, which activists said targeted critics before the historic 14th general election took place in May.
Then-opposition leader Mahathir Mohamad was investigated for a comment that was allegedly aimed at Najib. Under the act, offenders could be fined up to 500,000 ringgit (US$127,000) and face a maximum sentence of six years in prison.
Singapore, which consistently ranks low on the press freedom index, is aiming at tightening its control over the media with a new Fake News Law. The plan was met with concern from social media giants Twitter and Facebook as well as activists.
In the Philippines, President Rodrigo Duterte threatened to shut down news site Rappler, labeling it a "fake news outlet".
SAFEnet recommended Southeast Asian governments to uphold the principle of freedom of expression, where such freedom should be limited tothree areas: incitement of war, disrupting national security or damaging someone's reputation or dignity.
"We agree that the fight against hoax/fake news is important, but it should not undermine the right of free expression, press freedom and information," the report said.
SAFEnet recommended Southeast Asian governments repeal regulations that repress free expression to "make their country better".
Topics :
Join the discussions