Two boys emerge from Thai cave, two close behind: govt
Mae Shai, Thailand |

Sun, July 8, 2018

| 07:39 pm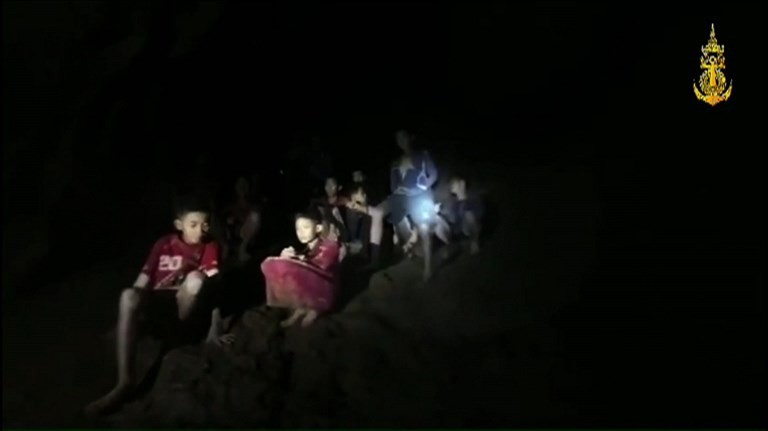 This handout video grab taken from footage released by The Royal Thai Navy late July 2, 2018, shows missing children inside the Tham Luang cave of Khun Nam Nang Non Forest Park in the Mae Sai district of Chiang Rai province. Twelve boys and their soccer coach trapped in a flooded Thai cave for nine days were found alive after a painstaking search by specialist divers who finally discovered the emaciated group on a mud embankment. ( Royal Thai Navy/AFP/Handout)
Two boys have emerged from a flooded Thai cave where they have been trapped for more than two weeks, while two others were close behind.
Four boys among a group of 13 trapped in a flooded Thai cave reached the rescue base camp inside the complex on Sunday and will walk out soon, the country's defence ministry spokesman told AFP.
"Four boys have reached chamber three and will walk out of the cave shortly," Lieutenant-General Kongcheep Tantrawanit said, referring to the area where rescue workers had set up a base.
Topics :
Join the discussions